Google's highly anticipated Google I/O conference ("I/O" stands for input/output, as well as the slogan "Innovation in the Open")  took place from Tuesday, May 17 through to Thursday, May 20, once again reaching out to attendees virtually versus being held in person due to the pandemic. More than 200,000 developers registered for the event from 181 countries around the world.
There was a lot of technology and innovation announced throughout the three days of the event. Needless to say, it was a lot to digest. But here are the highlights on some of the most talked about and exciting announcements to come from the event.
Project Starline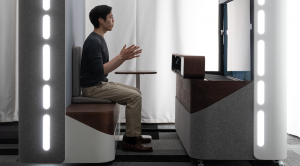 The technology that made everyone's jaws drop was the reveal of Project Starline, the next step in video calling that makes Google Meet look like child's play. Sit in a booth and you can chat with someone else in another booth somewhere else with a "chat companion" of yourself that beams to that person's device. You appear in a sort of holographic form so it seems like you're actually sitting at the table with the other person, and vice versa, even though you could be hundreds of miles away. The technology uses a combination of depth sensors, cameras, and spatial audio. The idea of holograms isn't new, of course. But using them as a replacement video calling is an interesting application with plenty of potential.
Could this mark the future of international business meetings and result in a marked drop in business travel, along with the hefty costs, jet lag, and lost family and productivity time that comes with it?
It's something to think about. For now, it will be a few years before Project Starline materializes into a usable consumer product, if ever.
Wear OS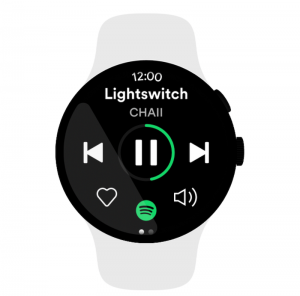 For smartwatches built around Wear OS, Google is updating the platform with a slew of new features. Most notable and easily predicted is the addition of features from Fitbit, which Google acquired in 2019, including health tracking and workout progress stats.
The bigger news was a collaboration with Samsung, which will see the new Wear draw on Samsung's Tizen OS. Wearers will be able to do things like access Google Maps and turn-by-turn directions right from the watch and listen to YouTube Music offline without requiring a connection to their phone. Future Samsung smartwatches, it was confirmed, will also be built around Wear.
Android 12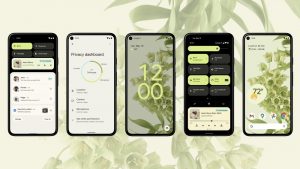 Google will be updating its popular mobile OS with the latest version that will have new fun and convenience features, like design adjustments under the Material You moniker. These will make it easy for you to personalize the look of the screen by doing things like adjusting the tone of the colours of widgets to match your wallpaper. Google also promises a more responsive, faster, and efficient overall OS with smoother animations.
One important addition is better privacy tracking, whereby phone owners can see all app permission settings in a new privacy dashboard so they can get an idea of which apps are tracking which personal information and disable tracking privileges as desired. If an app is using the phone's camera or mic, a pop-up message will alert you of that.
A beta version of Android 12 has already launched for developers and it will officially debut for consumers by the end of summer or early fall.
Better Photo Organization
Ever tried to find that one specific photo but can't locate it in your extensive album? Google is adding new features to Photos powered by an AI engine that will intelligently group photos that look like they belong together in one place. For example, all photos with a specific backpack might appear together under the presumption that they were taken in the same location or on the same trip. Or all photos with a Christmas tree in the background are instantly grouped to make a quick and easy Christmas album to share via slide show. You could even adjust to prevent certain photos from showing up, like those of an ex.
Another new tool related to photos that was shown was one that can combine a pair of static images to make a single animated one.
Smart Canvas
Not surprisingly, Google revealed technology designed to respond to the growing trend towards working from home. Its latest tool is called Smart Canvas, which makes it simple for multiple people to work remotely on various documents of differing types at the same time. They can manage things like deadlines, tasks, and even brainstorm ideas together, all virtually.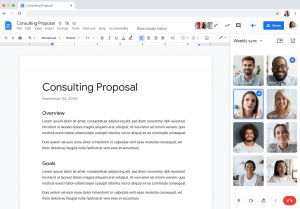 Also for the WFH crown, Google Meet will be integrated into Google's Docs, Sheets, and Slides so you can instantly connect with a co-worker via video chat to go over a file. Companion Mode improves noise cancellation, auto-adjusts lighting, and presents team members in better organized tiles. Captions, live transcription, and even translation can also be activated.
Other Highlights
From improvements in natural language processing to better shopping integration with Google Lens and more detailed Google Maps that can search not only for routes, but even eco-friendly or safer routes based on real-time conditions and data, Google impressed with lots of innovation.
Some of what was discussed was entirely conceptual, some is still in very early stages, and others will come to fruition very soon. This is just the tip of the iceberg. There will be more details about each of Google's upcoming technologies and innovations to reveal and delve deeper into throughout the year.