July 1, Canada Day, is almost here. And Canadians are wondering how to approach the holiday. Should you meet with friends and family? Hang out indoors or out? Will fireworks be permitted? And with everything going on in the world, is this really the right time to celebrate?
No matter what you do, Canada Day is a time to not only be thankful for what we have, but also to reflect on how we can make things better.
Canadians far and wide should raise their red and white flags and double-double coffees, chow down on ketchup chips, Coffee Crisp, and butter tarts, and celebrate our Canadian pride, including how far we have come but also how far we have to go. But how?
How to Celebrate Canada Day
The Government of Canada is presenting lots of events for Canada Day, along with tools Canadians can use to help set the mood at home. The celebration kit includes inspiration for ideas on what to do, including creating a festive atmosphere (dollar stores are open in most provinces and usually have entire sections of affordable Canada-themed decorations). You can play board or video games at home, or peruse the provided online games, including Hide and Seek! with well-known Canadian symbols, like the RCMP and Maple Leafs. Want to get active outside? Follow video instruction from Nova Scotia's Chalkmaster Dave Johnston to learn how to make cool sidewalk chalk drawings.
There are also fun online activities to test your knowledge of Canadian history. Canadian Heritage, for example, has a quiz to see how much you know about the Canadian flag while the Canadian Deaf Sports Association is teaching the basics of Quebec Sign Language (LSQ), American Sign Language (ASL), and Indigenous sign language (ISL) so you can start learning.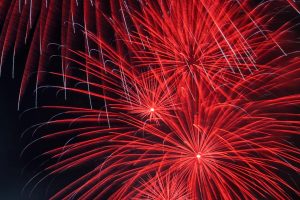 Tim Hortons is providing free virtual fireworks for anyone to join in and watch. Taking place at 10 p.m. once the sun goes down, the virtual fireworks can be watched on a smartphone, tablet, or computer. With a compatible smartphone or tablet, you can even enjoy an augmented reality (AR) experience that includes a three-minute show of 3D fireworks, with the same visual and audible sound effects you'd experience if you were there in person (or at least pretty close to it).
There are also special events taking place across the country, ranging from Quebec to Nunavut. In Calgary, for example, residents can pick up Fun-at-home Canada Day kits from public libraries that include a beach ball, sidewalk chalk, temporary tattoos, and more goodies. The local CJSW radio station will also highlight local and Canadian artists for the entire day for musical entertainment. Visit Tom Campbell's Hill to view a fireworks display at night. In Quebec, the Vieux-Port de Montreal and other locations throughout the province will provide activities like inflatable structures for kids, a parade, fireworks, and shows through Canada Day. Check your province's local government website to see what activities, virtual or otherwise, are happening in your city.
How to Enhance Your Own Celebration
Taking a moment to reflect is more important than ever this year, so consider lighting candles and having a moment of silence in place of fireworks. Or do both in order to reflect on the past while also celebrating a path forward.
Adjust your musical playlist to focus on Canadian artists, like the Made in Canada playlists by Topsify Canada on Spotify and by Apple Music Canadian on Apple Music; explore music by Indigenous artists.
For family members who can't visit in person because of travel restrictions or health concerns, or if you choose to avoid gatherings right now, it's the perfect time to leverage video messaging programs  like Zoom and Google Meet. Create a virtual theme so everyone logs on wearing something Canadian-themed or at least in red and white, and play virtual games together, drink Canadian-themed cocktails, and enjoy one another's company.
If you own an RV or trailer, or can find one to rent, you might just prefer to hit the open road for the long weekend and take a road trip within Canada. Visit the places you have never seen and enjoy the beautiful sights of our home and native land. With some COVID-19 restrictions still in place, you might have to pre-book patio restaurant reservations and entertainment venue visits due to limited capacities. But with the right planning, it can be a great time to get away while still staying safe. Pick one destination that has been on your bucket list, travel to it, and enjoy the stops and sights along the way.