The ebb and flow of accessing the arts throughout the pandemic has been ..well, dramatic. Our new social realities have necessitated very creative transitions from traditional to digital and virtual offerings.
Amirali Alibhai, Head of Performing Arts at the Aga Khan Museum shared with me its creative and engaging virtual solution, called #MuseumWithoutWalls
"The Aga Khan Museum closed on Friday, March 13, 2020, due to pandemic restrictions," began Alibhai. "Three days later, on the following Monday, it re-emerged with a more robust and compelling online presence, featuring virtual performances, 3D tours, educational and children's programs."
"Our new dedicated virtual platform —#MuseumWithoutWalls — meant that people from all over the world now had access to the splendours of the Museum and its inclusive digital programming," said Alibhai.
Explained Alibhai, "the pandemic allowed us to take our previously archived live performances and transform them into virtual ones, and enhanced our digital distribution plans to reach and engage a much larger audience than the number of visitors that traditionally come through the Museum doors." Proudly, said Alibhai, "Over the past year we've created new virtual programs, courses and activities and even commissioned new digital works by artists to keep our audiences engaged.
I asked Alibhai to elaborate on how the Aga Khan Museum used digital means to drive awareness and engagement of its new platform.
"To promote #MuseumWithoutWalls," began Alibhai, "the Aga Khan Museum used organic and paid social media, e-newsletters, and channelled partner marketing. Many of these marketing strategies were in development pre-lockdown, but we used the opportunity to enhance how, when and where we were sharing content."
In fact, Alibhai shared that five million people accessed the Museum's Collections, exhibitions, and programs online in 2020. Added Alibhai, "We expect that number to increase this year."
The Museum's digital push will continue.
"Showcasing our programming online and on social allows us to deeply engage audiences who wouldn't normally be able to visit the site – in fact, more than half of our audience over the past 18 months has virtually visited from outside Canada. Going forward," remarked Alibhai, "all programming will consider onsite and online experiences so that everyone can enjoy them — no matter where they are."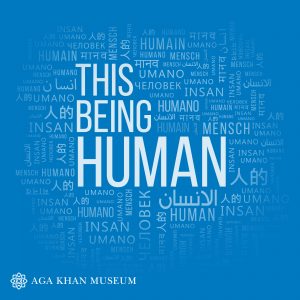 Intrigued by its new podcast series, "This Being Human", I asked Alibhai about its first podcast, as well as how it serves to break down stereotypes through story telling and to decolonise museums.
Alibhai responded, "On January 26, 2021, the Aga Khan Museum launched its first ever podcast, This Being Human. The podcast furthers the museum's mission to be a thought leader on modern Muslim life and culture in Canada and globally. Although This Being Human is still very new and is in the process of garnering a dedicated audience, existing listeners have already received the podcast in a very positive manner," stated Alibhai.
Added Alibhai, "An online survey to assess the podcast's impact, deployed in May, received several written responses in which study participants confirmed the podcast is representative of pluralistic cultural and social values not typically found in podcast content."
"A listener shared this specific comment," revealed Alibhai: "Over several days last week I had the great pleasure of listening to 8 episodes and found it [offered] a really instructive, even revelatory, experience as well."
Survey data indicates that over 50% of respondents listen to the series on a weekly basis, over 70% of respondents plan to continue listening to the full series, and over 60% have recommended the series to friends and family.
"We are looking ahead to the full series to deliver even greater impact," remarked Alibhai.
The Museum reopens to the public on July 25.