There's nothing like the smell of a fire burning and delicious food being cooked on a grill or over a crackling fire. Whether it's hot dogs, burgers, or marshmallows roasting for S'mores, cooking while camping is one of the most fun parts of the experience. Not only can everyone sit together and share stories while they make grub, they can also enjoy the simplicity of cooking outdoors.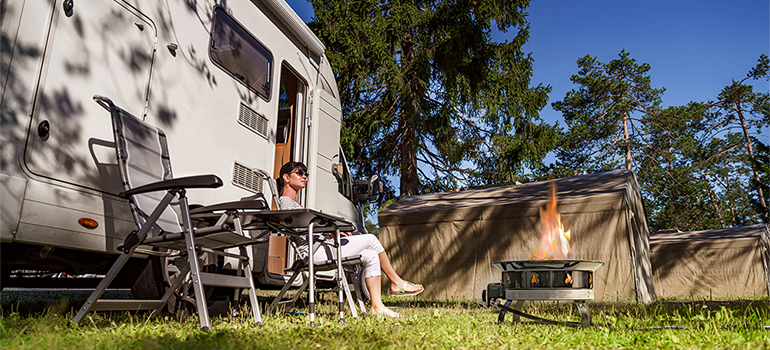 With more than half of the respondents to the Kampgrounds of America's annual North American Camping Report stating that they believe camping is the safest form of travel, and one-fourth of North American campers taking their first camping trip during the pandemic, chances are plenty of folks will be looking to book a trip this summer.
How can you up your campfire game? There are lots of ways.
How You Cook
The first has to do with the source of your cook. While an open fire is the most ideal option, some campsites forbid open fires, at least during certain times of the year. This limits your option to propane or other sources, not only for cooking but also for warmth.
GoSun has a cool and affordable solar oven called Sport that can actually make a meal for two in under 20 minutes using only heat from the sun. It can bake, roast, and steam, reaching temperatures as hot as 550 degrees Fahrenheit. And because its portable and lightweight, easily collapsing for storage, you can pop it into the car for a car camping trip or carry it in a backpack – it weights 7 lbs. and measures 24 x 16 x 12 inches. You can grab one for $277.
If you require something bigger that can make more food at once, there's the Fusion Pro ($756), a hybrid solar and electric oven that is twice as big (and heavy) as the Sport and runs from power provided via the sun as well as 12V. It can accommodate 4-5 meals at once and comes with an AC adapter, carrying case, and baking pans.
is one of the most popular brands when it comes to portable firepits, with models of every size possible, from ones you can bring camping to ones that are designed for permanent positioning in your backyard or cottage. The Standard model ($140) is perfect for camping. While it's not really designed for cooking, you can use the propane-powered firepit for heat or to roast things like marshmallows. Or you can place a grill overtop to use it as a cooking source, too. It is made from steel with a simple chrome valve knob to adjust the height of the flame. The best part? It doesn't require any assembly and is easy to transport. You will, however, have to purchase the carry kit or standard carry bag separately.
If you want to go all out with a device designed specifically for cooking, there are portable and travel-friendly grills like the Napoleon TravelQ PRO285X, which comes with a scissor cart on wheels so you can easily move it around and enjoy cooking at the proper height instead of crouched down. Fueled by propane, it can grill up to 20 hamburgers at a time via the 285 square feet of cooking space. It has dual burners so you can easily make eggs and pancakes for breakfast as well while cooking bacon, too. The cart folds up easily for transport, with propane tank straps to keep everything safe. Selling for $499, which is around how much you might pay for a decent barbecue for your backyard, it doesn't come cheap. But it does give you the option to use it anywhere you can, whether it's beside the RV during your rest stop on the way to a camp site, up at your cottage if you don't want to leave something there permanently, or even over at a friend's house. Having friends over for a BBQ and it's raining? Move it over to the covered porch so you can still cook up delicious steaks. Bottom line: you might get more use from it beyond just camping.
How You Wash Up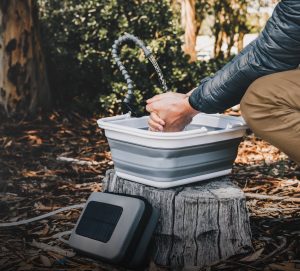 What about washing dishes when you're done? While chances are you limit food to what you can eat with your hands, like hamburgers and hot dogs, you might be serving side dishes or eating other things like eggs in the morning. And even if you decide to use recyclable paper plates, some things still need to be washed, like a coffee machine, knife, and other mixing bowls and accessories. The GoSun Flow Pro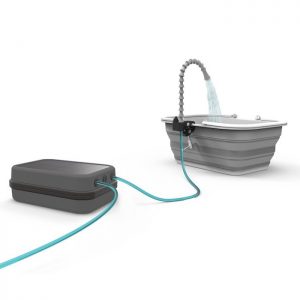 is another neat product, a solar-powered water purifier and sanitation system. Not only is this handy for handwashing and providing clean drinking water (no bottled water needed!), it can even be converted to a full shower with add-ons. But you can also use the system, which includes a faucet, pump, filter, power bank, and solar panels, to clean up after eating.
How You Store Food
A few years ago, a Kickstarter campaign ran for a "21st Century cooler" aptly called the Coolest Cooler that offered unique features, including the ability to not only carry the ingredients for delicious cocktails and drinks, but also blend them for you. It could also play music. Despite receiving more than $13 million in funding, however, the company closed up shop in December 2019 with many backers never receiving the product.
That ambitious project aside, there are neat coolers you can get that aren't necessarily quite as high-tech and multifunctional, but perform their intended purpose, and then some. If you're looking for an alternative to the expensive but always reliable YETI brand, there's the ROVR ROLLR 60, which typically sells for about US$450 but is currently sold out. This might be for good reason as while it isn't necessarily high-tech, it's more than just your typical cooler. The ROLLR 60 can carry up to 60 quarts of food in its "certified grizzly bear resistant" molded body and lid with anchor pins. What truly sets it apart, however, is the divider inside with a Deepfreeze dry bin that you can put inside if desired to separate dry ingredients like fruits, vegetables, bread, and meat from the frozen area that can keep ice for up to 10 days. It even comes with a prep station so you don't need to bring a cutting board for fruits and veggies and cup holders on the sides. A cool optional storage bin (US$95) fits neatly on top so you can carry all your camping food in a neat and organized way. There's also a BIkR kit (US$55) for towing the cooler with your bicycle should you be making a trip to the local grocery store in the small town and don't want to bring the car or want to ride to a nearby beach and bring snacks with you.