As we gear up to face another school year full of uncertainty with the new Delta variant of the COVID-19 virus upon us, back-to-school shopping is yet another tough one to decipher. That's particularly so for teachers who want to get supplies they'll need in school as well as items to help them with work at home. And if virtual school will be on the menu once again, which it seems could be the case across Canada, teachers will want to be better prepared for this upcoming school year.
Budgets, are, of course, a major concern, particularly when teachers have to fork over funds for the items they use at home. Thus, while plenty of tech products would be helpful, we also need to be practical about the situation.
With that said, here are some useful, and affordable, tech gadgets teachers can consider for using at home. Whether it's just for marking schoolwork and the occasional virtual meeting, or for full-blown virtual school, they will be worth the investment in the long run.
A Printer With a Scanner
It seems like such a simple device, but a lot of people don't have printers at home, much less ones with scanners built in. But a lot of assignments on paper can be easily converted to digital files with the use of a scanner. If teachers want to draw diagrams for kids, and find they are able to do so more easily with pen and paper versus a computer program, a scanner will result in a much nicer-looking final product to present versus snapping a photo of the piece of paper and uploading that.
Even with just a basic printer, teachers can print off lesson plans, tests, and other visual aids so they have them in hand while using their computer screen simultaneously instead of having to split the screen or flip back and forth from one screen to another.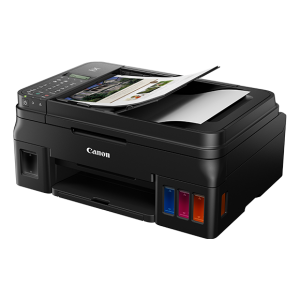 I'm a big fan of refillable ink printers like the Canon Pixma 4210. They sell for a higher upfront cost (this one is $500), but trust me, it will save money – and time – in the end. Why? You won't have to go to the store and pay $30-$50 for new ink cartridges every few months. As an all-in-one, this printer also does copies and scans.
Better Wi-Fi at Home
Many teachers struggled with connectivity issues from home. Even with the option of better connectivity, many didn't have top-of-the-line Wi-Fi systems because they didn't really expect to be streaming video all day and doing such bandwidth-intensive tasks as they found themselves doing last year. But even if virtual learning isn't in the cards, it's never a bad idea to upgrade your home Wi-Fi to accommodate the needs of a growing list of technology you might be getting in the home down the line. Having faster, better Wi-Fi at home provides tons of benefits, like more reliable streaming of TV and movies, connected gaming, and more.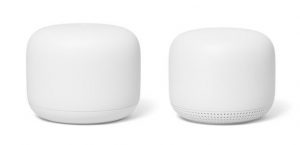 A mesh system like the Google Nest WiFi (from $199) is totally scalable so teachers can use WiFi points to extend connectivity to every room of the home, whether they're conducting virtual class from the dining room, office, or basement. Plus, it will be able to accommodate a teacher holding class in one room while their own kids log into their virtual schools in other rooms of the home. Each WiFi point, by the way, also functions as a smart speaker for playing music, reading calendar announcements, reminding you of recess bells, and more. So you essentially get a device you can use as a smart home hub as well as better Wi-Fi.
** Enter our contest and WIN a D-Link AC1200 Mesh Dual Band Wi-Fi Range Extender and extend the range of your existing Wi-Fi network and eliminate dead zones
Webcam
A lot of teachers are using older-model computers that don't have the greatest built-in cameras, which means their lovely faces aren't displaying as nicely as they could on camera for the kids. To help better replicate the in-class experience, higher-def video really makes a difference. And so, if you don't have a new computer with a great built-in webcam, it's worth considering a third-party webcam to clip onto the computer.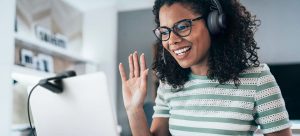 There are affordable ones that will come in handy when Facetiming or Zooming with friends and family as well, like the Logitech C270 HD webcam, which is just $40. It supports 720p widescreen HD video at 30 frames-per-second, which isn't the best out there but will be world's better than an old laptop's built-in camera. Auto light correction will also help ensure the teacher doesn't appear washed out due to her overhead lighting or natural light from the window in the room. And it easily mounts to the top edge of a laptop screen.
A Document Camera
With a document camera, a teacher can jot down notes, draw a diagram, or work out a math problem on the fly while showing the class the paper, or item, as she works. Just turn the camera on, connect it to the computer, point it to the paper and share the screen. They're like a modern-day, more portable version of those old overhead projectors you might remember from school back in the day.
A document camera is a great way to allow for a level of interactivity in a virtual class or tutorial, streaming what you are doing on the paper without having to write and hold it up or mount a whiteboard behind you.
Models like the IPEVO V4K, which you can get from Amazon for about $163, come highly rated. That one has an 8MP camera that can capture 3,264 x 2,448-pixel video and lag-free streaming (with a good WiFi connection, of course). The multi-jointed stand allows teachers to angle it as needed. It works with MacBooks, PCs, and Chromebooks, so no matter what computer you're using, it should be able to connect.
A Headset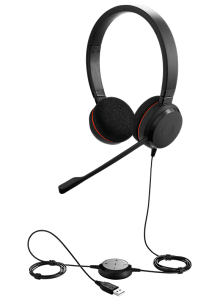 Rather than deal with a pair of headphones or the computer's built-in mic and speakers, opt for a decent headset that not only comes with a mic built-in to help amplify your voice but that is also comfortable to wear for long periods of time. Jabra makes some great true wireless earbuds but the company is also known in the business world for its office headsets. The simplest and most affordable option worth considering for teachers on a tight budget is the Jabra Evolve 20 Stereo/Mono wired headset, which plugs into the computer's USB port, great for stationary work during virtual class time. At just $57, it won't break the bank and will come in handy for other computer-related tasks where you want to privately listen to audio and might not even need the mic. Just don't forget to remove them before getting up for a break!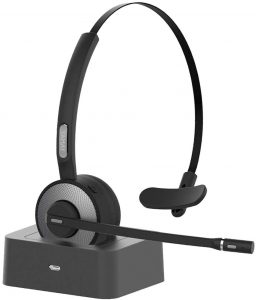 If you'd prefer to spend a bit extra for a wireless pair, there's the Yamay Wireless on-ear headset that connects to the computer wirelessly via Bluetooth so you can walk around the room freely and continue talking to students without being tethered to the computer. Available on Amazon for $81, they aren't that much more expensive and you'll still get a noise-cancelling mic, mute button, and soft, padded earpads. With a total of 18 hours of talk time, they'll last the full school day (or two) before you need to recharge them in their convenient desktop dock.
Visit our Contest Section for other cool tech prizes for Back to School