Apple held its annual September event and, as expected, made several new announcements in terms of both product and software. While there won't be a new pair of AirPods nor any new MacBooks just yet, the iPhone has officially moved into its 13th iteration, while the Apple Watch Series 7 is coming soon.
What are the highlights from the event? Here's what you need to know about the new products and software upgrades.
Apple iPhones Reach Number 13
Apple released four new iPhones under the new 13 moniker: the iPhone 13 Pro, 13 Pro Max, 13, and 13 Mini, all of which feature upgrades from the relatively still-new iPhone 12. The former two include Super Retina XDR displays with smaller notches, which had been a rumoured feature ahead of the event. They also include the new A15 Bionic chip and offer improved battery life. As is typical with Apple, the cameras have also been improved to include new features, including better low light performance and a new night mode along with a cinematic mode for video recording.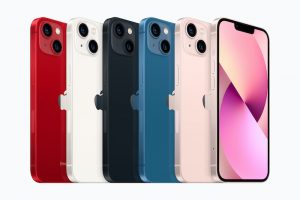 With a whopping up to 1TB capacity, 5G connectivity, and Ceramic Shield front cover, they are the new flagships in Apple's line. Both will come in graphite, gold, silver, or sierra blue and will be available to pre-order as of Friday September 17 with official in-store availability starting September 24. The iPhone 13 Pro Max will set you back $1,549 unlocked and the 13 Pro is $1,399 though, as with any Apple device, you can save with trade-ins and other discounts.
Meanwhile, the iPhone 13 and 13 mini, which have 6.1- and 5.4-inch screens, respectively, also feature improved battery life and camera performance, including a new dual-camera system. They include the same Ceramic Shield front cover, Super Retina XDR display, and A15 Bionic chip as their more premium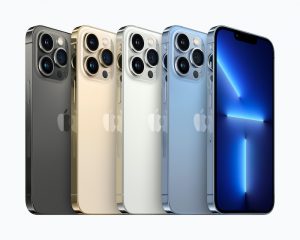 sisters. They're also water-resistant thanks to the IP68 rating and include 5G. With the same availability and pre-order dates, they will come in more fun colour options like pink, blue, midnight starlight, and PRODUCT(RED), for $1,099 and $949, respectively.
 iOS 15 Ups the Software Game
All four phones, and all compatible older-model iPhones, will receive the iOS 15 update come Monday, September 20, which includes the addition of spatial audio for FaceTime Calls, Portrait mode for photos, new Focus features, a redesign of the notifications, a new Live Text feature that can recognize text in photos, redesigns in Apple Maps that include 3D city views, support for adding home keys to Apple Wallet, new privacy controls in Siri and Mail, and other updates.
Apple Watch Series 7 Adds Cycling Tracking and More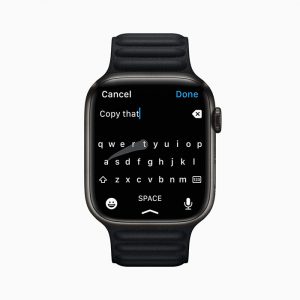 While the Apple Watch won't get longer battery life, still sitting at the typical 18 hours per charge, Apple says the smartwatch will charge up to 33% faster, so you can recharge it while sitting down for a lunch or dinner break and have it ready to go by the time you're done. It's also more durable thanks to a crack-resistant display, IP67 certification for dust-resistance, and WR50 rating for water resistance.
A new QWERTY keyboard lets you tap or slide to compose a message. Available in new aluminium case colours, it will be able to measure ECG, blood oxygen, and all the same workouts, plus some new ones, like Tai Chi and Pilates. There's also a new mindfulness app for helping you reduce stress and bring calm, sleep respiratory rate tracking, improved access to Apple Wallet, and other new features. Cyclists will find some of the upgrades useful, including the ability to analyze GPS, heart rate, accelerometer, and gyroscope data for a ride as well as auto-pause and resume so you get an accurate reading that doesn't include stops at red lights, for example. You'll also now hear voice feedback on your workouts through compatible headphones and the Watch's built-in speaker. Pricing has yet to be announced for Canada but it will start at US$399 and will be available later this Fall.
Getting More From Apple Fitness+
Apple Fitness+ is a popular option when it comes to workout apps, particularly given the seamless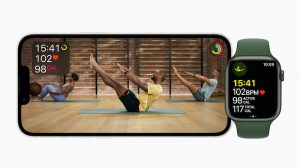 integration with the Apple Watch. And the app and service will be getting an update as of Monday, September 27 to include new body conditioning workouts like Pilates, mindfulness activities and guided meditations, and special workouts to help you get ready for snow season, led by world champion Olympic skier Ted Ligety and Fitness+ trainer Anja Garcia. Group Workouts with SharePlay will be available later this Fall, allowing groups of up to 32 people to work out together, which is poised to be a popular feature among those who exercise at home. Pricing remains unchanged at $13/mo. or $100/yr. with the option to add Apple Fitness+ to an Apple One subscription that includes other services at a discounted overall rate.
Apple iPad and iPad mini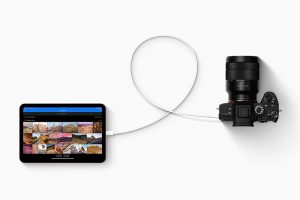 Apple added two new iPads to its line-up, including the 10.2-inch ninth-generation Apple iPad and the 8.3-inch iPad mini. The iPad mini, however, is the star of the show with Apple's new A15 Bionic chip, 5G, USB-C charging, Center Stage for keeping you in the middle of the frame during video calls, and support for Apple's 2nd-gen Pencil. With an all-day battery life, it also features Touch ID for easily logging into apps and websites. iPad mini will start at $649 and be available on the 24th.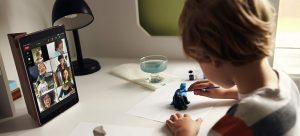 While the new iPad will only boast the A13 Bionic chip, the fact that it starts at just $429 makes it an ultra-affordable entry option into the iPad world. Also available as of September 24, it offers a 12MP ultra-wide front camera with Center Stage, Apple Pencil (1st-gen) support, Smart Keyboard, and twice the storage of the eighth-gen iPad.
Both iPads come in either Wi-Fi-only or Wi-Fi + Cellular options and with the new iPadOS 15.
What's New With iPadOS 15?
Upgrades for owners of compatible iPads as well as these two new models included with iPadOS 15 include Split View, Slide Over, new Home Screen and App Library widget layouts, Notes available throughout, the addition of the Translate app, Live Text, the ability to filter notifications based on what you're doing, spatial audio and group FaceTime calls, and a new Portrait mode.
What About That iMessage Hack?
Just prior to Apple's event, researchers found a vulnerability in Apple devices that could allow hackers to gain access to users' devices. Apple urged its customers to install a security update that was quickly released following the discovery to patch the virtual hole. Known as a "zero-click exploit," reports Global News, the vulnerability meant that hackers could access a device via iMessage without the device owner even clicking on an infected link. Affected devices could include everything from an iPhone to a MacBook computer, Apple Watch, and others. Bottom line: update your existing Apple devices ASAP as you wait to delve into these delicious new options.
More articles about Apple's tech