Amazon is one of many tech companies to hold its own massive events to launch an entire slate of new products. And at the company's latest hardware event, which took place in late September, there were plenty of innovations. While some are products you can buy right now, others are innovations that are still on pre-order, many only available in the U.S. right now, and some by invitation only. But they each provide a glimpse into Amazon's plans for the future of home tech. Here's a rundown of everything you need to know.
Amazon Echo Show 15: The Star of the Show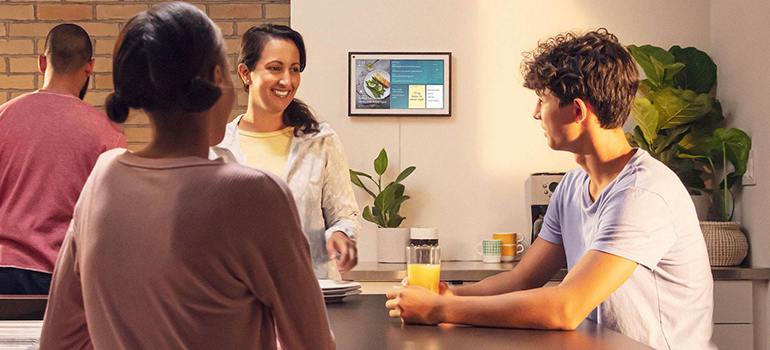 Amazon announced its own branded Fire TVs a few weeks ago, which will come in sizes from 43 inches all the way up to 75 inches, each with 4K Ultra HD resolution. But as an in-between these TVs and the smaller Echo Show smart displays is the new Echo Show 15. The Goldilocks display measures 15.6 inches and is designed to be placed on a counter or shelf, or even mounted on a wall.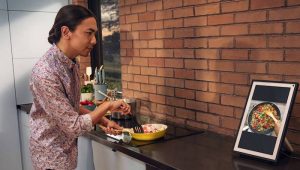 Consider it a large picture frame or a small TV, ideal for the kitchen while watching recipe videos or the news, or a smart home hub in the hallway that displays a slideshow of photos when you aren't using it. The screen boasts 1,080p resolution and can be positioned in portrait or landscape mode. What makes it a useful screen to have even at the front door is the customizable widgets so you can set the home screen to show current weather, news headlines, calendar summaries, shopping lists, and more pertinent information to help you get your day started.
A neat addition, which is entirely optional for those who don't want to partake, is the new visual ID which would allow Alexa to recognize which member of the family you are and adjust the information on the screen accordingly. There's also a sticky notes widget so you can leave notes or reminders for specific family members, leveraging the visual ID feature. Of course, you can also use the Echo Show 15 to play music, make video calls, and control other compatible smart devices in the home. The Amazon Echo Show 15 will be available in Canada for $330.
Ring Always Home Cam Drone: A Drone For Inside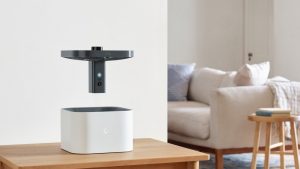 This isn't an available product just yet, but Ring, owned by Amazon, is allowing those who are interested in trying out the Always Home Cam drone to sign up for an invitation. The device can fly around the home, capturing footage from its HD (1,440 x 1,440) camera with built-in LED that lights up its path so it can see in the dark as well. Why might you want it? Maybe you can't remember if you left the stove on, the back door unlocked, or want to verify there's no flooding in the basement after receiving a water leak notification. It sits on a charging dock so it's ready to go whenever you want to see what's going on inside while away on vacation, for example, or to make sure the teenagers aren't throwing a party while home alone. Invites are only available to those in the U.S. for now, but if things go well, this could become a saleable product.
Amazon Glow: A Video Calling Screen for Kids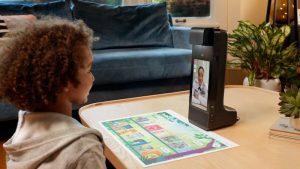 Amazon has a variety of products designed specifically for kids, from Fire tablets to Echo Dots and screens in adorable, kid-friendly designs and strict parental controls. The Amazon Glow is the latest to join the list. Designed specifically for video calling, it's a perfect way for kids to chat with friends and family from afar. It features a down-firing projector so kids can show the grandparents the art project they're working on or toys they are playing with; even playing games together remotely. The Glow, which is designed for kids aged 3+ and connects via a free mobile app on iOS or Android, comes with a one-year subscription to Amazon Kids+ for access to tons of games, books, videos, and more. And parents will appreciate that, like other Amazon products for kids, it comes with a two-year worry-free guarantee that confirms Amazon will replace it for free should it break. It's only available by invitation for now, for a price of US$250.
Halo View: An Upgraded Fitness Band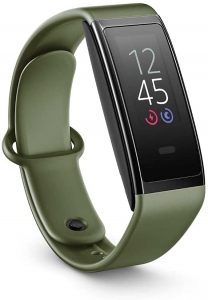 Amazon is updating its Amazon Halo fitness band with a new, crisper AMOLED screen in the Halo View. The most significant upgrade is the ability to instantly view health stats like heart rate, activity points, sleep score, and blood oxygen level, on the screen itself so you don't have to rely on your phone. Operating for about a week per charge, it does away with the microphone, allowing for a lower price point. The Halo View, which will come in three colors (sage green, lavender dream, and active black), is only available for pre-order in the U.S. for now, where it will sell for US$80, making it one of the most affordable fitness bands on the market. It will also come with a one-year trial to Halo membership for access to workouts and programs, after which it will cost US$4/mo.
Amazon Smart Thermostat: Save On Energy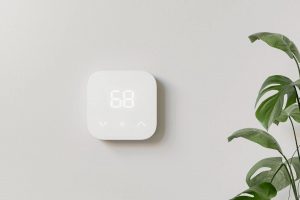 Joining the ranks of other popular smart thermostats, but coming in at an incredibly low price, the Amazon Smart Thermostat works with most existing 24V HVAC systems (C-wire required) and lets you easily adjust the temperature when you're at home via Alexa voice commands or use the app to adjust remotely. You can also set up routines to ensure the heat turns off or down when you aren't home then turns back on an hour or so before you arrive so the house is nice and toasty. Or, vice versa with air conditioning in the summer. Also only in the U.S. for now, the Energy Star-certified Amazon Smart Thermostat is on pre-order for just US$59.
Ring Alarm Pro: A Enhanced Base Station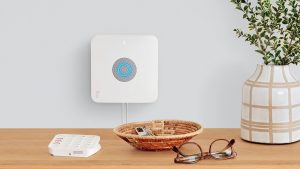 Using a built-in TrueMesh eero Wi-Fi 6 router, the Ring Alarm Pro is a base station that can serve as the hub for your home's security. It includes 14 pieces that provide whole-home protection, Wi-Fi, and network security. Add a Ring Virtual Security Guard subscription for professional home monitoring, which is worthwhile for those who travel often or for a secondary home or cottage. It's available stateside for US$380.
Blink Video Doorbell: Powered by a Battery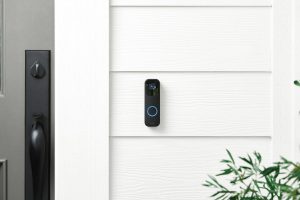 Blink, another company under the Amazon umbrella, launched its first video doorbell, which can be wired into an existing doorbell system or used via battery power. When using battery power, it can operate for up to two years. You will, however, need the Sync Module 2 and its local storage via USB drive. It features two-way audio, HD video, motion and chime alerts, and, of course, Alexa voice control compatibility. The video doorbell is on pre-order in the U.S. for US$50.
Ring Smart Alerts: Customize to Your Home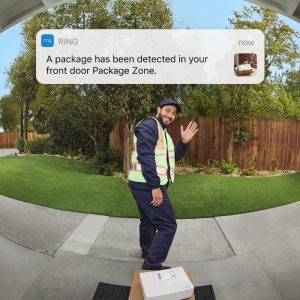 Ring also announced a pair of new smart alerts for owners of compatible security cameras and video doorbells: Custom Event Alerts and Package Alerts. With Custom Event Alerts, which works with the Ring Spotlight Cam Battery, computer vision and machine learning allows the camera to detect two different states of the same view, like a view with the garage door open and one with it closed. Take photos of both states during the set-up process, and the Ring camera can then recognize if the door is left open and let you know. The feature will begin rolling out over the next couple of months. Package Alerts, meanwhile, are exactly as they sound. Available for owners of the Ring Video Doorbell Pro 2 and Ring Video Doorbell (2020 release), and who subscribe to a Ring Protect Plan, it will let you set a specific zone then receive an alert any time a package is left there. With Alexa Greetings, you can also tell the delivery person where to leave the package if you aren't home and won't be able to pick it up until later.
Amazon Astro: Yes, It's a Robot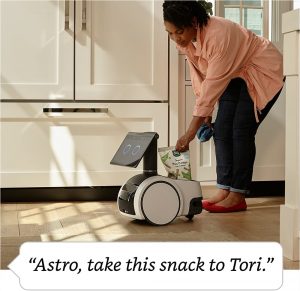 Amazon's cute Astro robot is another device designed to help monitor you're home while you're away, help you around the house, or to use for video calling when you're home. It has a large display and eyes that indicate its mood or activity, and a periscope lens so it can see way up high. It's essentially a large tablet on wheels that can be your at-home assistant, using Intelligent Motion to effortlessly navigate the home and provide reminders, timers, alarms, and more. It has a compartment where it can deliver items to people as well so you can easily multitask. If an unrecognized person is detected, it will send you an alert, and it will come with a six-month trial to Ring Protect so you can save footage in cloud storage for up to 60 days. What will make Amazon Astro truly useful is the addition of an Alexa Together subscription, a service coming soon that would allow people to remotely care for elderly or differently abled loved ones with things like reminders, shopping list management, activity alerts, and more.  But it won't come cheap: the Amazon Astro is available for pre-order in the U.S. for US$1,450.
More articles on Smart Home