Google Engineering Program Manager Komal Singh has followed up her acclaimed 2018 book, Ara the Star Engineer, with another STEM-based sequel called, Ara the Dream Innovator, which launched last month in hardcover or on kindle. Singh's aim is to empower young girls to pursue careers in STEM, but also shared with me that she was inspired by her daughter's assertion that "all engineers are boys."
Komal's whimsical and inclusive stories allow kids to see themselves in science, tech, engineering, and mathematics roles. Ara the Star Engineer is available in English, Arabic, Chinese (simplified), Hebrew, Korean, Portuguese (Brazil), Portuguese (Portugal), with more languages coming soon.
Ara the Dream Innovator follows the journey of young Ara, her sidekick droid Dee Dee and a few robot friends along their adventures as they explore the possibilities STEM has to offer.
Why is Ara an Innovator?
"She's an innovator because innovation encompasses a broader spectrum of creation – inventing, improving inventions, scaling, team-building, being entrepreneurial, and making inventions inclusive," responded Singh.
"The book is themed on inclusive innovation," added Singh. "Ara is building a 'dream decoder' to capture her most amazing dreams as her best ideas appear in her dreams. But, she soon realizes it would be wondrous to make the DreamDecoder work for all kinds of kids who do not look or think like her."
"Inspired by her clever and entrepreneurial 'Naani', Ara founds a start-up with her droid DeeDee," which is a wonderful construct to use as it opens young readers' minds to entrepreneurship and self-worth, I think.
Singh further elaborated, "They pitch their idea to build a team of diverse Super Solvers! And set on a mission to build DreamDecoder FTW (for the world!). Their innovation journey takes them to hackathons, accelerators, negotiating with investors."
Ara's strong and imaginative personality lays a fun foundation for more stories about the power and creative solving possibilities of STEM.
"The plan is to have a 3-book series," shared Singh. "Each book tackles a technological field and introduces readers to real-life women trailblazers from that field. The books bridge technology, whimsy, representation. We roll by the motto: 'Childhood is magical, technology is whimsical, representation is monumental!'"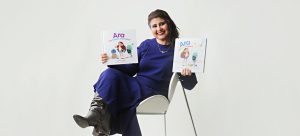 Explained Singh, "In the first book, Ara the Star Engineer, the focus is on computational thinking – we introduce concepts such as algorithms, coding, troubleshooting. Plus, we feature characters based on real-life engineering trailblazers who have engineered systems used every day by billions such as VoIP, browsers, search engines etc."
"In the second book, the focus is on the start-up ecosystem and innovation lifecycle – we introduce concepts such as founders, accelerators, product inclusion, diverse teams. Plus, we show illustrations of real-life women tech founders and angel investors from diverse backgrounds …including some unicorn founders!"
"The third book is in the works and will be themed on AI and tackling bias in AI. Wait for it," shared Singh.
I asked Singh in her experience, what holds girls back from pursuing STEM careers?
Singh began, "I feel girls drop out not when they are 17 years old, or 27 years old, but when they are 7 years old."
"There are complex societal factors that contribute to this, and here a few to unpack:
Relatability of subject matter: a lot of the material is not packaged in a way that speaks to their ideological or social impact interests. For example, we often hear "learn to code to create fun games", rather than "learn to code to create apps that can save people".
Social subconscious biases: parents and elders often hesitate to expose girls to STEM-based camps or toys, as they would to let's say music or sports or crafts. Exposure-parity towards all fields would be great.
Access to representative role models: there are lesser role models in STEM pop culture to look up to, especially for girls of colour. Representation and access to relatable role models goes a long way in not only inspiring someone, but also in making them stay the course."
I could not agree more.
Personal inspiration for Singh came from "a lot of people," stated Singh.
"Starting from my own parents, to amazing leaders at my work, to women tech founders, to passionate social activists, to compassionate ancestors, to zen masters," revealed Singh. "People who intrigue me most are those who create their own unique path by daring to do things differently, going against the grain to bring about a social change, owning their unique personality and uplifting others. Ada Lovelace, Grace Hopper, RBG, Linda Liukas (kids techie author), Thich Nhat Hanh (zen master), Barack Obama to name a few."
For more details on Ara the Dream Innovator and the Ara book series, visit the adventuresofara.com.
-30-
More STEM stories