The Irish Minister for Trade Promotion led a trade and investment visit to Canada recently to strengthen Irish – Canadian business. The visit was spearheaded by Enterprise Ireland, an Irish trade and innovation agency which has offices in Toronto as well as Montreal.
More than 500 Irish SME client-entrepreneurs do business in Canada and employ 6,000 people nationally. Vice-versa, Canadian businesses in Ireland employ 7,000; a 75% increase over 2018.
Since the provisional application of The Canada-European Union Comprehensive Economic and Trade Agreement (CETA) in 2017, Ireland's exports to Canada have grown by 26%. In 2020, Irish companies exported over EUR1.7 billion worth of goods to Canada.
On his arrival in Canada, Minister Troy said, "I am delighted to be here in Canada, our first in-market trade visit to the country since 2019. We are very fortunate to have been able to maintain strong relationships with Canada, both culturally and economically, over many years. As we look ahead to a post-pandemic recovery, this trade visit is an important opportunity to strengthen our relationship while also highlighting the many opportunities for both Canadian and Irish businesses."
Key outcomes of the trade visit include:
The official market launch of Irish fintech Swoop Funding; a matching platform helping start-ups and SMEs access funding across equity, debt and grants.
Multi-sector contract announcements between Enterprise Ireland clients and their Canadian business partners.
Participation in a healthcare advisory panel with key opinion leaders from Canada's healthcare sector and a consumer retail event at the Irish Design House.
"The trade visit was an excellent opportunity to showcase the capability and innovation of Irish businesses and Enterprise Ireland clients who are scaling and growing in Canada, reengage and reconnect in person with stakeholders and business partners, and highlight the opportunities for growth in the Canadian market," remarked Lydia Rogers, Enterprise Ireland Canada, Country Manager & SVP.
Irish-Canadian Innovation
There are an impressive array of Irish companies working alongside Canadian counterparts to deliver innovative solutions across Canada in healthcare, fintech, agritech, engineering and cleantech. Here are a few fast-growth examples of Irish entrepreneurs and their Canadian success stories:
Swoop Canada – The visit coincided with the official market launch of Irish fintech company Swoop Funding in Canada. The company is a high potential fintech start-up in Enterprise Ireland's client portfolio.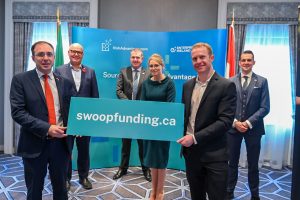 Swoop helps businesses to identify savings and cut costs in areas such as banking, FX, insurance, utilities and broadband. Advice and guidance is provided for business current accounts, international payments, energy, bad debt protection and recovery, and insurance.
Swoop was named in the 'Hot Ten' list for the Global Fintech 50 for 2019. Swoop's Canadian market entry follows their successful launch in Australia without ever setting foot in the country due to Covid-19.
XOCEAN – Carbon neutral XOCEAN is driving down emissions in the offshore industry and delivering on its sustainability goal of displacing the emission of one million tons of carbon.
"Canada has developed a highly supportive environment for blue economy and ocean-tech innovators providing excellent access to talent, technology and partnership opportunities," stated James Ives, CEO, XOCEAN.
Since opening their Canadian office in 2020, XOCEAN have successfully completed missions in hydrography, pipeline inspection and site characterization, including the first multi-USV ('uncrewed surface vessel') survey on Lake Superior, and are expecting to more than triple revenue in fiscal 2021.
XOCEAN was awarded the XO-G2 project with Canada's Ocean Supercluster that allowed the company to partner with Halifax-based, world-class boat manufacturer ABCO Industries, and leading geophysics experts, Ocean Floor Geophysics, in the development of their next generation USV.
Added Ives, "Canada's commitment to blue economy leadership means opportunity for XOCEAN … to support a country with the longest coastline in the world, an expanding and under charted arctic region and a nexus to the broader North American Wind and Energy market."
Malone Group – Malone Group has been appointed as international project partner by Pond Technologies in Markham, ON – a cleantech company operating a vertically integrated model to enable industries to monetize their waste emissions, reduce their carbon footprint and create sustainable products.
"Canada is a great place to do business," said Stephen Malone, Malone Group, CEO. "It promotes creativity and innovation with balanced governance and regulation.  We operate best in regulated, process environments where we can work with companies to strategize and map out their smart factory journey.  The partnerships we have in the carbon capture space with Canadian companies will allow us grow our team locally as we work on impactful projects internationally."
Aerogen – During COVID-19, three Montreal hospitals implemented Aerogen as the aerosol drug delivery device of choice for ventilated patients and those suffering from respiratory health issues.
Combilift – Combilift's expertise in optimizing the potential of a warehouse or storage facility in combination with their material handling solutions allows increased storage capacity by as much as 100%. In Ontario and Quebec, Combilift works with GFL Environmental, Aosom Canada and QTG.
Workvivo – Workvivo serves as the employee communications platform for TELUS International. During the past 18 months, Workvivo has helped companies keep teams engaged with interactive social media campaigns on the platform.
"We've seen a major increase in our business in Canada over the last year," remarked John Goulding, CEO at Workvivo. "Workvivo grew 400% and …[we] see huge opportunity for further growth in Canada and it definitely is becoming an impressive global hub for business. We're delighted with the traction we've seen in Canada as it is increasingly obvious that more and more of the world's most exciting companies are basing themselves there."
Innovation in Agriculture
Canada has become a key growth market with opportunity for acceleration of internationalization. Enterprise Ireland's agri-clients have increased exports by 46% in Canada over the past three years.
Some of Enterprise Ireland's innovative agri-clients continuing to grow in Canada with pioneering sustainability, environmental and digitalization solutions include:
Keenan – Keenan specializes in enhanced feed management, the KEENAN Controller is synced with their InTouch dashboard and farm app; providing farmers access to feed-management software, mixer wagon controller technology and on-farm data to provide decision making tools to ensure feedings is consistent, accurate and helps drives animal performance.
Samco Agricultural -Samco has seen strong growth in Canada in 2021. Samco designs and manufactures a Samco three-in-one machine which sows seed, sprays the soil with pre-emergence herbicide, and lays a thin layer of degradable mulch film over the seedbed.
ProDig Attachments – A provider of agricultural attachments, distributed by North Valley Equipment (BC and AB) and Harco Ag (ON).