The situation with CES 2022 is an unconventional one as the annual trade show's producer, the Consumer Technology Association (CTA), is balancing a safe in-person event in Las Vegas with a virtual show. With many major companies having cancelled their in-person presence, from Microsoft to T-Mobile, Nvidia, and AT&T, the 2,200 exhibitors still booked for in-person attendance are made up primarily of small-to-medium-sized businesses and start-ups. Thus, there are plenty of cool, exciting, and fun gadgets from smaller companies worth checking out whether that's in person or virtually.
Magnetic Handl Phone Case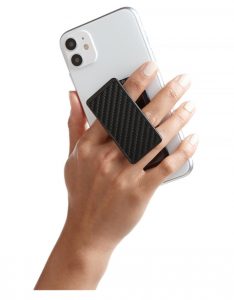 I'm a fan of the Handl cases for smartphones, which include a rectangular piece of material connected by an elastic to the back of the case. Pull it out, insert the top into a slotted groove, and voila, you have a kickstand that works in both portrait or landscape mode. You can also run your fingers between either side for a better grip of the phone while walking or even snapping selfies. The latest version is designed for the newest iPhones with magSafe compatibility. Rather than a full case, it's an adhesive version of just the rectangle accessory, which can be affixed to a case or the back of the phone itself. There are 17 designs of the new magHANDL, with pricing ranging from US$40 to US$50. The company has a booth in person at the show in the Eureka Park exhibit at the Venetian Hotel, booth 60535.
Quantum Operations Glucometer
Tokyo-based healthcare start-up Quantum Operation Inc. is showing its wristband glucometer that can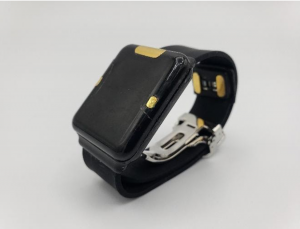 measure glucose levels through the skin using the company's patented spectrum sensing technology. An alternative to the daily needle for diabetic patients, it can also monitor changes in pre- and post-meal blood glucose levels, which will help diabetic patients keep track of the progression of the disease. The device can also measure other vital signs, including heart rate and oxygen saturation (Sp02). In addition to having a presence at the CES Unveiled event on January 3, the company will also be part of the Startup Pavilion in Eureka Park, at booth #62102.
Waverly Labs Ambassador Interpretator 2.0
Exhibiting in the Venetian Expo in Halls A-C, booth #54844, the Waverly Labs Ambassador Interpreter 2.0, an over-the-ear device promises near-simultaneous audio and text translations, leveraging the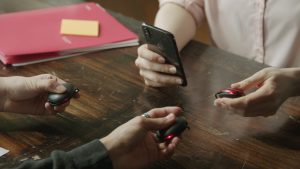 company's core speech capturing and AI translation technology. It can handle ongoing fluid conversations with people talking in a natural, unimpaired way, and offers a sleeker design than the first-generation model. There are three modes: personal, small group, and one-on-one translations. In listen mode, you can hear the translation of someone speaking from up to eight feet away. Lecture mode is for broadcasting the words the wearer is speaking to the audience through a paired audio system. And converse mode lets up to four people engage in a multi-way conversation, with each wearing one of the devices (they are sold in pairs). Each person sets their preferred language for detecting and receiving, then they can begin a conversation. Demos are being offered at the event, ideal for bilingual or multilingual attendees to give it a try.
Human Touch Super Novo Massage Chair with Virtual Therapist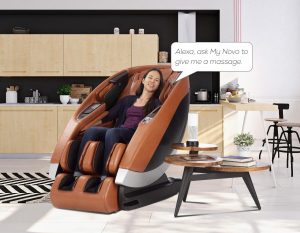 The Human Touch Super Novo massage chair will offer voice control along with a mobile app and remote. It offers three-dimensional massages and integrated Alexa capability and Virtual Therapist for controlling the chair using voice commands to ensure a personalized experience. There's also a downloadable mobile app and a slim LCD controller with multi-function touch wheel for control. Using the remote, you can adjust things like heat and volume, pause a massage, recline the chair, or activate an auto program. With 4D Enhanced Stroke Speed massage capability, customizations for depth control and enhanced mid-stroke speed variation, the idea is to mimic the feel of human hands, targeting different areas of tension. There's also adjustable heat for lower back, knees, calves, and feet. The patented Cloud Touch air compression technology is designed to use acupressure for upper and lower extremities. It also includes built-in Altec Lansing Bluetooth speakers for listening to music or soothing sounds while relaxing. Find Human Touch's booth at the Las Vegas Convention Center in Central Hall, booth #15354.
Aura Air Smart Air Purification System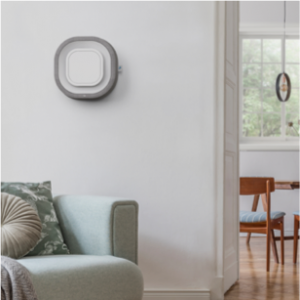 Air purifiers are hot these days due to the pandemic and a recognition of the importance of breathing cleaner air. While the major companies will be exhibiting their wares in this category, there are smaller companies as well. The Aura Air, for example, is designed to kill 99.99% of bacteria in an hour. There are two models: the Aura Air designed for large rooms that uses a four-stage purification process and monitors air quality in real time, and the Aura Air Mini, a travel-friendly personal device. Find the company in the North Hall of the LVCC, booth #8463.