One way to make stacks of paper disappear in an office may be to scan all those documents and move them to the cloud in one fell swoop.
That's the advice from LP Bougie, Verticals Account Manager at Xero. Scan financial documents via ScanSnap Cloud to cloud platforms such as Hubdoc and Xero.   Xero is an accounting software company that includes Hubdoc under its umbrella. Hubdoc is a document collection tool that allows users to extract, collect and organise the documents and converts the information into useable data and upload to the cloud. Xero's cloud-based accounting software can then intelligently manage that data, allowing a small business owner, bookkeeper, or accountant to effortlessly reconcile against bank transactions.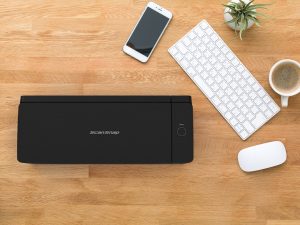 To run through that much paper requires robust and reliable scanning hardware such as the ScanSnap iX1600, iX1300 and iX100. Those  three scanners all run through documents at very fast speeds, while the ScanSnap Cloud software pushes them directly to Cloud platforms like Hubdoc.
"The way it works is once an invoice, receipt, or statement is scanned using the high quality imaging that ScanSnap offers, the financial information it contains is automatically inputted into Hubdoc, which is connected to ScanSnap Cloud," says Bougie. "From there, Hubdoc prepares the information in a format ready to be sent to Xero for a small business owner, bookkeeper or accountant to review and reconcile against bank transactions."
Xero has over 3 million global subscribers, many of them small business owners. For those who need access to real-time financial data, the company's ecosystem extends beyond 1,000 third-party apps and 300 connections to banks and other financial institutions.
Bougie adds that the workflow saves a great deal of time. Though hard to quantify because every business is different, removing barriers across each of those points would be helpful to any business owner. It simplifies how they centralize financial information, making it easier to bring in receipts, invoices, statements and credit notes.
"This collaboration is all about putting together tools that integrate well and eliminate data entry as much as possible," he says. "By using these tools, small business owners can spend less time doing administrative work such as filling out expense reports, creating invoices or asking customers for payments and get back to what they're passionate about: running their business."
The ScanSnap scanners were built to handle these types of documents, while the ScanSnap Cloud software organizes them separately to shuffle them over to Hubdoc or Xero.
This is what Bougie refers to as how to "save time in non-value-adding processes." Accountants often wait for clients to send in documents and explain transactions, which are also usually delayed. Digitizing the process across the chain      cuts down the time it takes for businesses to pay their bills, and receive their payments, too. That also includes compliance, particularly with fiscal statements that accountants could reconcile and organize throughout the year, rather than only at year-end.
"Small business owners know where they stand with payables, receivables, how much tax they will owe, and how much they should receive," he says. "Imagine a fiscal year-end where you don't have to wait six months to have a good sense of your cashflow position, or being able to apply for a loan at any time during the year. That's part of the power of this workflow."
For home-based and e-commerce business owners, working remotely wouldn't matter as much because the scanners are small enough to fit in any office space. With real-time access to paperless documents, everyone saves time doing their part.
"For those business owners, it's about being able to scan every document, store it securely or use it in a digital format to have the right information in the right place," he says. "For the accountants, it's about not having to chase clients for their documents and being able to work efficiently with tools that automate the manual data entry part of the process."