Among the many impacts of COVID, it seems we've gotten better at doing digital.
Internet and digital technologies users in this country are more proficient, better protected and more broadly enabled now than just a couple of years ago.
That's according to a new study entitled Canadians' use of the Internet and digital technologies before and during the COVID-19 pandemic, published in Economic and Social Reports.
While it reports that fewer Canadian are on the "have not" side of the digital divide, there are still gaps in our access to high-speed broadband service overall, and misunderstandings as to why that is still the case.
The Internet study takes the replies to nearly 30 questions asked as part of Canadian Internet Use Surveys, conducted in 2018 and 2020, to document the changing nature of our online activity prior to and during the pandemic.
Report authors categorized Canadians into one of five user groups, based on comfort and ability, ranging from non-users to Advanced. They noticed right off the bat a shift of the population into more adept user groups, particularly among Canadians in older age groups. The number of senior citizens who are classified as Intermediate and Advanced users increased by over five percentage points in both categories.
Overall, the number of Canadians identified as either non-users or Basic users of digital technologies declined by almost five percentage points, from 23.8% to 18.9%. That's the equivalent of some 1.4 million Canadians moving from the 'have-not' to the 'have' side of the digital divide. A concurrent rise in Intermediate and Advanced categories was noted in other age groups.
In many cases, unless restricted by economic or service limitations, certain popular online activities were even more prevalent in 2020 than in 2018.
With most of us staying at home, it's not surprising those activities include booking appointments online, buying goods online, and subscribing to a streaming media service. Of course, online work from home increased dramatically for those whose situation allowed.
In any case, one real positive revealed in the survey about our online use is the stats that show more of us changed personal information privacy settings on our digital devices over the past couple of years, a sign that more Canadians are taking steps to increase their online security and privacy.
The number of Basic users who changed their location privacy settings on a digital device increased by about 13 percent, reaching 19% in 2020. Not enough, but more.
Likewise, the number of Intermediate and Proficient users who changed their privacy settings increased by 22 and 26 percentage points respectively, suggesting a wider awareness of the importance of such protecting privacy among these groups. Among Advanced users, 88% reported that they changed their privacy settings in 2020, and even that is an increase from 2018.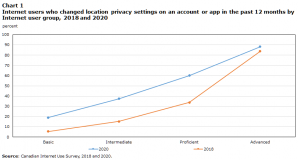 As mentioned, an increase in the proclivity and productivity of senior citizens who use the Internet and digital technologies was not only observed, but it was also a key influencing factor overall.
Between 2018 and 2020, the share of Canadians aged 65 years or older who were Non-users of the Internet declined by six percentage points; the share who were Basic users declined by almost eight percentage points. Combined, the share of seniors who were either non-users or Basic users declined from 62% to 48%.
Analysts say this 14 percentage-point decline representing a shift of almost 869,000 seniors from the 'have not' to the 'have' side of the digital divide.
(Upward trends in other age groups were also observed: the number of share of Canadians aged 50 to 64 years classified as either Non-users or Basic users declined by eight percentage points, for example, with similar shifts in those aged 35 to 49 years, and to a far smaller degree, among Canadians aged 15 to 34 years.)
Despite the somewhat rosier outlook about our Internet and digital technology use the report presents, many observers still decry the negative impacts of a digital divide in Canada. A comprehensive look at the subject, conducted at the-then Ryerson – now Toronto Metropolitan – University, emphasizes the gap.
Having looked at the specific digital differences found in Toronto (in terms of Internet access, service availability, pricing structure and more) and across Canada, authors found that the usual explanation (some might say excuse) for unequal access is not entirely accurate.
It is not just an urban-rural infrastructure problem that contributes to a digital divide in this country. The report notes that other socio-economic and demographic factors, including income, age, Indigeneity, education and more, are at play. Experts from community, government, academia and industry who contributed their digital perspectives emphasized that divides (be they digital, cultural, political) have always been multifaceted, complex and intertwined in a country as large as Canada.
On the other hand, industry analysts say Canada is in an enviable position in terms of its digital capabilities. Thanks to a balance of private and public investments in digital infrastructure, says the Conference Board of Canada: "[O]ur Internet speeds are among the fastest in the world, over 90 per cent of the population has access to 4G mobile services, and Canadians have a high adoption rate for digital services."
That enthusiasm reflects ongoing federal commitments to boost broadband access here and ensure that all Canadians have access to Internet speeds of at least 50 megabits per second (Mbps) download / 10 Mbps upload.
The Universal Broadband Fund (UBF) is a $2.75 billion government investment plan, part of a suite of initiatives designed to help connect 98% of Canadians to high-speed Internet by 2026 and achieve the national target of 100% connectivity by 2030.  More than 180 projects supported through the UBF's Rapid Response Stream have been announced. These projects will bring high-speed Internet to more than 92,000 households in rural and remote communities across Canada, although it acknowledges the hardest-to-reach households may take until 2030 to get connected.
The article "Canadians' use of the Internet and digital technologies before and during the COVID-19 pandemic" is available in the April 2022 issue of Economic and Social Reports, Vol. 2, no. 4.
The next iteration of the Canadian Internet Use Survey will be conducted in later this year or early 2023, with subsequent reports determining if we can continue to get better at doing digital.
-30-