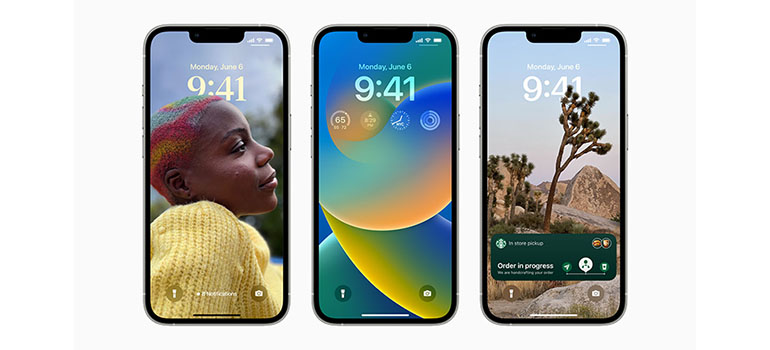 Apple held its annual Worldwide Developer's Conference (WWDC) on June 7, 2022, and there were plenty of interesting announcements. The event typically focuses on software and operating system (OS) updates, but Apple confirmed a few new products as well.
Here's a rundown of some of the key new products and OS updates and features coming this summer.
New Apple MacBooks
Apple is releasing two new MacBooks: a new MacBook Pro and MacBook Air, both of which will feature Apple's new M2 chip. The Macbook Air will be thinner at 11.3mm thin, lighter at 2.7 lbs., and feature a larger 13.6-inch Liquid Retina display with more screen real estate and higher brightness. It will also come in new colours, including silver, space grey, midnight, and starlight. It will be equipped with a 1,080p FaceTime HD camera, four-speaker sound system, and brings back MagSafe charging with a convenient two USB-C ports on the side of the charging brick so you can recharge your phone or other mobile devices from the same outlet. It also has a pair of Thunderbolt ports and a 3.5mm audio jack, Magic Keyboard, Touch ID, and Force Touch trackpack. With an 18-hour battery life that mobile workers will appreciate, pricing will start at $1,499 once available in July.
The new MacBook Pro (starts at $1,699, July) will have a 13-inch screen, up to 24GB unified memory, ProRes acceleration, and an active cooling system. Loaded with macOS Monterey, it will run for up to 20 hours per charge.
Apple M2 Chip
To sum things up, the Apple M2 chip is quite simply much faster and more powerful than the M1 chip Apple announced in 2021. It features Apple's next-generation GPU with up to 10 cores (two more than M1), and 100GB/s of unified memory bandwidth. It also supports up to 24GB of fast unified memory to handle large workloads. The next-generation media engine and ProRes video engine allows for playing back multiple streams of 4K and 8K video. Get an 18% faster CPU, 35% more powerful GPU, and 40% faster Neural Engine than the M1 chip, as well as 50% more memory bandwidth.
Computers, Mobile Devices, and Smartwatch OS Updates
The real bread & butter of the event was the software OS announcements, which are available for four main categories: computers, smartphones, tablets, and smartwatches.
Computers: macOS Ventura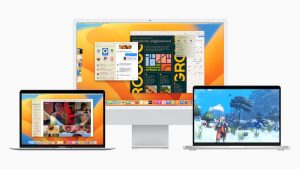 Coming this Fall, the latest version of the macOS for computers will be called Ventura. Here are some of the highlighted features, many of which will carry over to iOS 16 and iPadOS 16 as well.
Stage Manager: Organize apps and windows so you can more seamlessly switch among them.
Continuity Camera: Use iPhone as the webcam on Mac.
Handoff in FaceTime: Start a FaceTime call on your iPhone or iPad and fluidly pass it over to your Mac.
Safari Passkeys: Passwords will no longer be needed. Instead, these next-generation credentials are more secure unique digital keys that stay on device versus a web server. Sign in using Touch ID or Face ID for biometric verification. iCloud Keychain can sync them across Mac, iPhone, iPad, and Apple TV with end-to-end encryption. They can even work with apps and the web.
Shared Tab Groups in Safari: Allows others to share their favourite websites and see what others are looking at live. Build a list of bookmarks on a shared Start Page and start Messages conversations or a FaceTime call right from Safari. This can come in handy for planning a trip with friends or family, for example, or collaborating on a project for school or work.
Mail: Dubbed the "biggest overhaul to search in years" for Mail, you'll be able to find what you're looking for as soon as you click into search. The updates will also allow you to schedule e-mails and cancel an e-mail delivery before it is officially delivered. Mail can intelligently detect if items like an attachment or cc'd recipient is missing from a message. Set reminders to return to a message and receive automatic suggestions to follow up on an e-mail if needed.
Messages: Share a file via Messages using the share sheet or drag and drop and choose to share a copy or collaborate. With collaborate, everyone on a Messages thread is automatically added. When someone makes an edit to the shared document, activity updates appear at the top of the thread. Meanwhile, join SharePlay sessions from a Mac from Messages to chat and participate in synchronized experiences.
Spotlight: Get a more consistent experience across Apple devices. Search for photos by location, people, scenes, or even objects. Use Live Text as well to find text within images.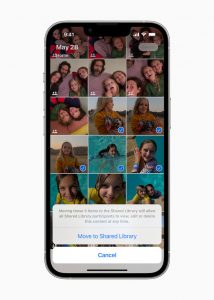 iCloud Shared Photo Library: A family of us to six can create and share a photo library among them, and receive intelligent suggestions on which new photos to add based on who is in them, for example, or when or where they were taken.
Right now, macOS Ventura is available as a developer beta, with a public beta set to launch next month. It will officially be available as a free update in the Fall.
Smartphones: iOS 16
Many of the OS updates noted above will carry over to mobile devices, too, like the iCloud Shared Photo Library, and Mail. But let's take a look at some updates specific to iPhones as well as more details on some of the more notable features.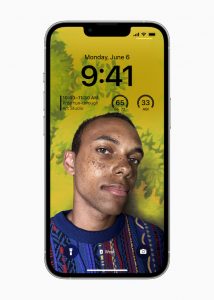 Lock Screen: A new multilayered effect will place the subject of a photo in front of the time to create a sense of depth. The date and time can also be changed in look to be more expressive, while there are widgets that you can include, inspired by the Apple Watch complications.
Live Activities: Stay informed of things in real time, like sports scores, a workout, ride share updates, and more with live activities that can be displayed from the lock screen. Notifications will roll up from the bottom.
Messages: Edit or recall recently sent messages, recover recently deleted messages, and mark conversations as unread should you wish to return to them at a later date or time. With SharePlay, you can enjoy synced content like movies and songs as well as playback controls while chatting.
Live Text: Recognize text in images as well as video. Simply pause a video on any frame and interact with the text. You can also use this feature to do things like convert currency and translate text.
Visual Look Up: Tap and hold on the subject in an image, lift it from the background, and instantly place it in apps like Messages.
Wallet: With Apple Pay Later (only available in the U.S.), you can easily split the cost of an Apple Pay purchase into four equal payments spread over six weeks, with zero interest and no fees. You will also now be able to use your ID in Wallet for apps that require verification of your identity and/or age. Review and consent to share it using Face ID or Touch ID. You'll also be able to share home, hotel, office, and car keys in Wallet through messaging apps, including Messages, Mail, and more.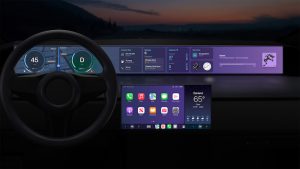 Car Play: View multiple screens in the revamped version of CarPlay with deeper integration so you can do things like control the radio, adjust the climate, and more right through the CarPlay interface. You can also see speed, fuel level, temperature, and more data on screen. Add widgets as desired to see additional information like weather and music. Vehicles that will be compatible along with more details will be released later in 2023.
Apple Maps: Plan up to 15 stops using multistop routing and automatically sync routes from Mac to iPhone. New transit updates will also include an estimated cost for a trip, which you can pay for right from Wallet. You can also see low balanced and replenish cards from within the Maps app.
Safety Check: With this new privacy tool, remove all access that has been granted to others and enact an emergency reset if needed, which will automatically sign you out of any other devices. Apple says this feature can come in handy for victims of domestic abuse, as one example.
A developer preview of iOS 16 is available to Apple Developer Program members and the public beta will launch next months. The new software features will be available this fall as a free software update for iPhone 8 and later.
Tablets: iPad OS 16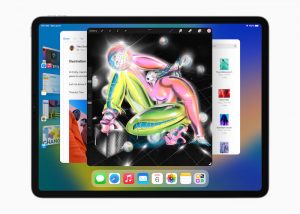 iPad OS 16 will share many of the same new upgrades as noted above along with being able to leverage the M1 chip. The developer preview is available to Apple Developer Program members at and a public beta will launch next month. The new software features, meanwhile, will be available this fall as a free software update for iPad (5th generation and later), iPad mini (5th generation and later), iPad Air (3rd generation and later), and all iPad Pro models.
Apple Watch Smartwatches: watchOS 9
There are plenty of new features that will be available to compatible Apple Watch owners with watchOS 9, but here's a rundown of some of the most notable.
Workouts: You can view advanced metrics and training experiences, with specific options for runners, swimmers, and even multisport athletes who switch among different workouts in one session. For example, runners can choose a distance and goal and get details on the pace required in order to achieve it. Use the Digital Crown to rotate among workouts and create your own custom workouts with intervals if needed.
Apple Fitness+: For those who use Apple's fitness app Fitness+, you can now see on-screen guidance along with trainer coaching. This will include useful data like intensity for HIIT workouts, strokes per minute (SPM) for rowing, and revolutions per minute (RPM) for cycling. Use AirPlay, meanwhile, to stream workouts with on-screen metrics to compatible TVs and devices without needing an Apple TV.
Sleep Tracking: Apple has finally updated its sleep app to track sleep stages so you get more detailed insights on light, deep, and REM sleep along with heart and respiratory rate.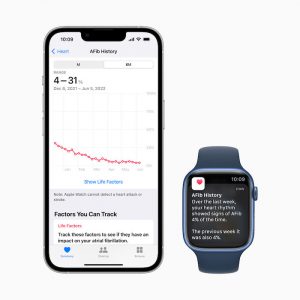 Afib History: Those in the U.S. who have been diagnosed with Afib can use the FDA-cleared Afib History feature to see details of their heart rate fluctuations, notifications, and download a PDF of their history to show a medical professional.
Medications: You can now use your Apple Watch to keep track of medications, scheduling when you need to take what and receiving reminders. This can work for vitamins and supplements, too.
For U.S. customers, you can also see if there are any potentially critical interactions with other medications before taking something new. It's always wise, nonetheless, to consult with a physician before taking any type of new medication.
Watch Faces: Update the look of the watch with a variety of new watch faces, including cultural ones, dynamic pieces of art, and even depth portraits.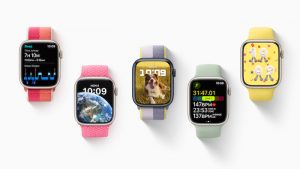 The developer beta of watchOS 9 is available to Apple Developer Program members and apublic beta will be available to watchOS users next month. watchOS 9 will be available this fall as a free software update for Apple Watch Series 4 or later paired with iPhone 8 or later and iPhone SE (second generation) or later, running iOS 16.
Read more on Apple