Father's Day is fast approaching on Sunday, June 19, which means trying to find that perfect gift for a special dad on your list. Some dads love sitting back and relaxing with a nice glass of cabernet and a great playlist while others prefer adventure, hitting the high seas, trekking the local trails, or working out at the gym.
Whatever your dad's interests, there's something tech-focused that can enhance the experience. And we have rounded up a few great choices that are worth considering as you plan celebrating dads and all that they do.
Sonos Ray Soundbar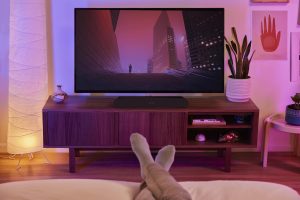 The compact Sonos Ray soundbar can enhance the audio in dad's "man cave," living room, or home theatre. He'll get balanced sound, crisp dialogue when watching movies, TV shows, news, and sports, and solid bass to capture all the action in a thrilling film, video games, or while listening to some bass-heavy tunes. He can fine-tune the listening experience using Sonos Trueplay so the set-up will be optimal, no matter the layout of the room. Plus, if he wants to enjoy watching and/or listening late at night, the Night Sound option helps reduce the intensity of loud effects so he won't disturb others who are trying to sleep. Control the soundbar using an existing TV remote, the Sonos app, or even Apple AirPlay 2 or other compatible device. Go all out and grab him a pair of Sonos Ones as well to complete a surround sound setup or allow for multi-room listening. The Sonos Ray soundbar is $349.
Kensington Pro Fit Ergo Wireless Keyboard and Mouse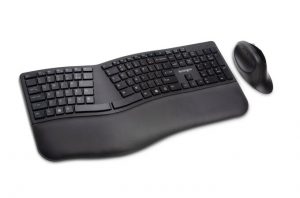 The working dad, or dad who simply loves to play around on his computer, will appreciate this split and sloped keyboard and mouse combo to afford a more comfortable experience during long work, PC gaming, or leisure sessions. There's adjustable reverse tilt, built-in wrist support, and a neutral grip so dad won't put too much strain on his wrists. The mouse, meanwhile, has five buttons, three power-saving switches, and a replaceable receiver. With dual wireless and 128-bit AES encryption, dad will also get a secure experience. Valued at $95, we're giving away a bundle that includes both. Enter the contest for your chance to win.
Sennheiser Sport True Wireless Earbuds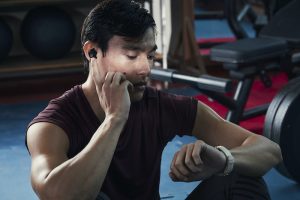 If dad loves to go for morning 5K runs, hike the trails, or work out at the gym, he might appreciate these true wireless earbuds, which are designed specifically for sports and fitness enthusiasts. With Adaptive Acoustics, he can adjust the sound so he can hear some outside noises, like when going for a run on a busy city street, or choose to be completely enveloped in his playlist when at the gym or commuting via public transit. He can make further audio adjustments using the EQ settings in the app. Access voice assistants, audio navigation, and connect it to everything from a smartphone to a TV, fitness devices, and more. Each pair comes with ear adapters in three sizes and four fins to ensure a perfect fit and that they stay in place, even during rigorous workouts. They are also IP54 rated so they will withstand sweat, runs in the rain, and workouts at the beach. Get up to nine hours per charge and an additional 18 using the included charging case. $169.95
Roku Streaming Stick 4K Media Streamer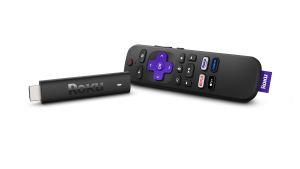 Dad can enjoy viewing 4K content just about anywhere there's a 4K TV source and Internet connection when using the Roku Streaming Stick 4K, whether he's in a hotel room, at the cottage, or even in a secondary viewing room in the home. While you might already have a smart TV, the Roku platform is often considered one of the best thanks to the intuitive interface, access to all the popular streaming services, and a healthy selection of free Roku original content. Valued at $60, it offers long-range Wi-Fi and fast operation for a smooth streaming experience. It not only supports 4K but also Dolby Vision and HDT10+. Compatible with Apple AirPlay, Google Assistant, and Amazon Alexa, control it using the Roku app or the included remote. Want to win one? Enter our contest now and you could be the lucky winner.
Filtrete Smart Room Air Purifier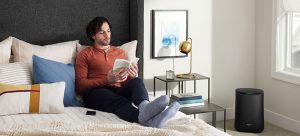 If dad has begun working from home at least part of the time, the Filtrete Smart Air Purifier might be a great addition to his home office, or will even come in handy in the bedroom. While Filtrete is known for its furnace filters, this new purifier has made its way to Canada, leveraging the company's experience in filtration. It monitors the air 24/7 and adjusts fan speed accordingly. Download the Filtrete Smart app to control it remotely and view visual graphs showing the trends of the indoor air quality in the home or room. The true HEPA filters capture up to 99.97% of airborne particles as small as 0.3 microns in size and it's compatible with Filtrete Room Air Purifier filters. Get it in white and choose from two options: the Filtrete Smart Tower for large rooms up to 310 square feet is $399 and the Filtrete Smart Console for medium rooms up to 150 square feet is $350.
Beyerdynamic Space Portable Speakerphone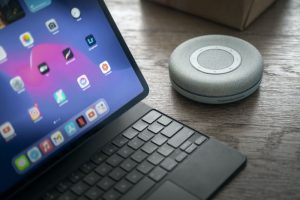 Another good option for the working dad to use in his home or remote office, or even while traveling and staying in a hotel room, is this elegant speakerphone device which is great for hands-free calls. Shaped like a hockey puck, the Beyerdynamic Space portable speakerphone can also be used as a traditional speaker for background music. Put it in Business Mode during an important call and it will prevent the device from connecting to other surrounding Bluetooth devices. The built-in battery runs for up to 20 hours per charge, so he can charge it up, put it in his briefcase or carry on, and bring it with him to use as needed. Made of antibacterial fabric, choose from Nordic grey, charcoal, and aquamarine. It sells for US$179.
HTC Vive Pro 2 Virtual Reality Headset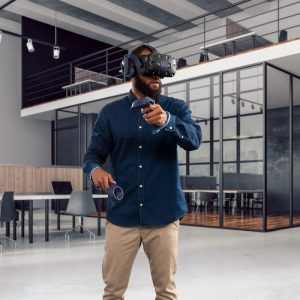 If dad is into gaming and loves exploring the latest and greatest, he might be excited to receive the HTC Vive Pro 2 virtual reality headset. Wear it over your eyes, including overtop glasses and adjust the head strap and sizing dial as needed. They include Hi-Res-certified headphones for enjoying an immersive gaming experience. It also has integrated dual mics, Bluetooth, and a USB-C port, and offers 5K resolution with a 120° field-of-view and 120Hz refresh rate. It doesn't come cheap at $1,079, but for a dad who will get the most out of it, it will be worth it. You might, however, have to grab a matching one for the kids so they can play together.
HP ENVY Inspire 7255e All-in-One Printer with Bonus 6 months Ink with HP+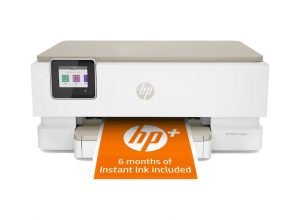 Whether it's for the home office or to fulfill dad's creative needs, the HP Envy Inspire 7255e All-in-One Printer ($275) will delight with features like the ability to print, copy, and scan on everything from papers of all sizes to envelopes. It works wirelessly if desired so he can print right from a phone or tablet and it even does two-sided prints. The best part? It comes with six months' worth of ink via the HP+ program. After that, dad can sign up to have ink delivered regularly at a discount or change or cancel the orders at any time. Whether he's printing documents and flyers for the Little League team he coaches, working on his business, or dealing with family finances, he will love this handy and affordable printer. Eco-conscious dads will also appreciate that it's made from more than 45% recycled plastic. Check out our contest for your chance to win one, including the bonus six months of ink supply.