Recruiting women into STEM is often the singular strategy that employers use to 'tick the box' for bringing diversity into the tech industry, but are recruitment initiatives enough to make tech inclusive, long-term?
Tatiana Tarnovskaya, Software Engineering Manager at Intuit Canada, advocates for a greater industry-wide commitment for women in tech beyond the recruitment stage. Tarnovskaya is helping to build practices and initiatives, including mentorship, whereby women's contribution in tech has longevity beyond the hiring phase; where employers empower and embrace women's tech voices to innovate and grow technology and businesses for the long-term.
The pandemic, furthermore, appears to have further eroded progress women had been making in professional life, as evidenced in a new paper by Concordia researchers published in the European Journal of Business Management Research. In droves, women have stepped away from jobs to take care of family members.
I asked Tarnovskaya to share more about her passion and experience in the tech industry and a bit about her role as co-chair of the Toronto Tech Women at Intuit chapter and her mentorship activities. Tarnovskaya also had much to share about how Canadian tech can create more diverse and rewarding work experiences for everyone.
A Passion for Tech, Inspired by Her Parents
"Both of my parents taught math at university and transitioned into roles in the technology industry later in their careers," explained Tarnovskaya. "They instilled the love of math/technology in me from an early age and influenced my career path."
Added Tarnovskaya, "With my mom's support and inspiration, I never had thoughts that "girls are not good at math/technology" and "math/technology is hard".
"One of my favourite professors at university also found a way to teach databases with humour, which made the lessons that much more exciting. After taking this course, I knew this industry was for me," stated Tarnovskaya.
Working at Intuit Canada: The Mentorship Program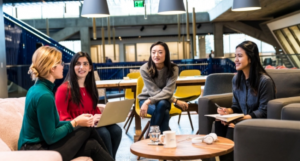 "Most of the time, I consider myself a technology professional and not as a woman in tech," began Tarnovskaya. "While there were cases early in my career when I felt treated differently based on my gender, I do believe that with more and more women choosing a career in technology, achieving success and lifting other women up, the experience of being a woman in tech is transforming."
"At Intuit, Women in Technology are celebrated and supported," shared Tarnovskaya.
"The Tech Women at Intuit initiative gives us a sense of community, inspiration, and enables us to attract and retain diverse tech talent," said Tarnovskaya. "One important initiative facilitated by Tech Women at Intuit is our mentorship program, with the goal to develop and advance female and URM employees in technical roles."
Remarked Tarnovskaya, "Women often underestimate their achievements, doubt themselves, and as a result miss out on great opportunities. But having a mentor can make a huge difference in those beliefs and attitudes. Participating in this program as a mentor myself has truly been a rewarding experience. Mentoring someone early in their career gave me ideas on how I can better support people on my team and made me reflect more objectively at my own achievements. It even showed me ways to be a bit less critical of myself."
Tarnovskaya also expanded upon Intuit's program, "Global Engineering Days where for a week everyone can work on a project of their choice. Technology training is encouraged and supported, and internal mobility opportunities within the company are a great way to exchange knowledge and broaden expertise."
Tarnovskaya also devotes time to mentoring girls interested in tech and shared her experience about the partnership between Intuit and Canada Learning Code (CLC).
"Canada Learning Code brings accessible computer science to communities across Canada so everyone can have the skills and confidence to harness the power of technology to create a better and more inclusive future," stated Tarnovskaya.
Tarnovskaya commented, "Since only 23% of workers in the computer science field are women, Intuit's partnership with CLC set out to create more allies and better equip girls and LGBTQ2S+ kids to be inspired and better equipped to enter the tech field."
"Historically, tech positions have been largely male-dominated and Intuit's goal is to build a future where diversity, equity and inclusion are prevalent in all areas of the industry. While we know change doesn't happen overnight, partnerships like these are valuable for empowering people of all backgrounds to dream big and pursue their passion," said Tarnovskaya.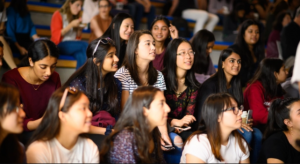 "Participating in Girls Learning Code week (organized by Canada Learning Code) last year was a great volunteer experience for me and my colleagues. We were mentors in a workshop for young girls and it was inspiring see their creativity, listen to thoughtful questions, and support them on their learning journey."
Fostering Greater Diversity and Inclusion in Canadian Tech
"Amplifying diverse voices is a first step," said Tarnovskaya, "but there are more ways that organizations can strive to be more inclusive."
"It is important to ensure that the technology managers are trained and aware of the gender bias and understand how it affects their hiring decisions. Ensuring there is female representation in an interview panel can go a long way, as it can make a female candidate more comfortable during interview process and ultimately increase the likelihood of her accepting the offer."
Tarnovskaya added, "A commitment to supporting women and diverse candidates must continue beyond the recruitment stage. Organizations should strive to help support the career growth of diverse individuals by making sure they have the tools and resources necessary to succeed. Companies must empower their employees throughout their tenure by promoting equal access to opportunity, particularly leadership and managerial positions."
Tarnovskaya believes that there are many ways that companies can do more to elevate women specifically.
"For example, Intuit recently participated in the North American initiative #ShowUsYourLeave, raising awareness around eliminating the stigma that many new parents – especially women and new hires – feel when requesting maternity leave," shared Tarnovskaya.
"The concept really broke down barriers and normalised the idea of taking maternity leave for new employees."
"Providing access to technology training is another crucial tool, especially for women returning from a leave," suggested Tarnovskaya.
Tarnovskaya also added, "Flexible work hours and the option for hybrid work can help women continue to effectively contribute to their teams while balancing family and career commitments."
Tarnovskaya ended with, "Companies also need to ensure that all employees feel empowered to voice their opinions. Having a supportive group of co-workers, whether they're in our Women In Tech chapter or in the office, can foster a company culture built on inclusive collaboration and ultimately lead to innovative ideas."
-30-
More STEM articles