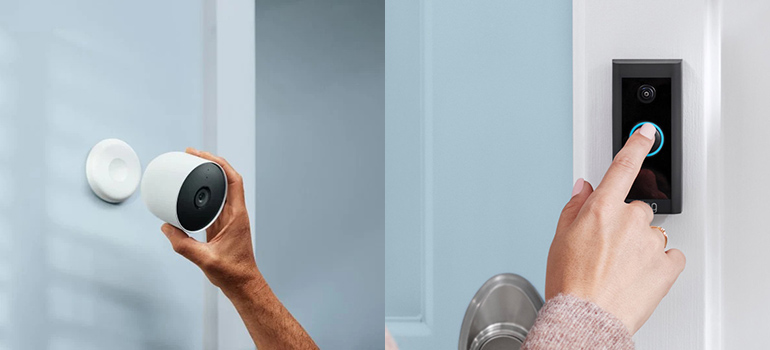 If you haven't already jumped into the category of smart home security, you might be considering doing so. Why? Smart outdoor security cameras make it easy to keep an eye on the home when you're away, whether it's for an extended period of time for work or vacation, for an overnight trip, or during the day when no one is home. You can tap into them remotely to see what's going on when you receive a push notification that motion is detected, log when the kids get home from school, and see if there's a potential thief outside or just a pesky raccoon in the garden at night. Indoors, you can keep an eye on a sleeping baby in the nursery, a child playing in his playroom, or pets and what they are up to while you're at work.
When it comes to outdoor cameras, specifically, there are two popular options for the front door area: a mounted smart security camera or a smart video doorbell. There are pros and cons with both, so let's take a look at which would be best for you.
Smart Security Cameras
With a smart security camera, you will need to mount it somewhere inconspicuous but that offers a good view of the entire area you want to cover, whether that's the whole porch, just in front of the door, or the driveway, front lawn, and sidewalk as well. The benefit with a smart security camera is that you can choose where it's positioned and what field-of-view it covers based on the model as well as how you position it.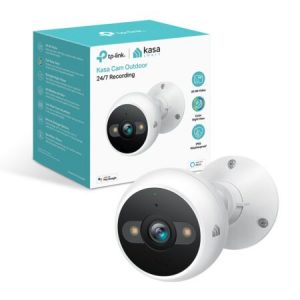 These are fairly simple to install and set-up, either operating on a battery, like the Google Nest Cam (battery) or via wiring, like the new TP-Link KC420WS Kasa Smart Outdoor Security Wi-Fi Camera, which comes with an extra-long 10-foot wire. Some even function on solar power so you never need to charge it, like the Adria Solar Power Energy Outdoor Camera. Connect to your home's Wi-Fi and tap into footage from a mobile app. Some require a subscription if you want to be able to go back and check what happened at a specific date and time and see more than just a live view.
The one downside to smart security cameras is that they can be easily disabled or even removed by a potential thief. They don't always offer two-way communication unless there's a built-in speaker and mic: the aforementioned Kasa model does include both, with the speaker also able to play a siren to warn off intruders. You also have to find the right spot to mount it, which, depending on the layout of the front of your home, could be challenging.
Smart Video Doorbell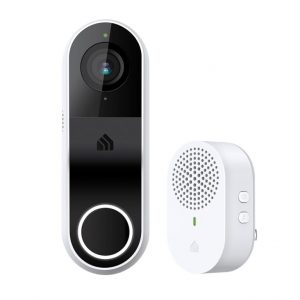 One of the more popular categories of late when it comes to outdoor security is smart video doorbells, which replace an existing doorbell to add a camera and even two-way audio to the experience. In some cases, you need to (or can) wire the doorbell to existing wiring so that you still hear the same signature "ding dong" or a sound of your choice throughout the home when someone arrives. If you choose not to wire the doorbell with some models, you will get a notification when someone is at the door via a mobile phone app, or through a wirelessly connected and compatible smart device, like a smart display, speaker, or even on the TV. Models like the TP-Link KD110 Kasa Smart Video Doorbell come with a separate chime device. With some, you will even be able to instantly see who is at the door and can talk to them to let a delivery person know to drop the package on the porch as you'll be home soon, to tell a visitor you'll be down soon as you're just tucking your child into bed, or advise a solicitor that you are not interested.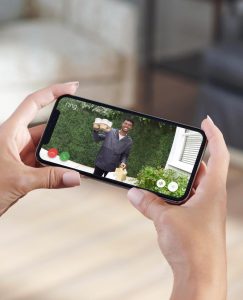 With compatible Ring smart video doorbells, you can activate features like Package Alerts and Custom Event Alerts, Geofencing, automatic Alexa greetings, Quick Replies, Motion Warnings, and more. (Some of these features also work with the outdoor cameras.) Plenty other video doorbells from other brands have similar features, too. In some cases, you will require a subscription to see more than just a live feed, such as if you want to scroll back to a few hours prior, or even a few days or weeks, to check on a reported incident.
The downside with smart video doorbells is that they can only be placed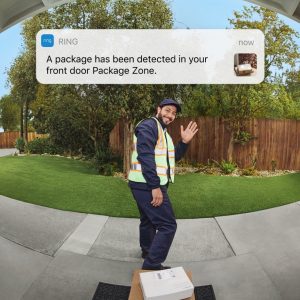 in one spot, and depending on the field-of-view, might not capture the entire area you want it to. Some are designed to be vertical and offer a view that goes all the way to the ground so you are able to see packages left at the door versus only people from the waist up, which is a plus. But this means they focus more on the doorway area and not so much the surrounding area. Depending on how large your front area is, some do make it possible to capture a wide view of the street, driveway, and sidewalk. So it really comes down to the particular model and the layout of your front area.
Which Should You Get?
Deciding between an outdoor smart security camera and a smart video doorbell really comes down to a personal decision and how you will use the camera. If you want to keep an eye on the home while away, either will work just fine. A video doorbell will not only advise of motion but also when someone actively rings the doorbell. This way, you know to check the app only then versus any time you get a motion detection notification when someone is walking their dog on the sidewalk or a car goes zooming by.
Ideally, if budget permits, opt for both, replacing your tired, old doorbell with a smart video doorbell and grabbing an outdoor camera to place on the opposite side of the porch or front door area to capture a different angle.
In either case, choose wisely and pick a brand that you know you can easily expand should you decide to add more cameras later so you can seamlessly access them all from the same app. If you have other smart devices in the home that use Amazon Alexa, Google Assistant, and/or Apple Siri/HomeKit, consider opting for models of either that are compatible so you can add voice control and other compatible features to the mix.
-30-
Check out our latest contests and enter for your chance to WIN great prizes, including Amazon Echo Dot with Alexa and clock, Google Chromecast with Google TV, and more