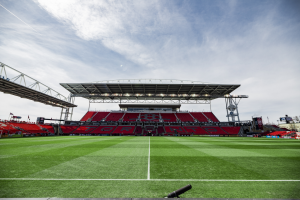 The Future of Sport Lab (FSL), a collaborative lab for sports innovation that is managed by Toronto Metropolitan University and supported by Maple Leaf Sports and Entertainment (MLSE), announced that eight Canadian sport tech startups have been accepted into its acclaimed FSL Incubator program.
The selected startups were chosen for their innovative work in athlete performance, fan engagement, venue technology and youth sport sectors.
Each of the startups will receive immersive programming in partnership with the Ted Rogers School of Business and world leading business incubator the DMZ, access to leading academics, and an opportunity to engage and receive mentorship from leaders across MLSE and the greater FSL network.
FSL, launched in 2018, is one of the first of its kind in North America. Startups that have graduated through the FSL program have gone on to raise more than $30 million in new financing and investments along with securing significant sport business partnerships.
"Canada has such a passionate and innovative sport tech community. We are looking forward to working with these eight dynamic Canadian startups from across the country and connecting them to FSL's network of sport leaders," said Dr. Cheri Bradish, Founder and Managing Director of FSL with the Ted Rogers School of Management at Toronto Metropolitan University.
Said Abdullah Snobar, Executive Director of the DMZ, "Canada's sport and tech community has seen some serious momentum these past few years and we're thrilled to be partnering with the Future Sports Lab to support founders who are looking to make their mark in the space. From a programming perspective, startups will have access to DMZ startup support and programming, mentorship, strategy planning, workshops, and access to our world-class community."
Selected Sport Startups to Watch
I was able to ask founders about the spark that led them to their concepts, all of which appear to offer creative solutions for sport engagement and entertainment.
BookSeats.com (Toronto, ON) – Simplifying the way fans travel, this solution allows users to book custom packages that include any combination of flights, accommodations and/or tickets to events around the world.
"What led to our idea was feeling the pain points of event travel from both sides," began Joseph Demarinis, founder and CEO. "As a consumer planning and booking travel to an event was always a very long, confusing and stressful process. On the travel industry side, we knew consumers were traveling for experiences, but we could not capture that audience without the event ticket and venue information piece." 
"Our startup idea came from the shared experiences Mike [Bawol] and I accumulated while working with the Canadian Olympic Team as sport scientists," explained Bryce Tully, Co-founder & CEO. "We took notice of the fact that culture had a massive impact on performance, and yet it remained unmeasured. We used this insight to set our vision on turning culture into a validated key performance indicator (KPI), and ultimately a sport analytics company."
TheProgram.ai (Halifax, NS) – This new solution in development will deliver sports and fitness content to youth in a fun and interesting way to keep them engaged in a healthy lifestyle and create a lifelong relationship with wellness.
tiptapSPORTS (Burlington, ON) – This solution offers an enhanced touchless payment experience that increases the fundraising potential of sport organizations, and helps venues improve fan experience.
Vic Park Analytics (Toronto, ON) – A consulting services startup, identifying the next generation female sport consumer. Through the diversity of its team and work, they help identify and amplify the voice of the future of the sport industry.
In addition, for the first time, FSL and its partners have identified five additional startups for other potential Toronto Metropolitan University and/or DMZ programming, as part of the ongoing efforts to build and support the Canadian sport tech ecosystem.
"We are thrilled to welcome a dynamic group of entrepreneurs to the MLSE ecosystem through the Future of Sport Lab," said Sumit Arora, Vice President Strategy & Analytics, MLSE. "The incubator provides early-stage companies unparalleled opportunity to access our organization, our venues, professional sports teams, and MLSE Digital Labs for mentorship, leadership, and collaboration opportunities. We are excited to see what they have in store this year."
Startup Advice from the Startups
Said Demarinis, Founder & CEO, BookSeats.com, shared, "If I could give advice to other innovators in sport tech, it would be to ensure you have product market fit. Once you prove that, be persistent, always ask for introductions within the industry and be willing to pivot your tech and business model."
"The advice I would give other innovators in sport tech is do not underestimate the power of user feedback," remarked Tully, Co-founder & CEO, innerlogic. "It can be incredibly tempting, sometimes as a result of stress, to move very fast. One of the steps often compromised is a thorough analysis of early user experiences. This is a big mistake! The feedback gained from early users will ultimately shape your product in an accurate, informed way. It's huge!