Amazon doesn't have annual launch events like Apple and Google. But the company did announce a slew of new products in a variety of key areas last month, ranging from smart home to networking gear, entertainment, personal devices, and more. While many of the products aren't officially available just yet, several are available for pre-order just in time for the latest Amazon Prime Day event, scheduled for October 11 and 12.
Here's a rundown of what is new and coming soon from Amazon.
Personal Kindle Devices
Amazon announced several personal Kindle devices, including a new Kindle, a Kindle for Kids, and the Kindle Scribe.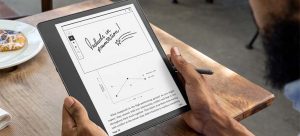 The Kindle Scribe is designed for both reading and writing, with the same familiar paper look as a traditional eReader but with the benefit of being able to add handwritten notes to pages as you read using the battery-free Basic Pen or the upgraded Premium Pen with eraser and customizable shortcut buttons. It comes with a 10.2-inch 300 ppi screen with an adjustable front light and 16, 32, or 64GB storage. Ideal for taking notes for a report or making journal entries, it comes in a Tungsten finish. Pricing starts at $510 with availability set for late November, and pre-orders open now.
As the next-generation Kindle, the new model is the lightest and most compact to date with a glare-free 6-inch 300 ppi high-res display, USB-C charging, adjustable front light, dark mode, up to six-week battery life, and twice the storage of the previous-generation Kindle with a generous 16GB. Shipping as of October 12, the new Kindle, which you can pre-order starting at $130, offers sharper images than its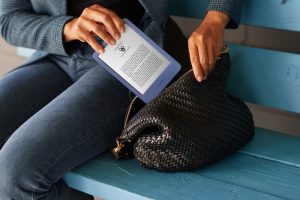 predecessor thanks to three times the pixels. The adjustable front light makes it easy to read both in the dark and bright sunlight, from bed to the beach. You'll get all the usual features you've come to expect with Kindle, including X-Ray, built-in dictionary, and simplified set-up using the Kindle app for iOS or Android. Download eBooks from the Kindle store, receive recommendations from the Amazon Book Review, and even listen to audiobooks. Prime members have access to a rotating selection of free books for free each month. It will come in black or Denim with new fabric covers in black, Rose, Denim, or Dark Emerald.
It's important to encourage reading at a young age, and the new Amazon Kindle Kids (US$120) might help do just that, serving as an electronic device for reading that doesn't permit access to other distracting content, nor any bright, flashy lights. Instead, it's a basic eReader designed for kids from 7-13 years of age. Like the Amazon Fire Kids tablets, the Amazon Kindle Kids comes with a one-year subscription to Amazon Kids+, affording unlimited access to a selection of thousands of books, including both classics and new titles. This includes titles in popular series like Diary of a Wimpy Kid, Big Nate, Percy Jackson, and Harry Potter. Parents can download new releases and bestsellers, with more than a million titles offered for US$2.99 or less in digital form. Kids can also switch to audiobook format using Bluetooth speakers or headphones and Audible. Parents, meanwhile, can monitor activity from the Amazon Parent Dashboard, setting things like reading and bedtime schedules. Kids can send requests for books they want and leverage literacy tools like Word Wise and Vocabulary Builder.
 Home Entertainment and Smart Home
On the home entertainment and smart home sides, Amazon has plenty of new products as well.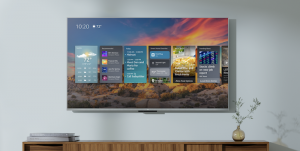 Coming October 27, the new Fire TV Omni QLED series smart TVs come in 65-inch and 75-inch sizes for $1,070 and $1,500, respectively. At the heart of the TVs is Alexa voice control for finding apps, discovering shows, and controlling playback. You can also use Alexa to control the new ambient experience which turns the TV into an always-on smart device – effectively a huge smart display – when you aren't watching something. With 4K Quantum Dot technology with full-array local dimming, support for Dolby Vision IQ and HDR10+ Adaptive, the TVs also promise to provide a wonderful picture for everything from apps to movies.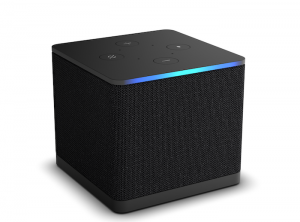 For streaming content, Amazon has released the third generation of its popular Fire Cube TV streaming media player. New to this version, which will sell for $190 (pre-orders available now with the official release on October 25) is a 2GHz octa-core processor that Amazon claims makes it 20% more powerful than its predecessor. Control it hands-free via Alexa, and enjoy support for 4K Ultra HD, Dolby Vision, HDR, and immersive Dolby Atmos audio. It also now has an HDMI input, Wi-Fi 6e support, and Super Resolution upscaling so you can enjoy the best picture possible when binge-watching shows, streaming sports, and more. Grab the Alexa Voice Remote Pro with the Fire Cube TV for $45.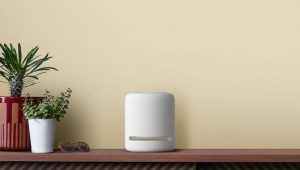 Amazon's Echo Studio is a smart speaker designed to focus on premium sound, and it has been enhanced through over-the-air updates. These will allow owners to enjoy spatial audio processing and frequency range extension, which will in turn enhance stereo sound and offer a more immersive audio experience, overall. Amazon's Echo Studio is $260.
There's something for kids here, too: the new Amazon Echo Dot Kids ($80; October 20) comes in an either owl or dragon design and features parental controls and a one-year subscription to Amazon Kids + for access to curated content. Like other Amazon products for kids, it comes with a two-year worry-free guarantee that assures Amazon will replace it if it breaks.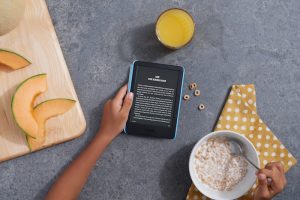 Complementing this device is the new Amazon Kids+ on Alexa service, which includes a selection of Alexa-specific content kids can call up via voice, including kid-friendly radio stations, audiobooks, and premium skills. There are also games and stories from Fire TV, Fire tablets, Kindle, iOS, Chromebooks, and Android devices. Stories include those from Disney Stories, Barbie, Pinkfong Baby Shark, and Star Wars; while Audible books are performed by favourite characters from properties like Aladdin, Alice in the Wonderland, The Little Prince, Beauty and the Beast, Little Women, and Peter Pan. Kids can even access their own news flash briefings on subjects like football, fashion, and scientific discoveries. For devices that will be used by the entire family, parents can set up voice IDs for kids so Alexa will recognize them when the child speaks, and visual IDs for Alexa displays. Parents can adjust settings using the parental controls. After the free trial period, Amazon Kids+ is $6/mo. for Prime members and $10/mo. for non-Prime members.
Home Networking
Some may have forgotten that among Amazon's many company acquisitions is eero products, which makes home networking products. Some new ones are coming soon, including the eero PoE 6 and eero PoE Gateway, Power-over-Ethernet (PoE) devices that can help provide faster, more reliable Wi-Fi.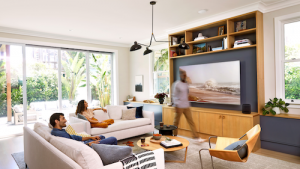 Designed for both homes and businesses, the eero PoE 6 is a dual-band Wi-Fi 6 PoE access point offering up to 2,000 square feet of coverage and support for more than 100 connected devices, 160 MHz channels, and wireless speeds up to 1.5 gigabits per second (Gbps). It will be available early next year for an MSRP of $400.
The eero PoE Gateway (October; MSRP $860), meanwhile, is a wired gateway that supports Internet speeds up to 10 Gbps with two 10 gigabits (GbE) ports and eight PoE-enabled 2.5 GbE ports. It's designed to power PoE devices like access points and security cameras: you'll get an available 100 W of PoE power output when used with the 140 W eero power adapter.