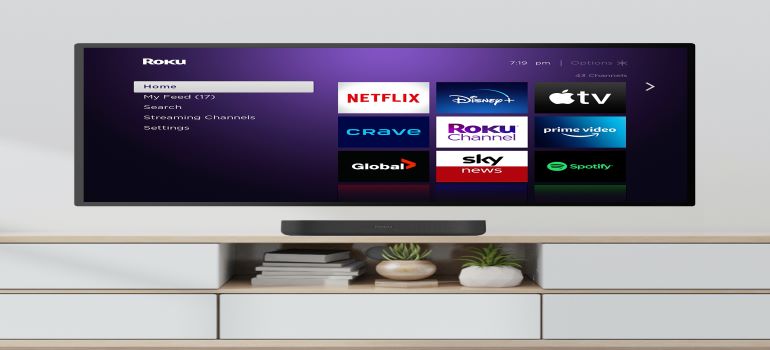 Roku's third annual Video-on-Demand (VOD) Evolution study, which examines Canadian TV streaming behaviours and trends, has revealed some interesting results. The data was collected from mobile-, computer- and laptop users as well as TV streamers and non-TV streamers.
According to the study, three quarters (76 per cent) of Canadians are TV streamers, and ad-supported TV is on the rise with over half (52 per cent) tuning in. Additionally, 29 per cent of streamers are "Cord Nevers," those who have never paid for cable. The average age of monthly TV streamers is 44. More streamers are collectively watching programming with subtitles, it was revealed, with 86 percent of anglophone streamers and 64 per cent of francophone streamers, compared to dubbed content.
The current macro-economic situation also seems to have had an impact on Canadian TV households, with 18 per cent planning to cancel or downgrade their cable/satellite package in the next 12 months, and 47 per cent of respondents looking to make some changes to the selection of TV streaming services they use.
I asked Christina Summers, Roku Head of Advertising in Canada, about VOD and the future of streaming in Canada.
What is FlexiVOD?
"FlexiVOD" is a term we've coined at Roku," explained Summers. "It refers to the flexible TV streamer. With more services than ever before, consumers are carefully picking and choosing what they pay for. A trend which is likely influenced by the fact that 57 per cent of TV streamers feel they have less disposable income than before."
Said Summers, "Consumers are experimenting just as much as the companies that provide TV streaming services. Whether that is to switch, downgrade, cancel, from paid to free, upgrade from free to paid or even resubscribe to services they have used in the past. The data shows that 47 per cent of streamers plan to make changes to services in the next 12 months."
The rise of ad-supported TV
As ad-supported TV popularity grows, the study showed that Canadian TV streamers are spending five hours per week with it (an increase of 14 per cent year-over-year, which also includes BVOD). The majority (76 per cent) are also taking measurable actions such as searching for more information, visiting the brand, adding to basket, and more after seeing the ads.
When it comes to consumer preferences for TV advertising, the study also revealed that nearly half (48 per cent) of streamers under 35 say they prefer when the tone of a TV ad matches the program in which they see it; and 47 per cent say they're more likely to pay attention to ads that reflect or are relevant to their mood. Some Canadians are also interested in engaging with ad formats such as QR codes.
Remarked Summers, "I think we'll be seeing ad-supported video on demand (AVOD) services make greater gains, as more offerings become available among streaming platforms."
"For Canadian TV streamers, flexibility for the type of entertainment they want, anytime they want, and often at a lower cost, and often a lighter ad-load is what makes AVOD so appealing."
"For marketers and advertisers," added Summers, "they can extend their reach beyond traditional TV broadcasting with stronger targeting and measurement capabilities, and ROI outcomes, while publishers can tap into new audience segments to better monetize their existing and often dormant catalogues."
Foreign language programming
Subtitled content trends piqued my interest.
"New content has always been a driving force in viewership and that is no different for TV streamers," responded Summers. "What the data shows is that viewership in foreign language programming is on the rise, with 4 in 10 TV streamers watching other language content, which is 2x higher than non-streamers. This is not surprising in a country as diverse as Canada, with people from all over the world, calling it home."
The future of Canadian TV streaming
"At Roku, we believe that eventually all TV will be streamed – and that day is coming sooner than many of us think. We also anticipate the interest in ad-supported TV to continue to grow, especially as more and more TV streamers look for ways to streamline their entertainment costs."
"For marketers and advertisers, the future of advertising is TV streaming. With more and more Canadians shifting to TV streaming, there will be new opportunities for the industry like we've never seen before."
-30-
 Roku and WhatsYourTech.ca are giving away a  Roku Ultra 4K Media Streamer with Remote & Headphones, value $130.  Enter for your chance to WIN!