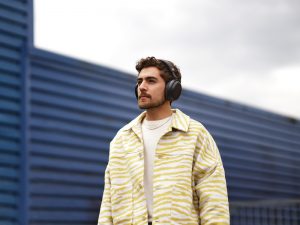 The latest noise cancelling headphones don't just cancel out ambient noise. They can do much more, with a tailored and customized experience. You can adjust the levels of noise cancellation, let noise in with the touch of a button, and get them in any shape, size, or design that you choose. Here, we'll look at the features you can get with noise cancelling headphones and touch on what you should look for in a good pair.
Active Noise Cancellation (ANC)
Some noise canceling headphones include only what's called passive noise cancellation, which means sound is naturally blocked thanks to their design, which either fits in your ears as buds or fully encapsulates the ears as over-ear headphones. Active noise cancellation (ANC) is different. This is technology that uses microphones that listen for sounds both inside and outside of the earphones and work with an embedded chip to help neutralize it. For a true noise cancelling experience, you'll want a pair with ANC. These require batteries but offer noise cancellation even when the headphones don't physically block your entire ears or fit inside the ear canal.
Hear-Through/Awareness Feature
Every manufacturer calls this something different, but the end result is the same, albeit with varying results based on the headphone's performance. This feature effectively lets you push a button, flip a switch, give a voice command, and/or set a function so that you can hear outside noises when wanted. This might be for safety reasons, like when navigating a busy street during your morning run so you can hear the cars passing by, or for convenience, like hearing passenger announcements on an airplane without having to remove the headphones every time. Having this level of situational awareness can be convenient, especially if you need to turn it on and off frequently during long listening sessions. Sennheiser's Momentum 4 Wireless headphones, for example, feature the company's Transparency Mode so you can touch a button to hear outside sounds as needed.
Customizable Noise Cancelling Levels
Some of the latest noise cancelling headphones and earbuds have not only a transparency mode but also multiple, adjustable levels of noise cancellation. You can turn it up when you want to completely block out the world, like when lying back at home to enjoy a new album download. Maybe you want to let in some noises, like when walking a local trail so you aren't completely unaware of your surroundings. And finally, you might want to let in some sounds as needed while still getting a decent level of noise blocking while taking the train to work. The new Mark Levinson 5909 ANC headphones, which are on the higher end of the pricing scale due to their sonic fidelity and premium construction, include
not only an Awareness mode but also the ability to adjust the level of noise cancellation within the Levinson app.  The Focal Bathys wireless headphones, the company's first with ANC, let you choose among Silent, Soft ANC, or Transparency mode in the app as well.
Easy On/Off Switch, Functions Without ANC
A simple on/off switch for noise cancellation is useful for being able to hear outside noises at will. But this switch might also indicate that the headphones can function as standard headphones even when the battery is depleted. This might require that you use a cable and plug into a source device with a pair of wireless headphones. But having this as a back-up can be useful if you forgot to charge the headphones or don't have an extra pair of batteries nearby. The Bowers & Wilkins Px7 S2 wireless headphones can work with the rechargeable battery as well as USB-C port so you can plug into a computer, while the port charges it. You can also plug in via 3.5mm headphone jack, but this requires that the headphones have power. With headphones like the Bose QuietComfort 45, you can still listen in what's called passive mode when the battery has depleted. You won't be able to enjoy ANC, but you can still listen to audio, a worthwhile feature in a pinch that doesn't render the headphones useless once the battery is dead.
Wireless Design
The latest noise cancelling headphones are wireless in nature, no matter the form they come in, from over-ear to on-ear and earbuds. The benefits here are obvious, freeing you from the tether of wires so you can move more freely. For those who bear the frigid Canadian winters, or students who walk around campus with their phones in their backpacks, this can be a game-changer. It's also useful for work-from-homers who want to be able to freely move around the house while on a call.
You aren't stuck at the desk even if you want to get up and walk around for a few minutes to stretch your legs and get those important 10,000 steps per day while continuing to multitask. You can opt for a pair like the Skullcandy Hesh ANC noise cancelling wireless headphones that fit over the ears or go the true wireless route with a pair like the Google Pixel Buds Pro.
Keep These Things in Mind Before Choosing
When selecting a new pair of noise cancelling headphones, keep these features in mind. Decide which are most important to you, particularly based on how and where you will wear them. If they are for your daily runs, for example, you'll probably prefer lightweight wireless earbuds with some type of transparency mode. For travel or daily commuting, an over-ear pair might be the best option, but you'll want one that allows you to adjust the level of transparency. For at-home quiet listening, hifi sonic quality will be of the utmost importance, so you might even be fine with a wired pair if it can completely and effectively block out all ambient noises so you can lie back and immerse yourself in the music.
-30-