The highly anticipated Google I/O event revealed what fans had been suspecting for some time – the Pixel 7a smartphone, Google Pixel Tablet, and the Google Pixel Fold foldable phone were all announced. But the event was about much more than just hardware. In fact, the majority of the time was spent discussing generative artificial intelligence (AI), what Google has been developing in this space, and how both consumers and businesses can, and will be able to, leverage the technology in their everyday lives.
Google announced more than 25 new products, software, services, technologies, and innovations at the event. Here, I'll breakdown some of the most interesting ones.
PaLM 2 Next-Gen Language Model is Expanding
PaLM 2 is Google's next generation language model, designed to improve everything from coding to reasoning and multilingual conversation. It's smaller, faster, and more efficient, says Google. At the event, Google announced that 20 new products and features powered by PaLM 2 will be launched this year, including both consumer-facing innovations as well as ones for various verticals, from security to health.
Search Labs is Open For Testing
With Search Labs, you can sign up to test new products and ideas, and experiment with new features. Search Generative Experience (SGE), for example, will help you make sense of search results, provide advice, and suggest more natural way to follow up. Code Tips, meanwhile, helps you write code in a variety of coding languages. A new Add to Sheets feature makes it simple to add search results into a spreadsheet you can share with others, like when trying to plan a vacation or night out with family or friends.
Bard Generative AI Continues to Get Smarter
Google's answer to ChatGPT, the Bard generative AI technology has been out for some time now. But the experience is now being rolled out to more countries, and no longer has a waitlist if you want to try it (note: it isn't yet available in Canada). In addition to text-based queries, Bard will soon add relevant images from Google Image Search to the experience, while you will also be able input images into Bard for running searches.
Google Maps Are Soon More Immersive
Google is making compelling updates to Google Maps so that you can visualize every part of a journey before heading out, whether it's for a walk on a nearby trail while you're on vacation, a new cycling path, or a drive in an unfamiliar city. Called Immersive View, these will be available for a selection of cities in the coming months, including popular tourist spots like Las Vegas, London, Los Angeles, New York, Miami, and Paris (nowhere in Canada just yet).
Magic Compose and Duet AI Help You Write E-mails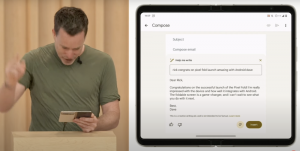 What you write in an e-mail is as important as the tone, and a new feature called Magic Compose for Android aims to help you not only beef up a message with additional prose but also adjust how it sounds based on the recipient. Some people, for example, are used to penning a simple one-sentence reply. You can ask Google to create a message from a simple one and it will add additional information that you can tweak before hitting send. This might be to send a more detailed e-mail to a client when you're in a rush, or to devise an intelligent letter to an airline requesting a refund for that flight that was cancelled. Interestingly, you can also ask Google to adjust the tone of the message once the content is ready. The way you'll write something might change based on whether you're sending it to a family member or your best friend where the tone would be casual and playful versus to a client where it should sound strictly professional.
Meanwhile, a new feature called Duet AI within Google Workspace allows for drafting responses in Gmail that take the context of the e-mail thread into consideration. It will also exist in Slides where you can use it to generate images from text descriptions to create compelling photos to add to your presentation.
Cinematic, Emoji Wallpapers for Pixel Add Fun, Depth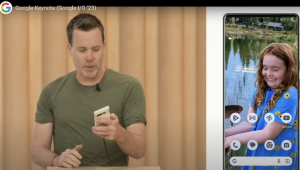 A fun new addition to the growing list of wallpaper options for personalizing a Pixel phone will soon include, with Android 14, the ability to create more unique wallpapers. In one case, you can add dynamic emojis: select your favourites and a wallpaper will be created using them. You can even tap them and they will move slightly, presumably a soothing experience.
Google is also working on generative AI wallpaper, coming this Fall, which allows you to choose a specific personal interest, then the style, type, and even colour palette, and it will create a selection of unique images from which to choose. Once you decide on the one you want, you can rest assured that no one else in the world will have a background like yours.
The best way, however, to make your wallpaper completely personalized is to use one of your own photos. And you can add a new dimension to this, quite literally, with a feature coming next month. Called Cinemaic Wallpaper, you can pull a photo from your library and add depth to create a neat 3D effect.
Magic Editor in Photos is Truly Magic
Along with popular features like Magic Eraser and Photo Unblur, Google is adding another new feature to help you improve photos called Magic Editor. Available in select Pixel phones later this year, you could do things like remove the strap of your backpack from a photo to clean it up, adjust background clouds, or even reposition yourself or the subject in a photo. In a compelling example provided during the event, the image of a child holding a bunch of balloons is adjusted to improve it. She is dragged from the left corner into the centre of the photo, with the missing portions of the photo rebuilt using intelligent AI. This includes the missing parts of the balloons that were out of frame and even the rest of the bench she's sitting on. It's a feature I'm looking forward to trying with my own pictures.
Imagine fixing those images where you're missing the edge of a delicious cake or a popular landmark. It unlikely that Magic Editor can add missing portions of faces. But for common objects like balloons and benches, it's clear it can re-create a photo to incredible degrees.
Find My Device Gets An Upgrade
The Find My Device experience is being completely revamped. Powered by the Android network, if you leave a device behind, someone else with an Android device can pick up its location to help. Location information is encrypted. A new Unknown Tracker feature will send alerts to let you know if something is moving with you that isn't yours and help you find it so you can get it back to its rightful owner.
Companies like Tile and Chipolo will be making tracking tags that work with the network as well. But most importantly, Google has worked with Apple to ensure that the Find My Device feature, which is coming later this summer, will work across all mobile devices, including iPhones.
Three New Mobile Devices are Coming
All this technology is either accessible through a computer or a mobile device. In the latter space, Google introduced a trio of new devices: the Google Pixel Fold foldable phone, the Google Pixel Tablet, and the Google Pixel 7a smartphone.
Google Pixel Tablet: A Tablet Smart Display Hybrid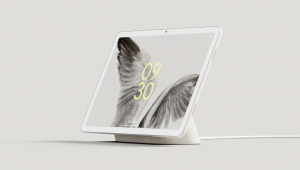 What sets the Google Pixel Tablet apart from others is that it's part tablet, part smart home display. The idea is a device that can be used on the go, but also as effectively at home. When it's docked on the speaker dock that comes with the unit, it functions as a digital photo frame, smart display, and smart home hub for controlling compatible smart home devices, including Matter devices.
It has a 10-inch screen, four built-in speakers, and is powered by the Google Tensor G2 chip. The camera is optimized for video calls so you are always in frame and in focus. With the same photo features you'll find in Pixel phones, like Magic Eraser and Photo Unblur, family members can also create their own personal profiles to log in and access their services, apps, accounts, and content. It also has built-in Chromecast for seamlessly casting content to the big screen.
Alongside the included speaker dock, the tablet has its own built-in stand as well, so you can easily prop it up on a desk or table without the speaker stand. The Pixel Tablet is coming next month and will be available in three colours for $699. You can pre-order one today.
Google Pixel Fold: A Sleek Albeit Expensive Foldable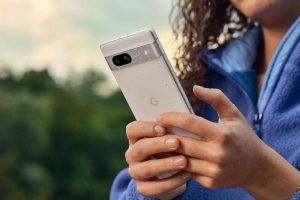 Google's first entry into the growing foldable phone market is the Google Pixel Fold, which folds to create a slim and sleek smartphone, then opens using the custom-built 180° hinge to showcase a 7.6-inch tablet-like full screen view. Also equipped with the Google Tensor G2 chip, it boasts an IPX8 water-resistant rating.
Aside from being a cool design, the folding function has several practical benefits. When using apps that are optimized for the larger view, things like videos (from compatible sites like YouTube) fill the screen as soon as you unfold the device. There's also a split screen option where you can drag and drop files from one app to another using the dynamic Taskbar. When in tabletop mode, prop the phone up on a table or other flat surface to record videos or photos, watch a movie, scroll through photos, play games, video chat, and more. With an app update coming soon, you will be able to watch or record a YouTube video in the top half and access controls on the bottom while in this mode.
The phone has all the camera features you'll find in other Pixel phones with the added option to flip the phone and use the 48MP camera for taking high quality selfies. Tabletop mode, meanwhile, affords a wider field-of-view, and you can snap the photo from afar using a new palm gesture so you're in it, too.
One of the most exciting features, however, is called Dual Screen interpreter. Coming later this year with the Android 14 update, you will be able to use the inner and outer screens to translate live conversations in real-time.
Available now for pre-order in the U.S. and officially available in June, the Pixel Fold starts at $1,799 and will come with a free Google Pixel Watch. There's no word yet on Canadian availability.
Google Pixel 7a: Affordable Luxury, Fabulous Camera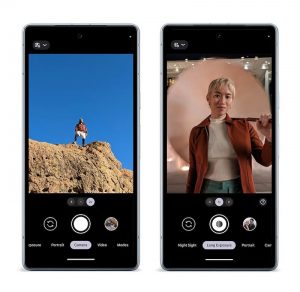 Replacing the Google Pixel 6a as the most feature-rich and affordable phone in the Google line-up, the Google Pixel 7a is $599 in Canada and available now. Upgrades over the Pixel 6a include 8GB RAM and an up to 90Hz refresh rate for the 6.1-inch FHD gOLED screen. It also comes with the same Google Tensor G2 chip that's found in its bigger brothers, the Pixel 7 and Pixel 7 Pro.
The durable phone, which looks almost identical to the Pixel 6a on the outside, has improved cameras as well, including a 72% larger main camera sensor with a 64MP main camera and 13MP ultra-wide. The all-day battery allows for continued use while you can recharge it using its cable, Pixel Stand, or other Qi-certified wireless charging device. There's an Extreme Battery Saver mode for extending battery life to up to 72 hours.
Available in cool colours, including a new Coral, the Google Pixel 7a has all the same neat photography and usability features you'll find in the Pixel 6a, from Magic Eraser and Photo Unblur to Clear Calling and Call Assist.
AI is Not Coming, It's Here
All three new hardware devices suggest that Google is laser focused on solidifying its position as a leader in the mobile space. The company is not only adopting the latest trends like foldable phones but also reinventing older ones like tablets.
Arguably more important than the devices themselves, however, based on Google's focus at I/O this year, is that the company is bringing AI technology into the hands of every user in numerous ways. The overarching goal, according to Google CEO Sundar Pichai in his closing remarks, is to "make AI helpful."
Which of these features will be most helpful remains to be seen. But if these announcements are any indication, for many individuals, the growth in AI will make for an exciting, game-changing, career altering decade to come.