Being able to game on a TV is nothing new: most of us connect a video game console to a big screen to enjoy an immersive gaming experience, or even connect a laptop to a TV via HDMI or wireless casting to get a bigger view. But more and more, TVs, streaming services, and streaming devices are integrating gaming right into the experience. This means you can play right from the TV using nothing more than the TV's remote or your phone as a controller. There's no HDMI connection, screen mirroring, casting, or AirPlay needed. In some cases, you need a separate streaming device and/or gaming controller. But in others, you can just use the TV remote.
The games usually involve something simple, like trivia. But you'll find plenty of classic adventure and puzzle games as well, and even more elaborate games that rival a PC or console.
They aren't always a success: Google Stadia, which shut down in January 2023, is a case in point. In some ways, the gaming on TV category is still in an experimental phase. But there are a few services getting attention.
Netflix Gaming
Netflix has an entire gaming section in its platform that offers simple play without any ads or in-app purchases. Subscribers get unlimited access to 55 games to date that range from simulation games like Terra Nil and SpongeBob: Get Cooking to adventure games like Scriptic: Crime Stories, tabletop games like Solitaire, and even popular card games like Exploding Kittens. There are also interactive games like Triviaverse, which you'll find alongside the movies and TV shows listed as "interactive." Select it, choose single or dual-player mode, then answer rapid-fire trivia questions, passing the TV remote from one player to the next to see who earns the most points.
Netflix gaming is great for family time, but also individual play to kill some time in the middle of the night when you can't sleep. Netflix says it plans to launch 40 more games later this year, with 70 more in development with partners, 16 with its own in-house game studios.
Apple Arcade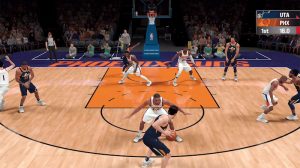 Accessible on the big screen through an Apple TV and $5.99/mo., Apple Arcade includes more than 200 mobile games, ranging from arcade originals to classics, and popular games from the app store. There are brain teasers, magical quests, sports games, and more, with new games constantly being added all the time.
There are no ads or in-app purchases, so you get a fully clean experience that even kids can enjoy. There is a free one-month trial period with purchase or you can bundle with other subscriptions via Apple One to save. When you purchase an Apple device, you also get three months free if you redeem the offer within 90 days of purchase.
In addition to playing on the big screen through an Apple TV, you can also access Apple Arcade on iPhone, iPad, and Mac, and earn points and save progress across all devices seamlessly, as long as they are connected to the same Apple ID. Everyone in the home, however, can switch users to play with their own sign-ins.
Some Apple Arcade games don't require a controller while others do. The great part? Apple Arcade games work with a variety of controllers, including the Sony PlayStation DualShock 4, PlayStation DualSense, Microsoft Xbox Wireless Controller with Bluetooth, Xbox Elite Wireless Controller Series 2, Xbox Adaptive Controllers, and MFI-compatible game controllers.
Stingray Ultimate Trivia

Canadians will enjoy Stingray Ultimate Trivia, a new service from the music, media, and technology company, and the result of Stingray's acquisition of Ultimate Trivia Network. Available as an ad-supported linear channel, you answer a stream of trivia questions in a variety of categories, like geography, history, sports, arts and entertainment, sciences and nature, Hollywood, trending topics, technology, and more. It's great practice for the next family board game night or Jeopardy! watch party.
Ultimate Trivia is available through free ad-supported streaming TV (FAST) channels, which are accessible from numerous services that allow for streaming content without requiring a linear TV or premium service subscription. In Canada, those include Pluto TV, The Roku Channel, and Samsung TV Plus, among others. But Ultimate Trivia is expected to launch through other platforms soon, including a voice-activated in-car app that will make it perfect for road trips.
Roku Channels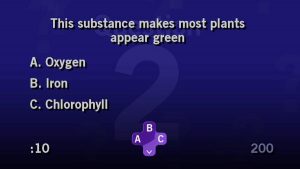 As mentioned, Roku is one of the services in Canada that offers FAST channels. Among them are plenty of gaming channels. There's Trivia TV, for example, which delivers 24/7 brain teasers, as well as QuizTV for participating in entertaining quizzes, including personality quizzes.
Search the Roku Channel Guide to find more trivia, gaming, and quiz options for the whole family. There are other games, too, like Snakes & Ladders, Bubble Shooter, Math Time, and more. Simply add the channel you want and start playing, right from the Roku interface via a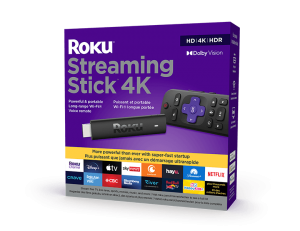 Roku streaming stick, player, or Roku TV. Enter our contest for your chance to WIN a ROKU Streaming Stick 4K with Remote.
Xbox Cloud Gaming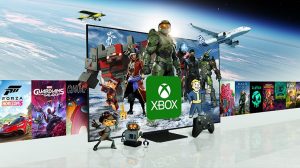 Did you know you can access Xbox games on a compatible smart TV without needing a console? Cloud gaming for Xbox works by connecting a compatible controller to a compatible smart TV via Bluetooth then accessing your Xbox Game Pass Ultimate to play; there's also a small selection of free games that don't require an Xbox Game Pass Ultimate.
Xbox Cloud Gaming works on Samsung TV models from 2021 and later with software version 1300 or higher. You can only play one person at a time, but it's a great way to play if you feel like gaming upstairs but don't want to go through the process of setting things up in the basement or want to play from the cottage without having a separate Xbox there.
Amazon Luna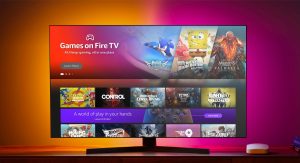 The Amazon Luna cloud gaming service has been available in the U.S. for some time, but as of late March 2023, it's officially available in Canada as well. The service is supported on Fire TV devices and Amazon Prime members get access to Luna game titles every month as part of their subscription. Powered by Amazon Web Services (AWS), there are Luna games in every genre, from casual to retro and AAA titles, like Mega Man II and Jackbox Party Pack 3. All games are easy to access right from a compatible smart TV or streaming device connected to a big screen TV: there's no expensive hardware or set-up process needed.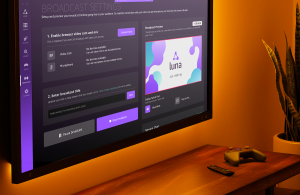 Play games using the Luna Controller ($90) or the iPhone or Android app and connect online via Cloud Direct technology, which also makes it easy to seamlessly switch from the big screen to mobile if you want to keep playing on the go. Link a Ubisoft Connect account to Luna and you can even play select Ubisoft PC games you own on a Fire TV or other support device.
The service does require a subscription, which starts at $13/mo. for a wide selection of games for all ages and goes up to $23/mo. for the plan that includes high-profile Ubisoft titles like Assassin's Creed and Far Cry. For simpler, casual gaming, opt for the $6.50/mo. Jackbox Games plan that has trivia and adventure games like Quiplash, Trivia Murder Party, and Drawful. You can even play with others using Luna Couch, and live broadcast to Twitch via Fire TV.
Get Gaming
Not everyone needs an elaborate gaming set-up and high-profile game titles like Call of Duty or Fortnite. Some just like casual and fun gaming, and this is exactly what these services are designed to accommodate. They're effectively larger-scale versions of the mobile app games you'd play on your phone. They're also digital versions of simple games you'd play on your computer, or even board or card games. (In some cases, you can still access those high-profile, serious games, too).
With this type of gaming, the entire family can gather around the TV. But rather than sitting passively to watch a show or movie, interact with one another via a trivia challenge or compete in a simple game to see who can earn the most points or get the farthest.
Gaming comes in all forms, and its popularity is driving this trend toward simple and casual gaming right from the TV, no additional equipment needed.
-30-
Related:
Female Gamer Leads Industry Charge in Canada to Ensure Video Game Makers Reflect Their Audiences
Many cool tech prizes to Win! Check our contests