Among the many announcements Apple made at its WWDC 2023 annual conference this week is the big reveal of the Apple Vision Pro. This marks Apple's first entrance into the wearable augmented reality (AR) space with a device that looks like virtual reality (VR) glasses but can do so much more.
What is the Apple Vision Pro?
The Apple Vision Pro, dubbed a spatial computer, is a headset that goes over the eyes and wraps around the head. Inside is the new R1 chip and 12 cameras, five sensors, six microphones, and a new Optic ID secure authentication system that analyzes your iris. Everything is powered by the new visionOS. You can call up a variety of apps, including the same ones you'd use on a MacBook, iPad, or iPhone along with Vision Pro specific ones, to surf web pages, watch videos, play games, and more.
Everything is controlled through subtle hand gestures, like swiping your finger up and down to navigate and tapping two fingers together to select; as well as through voice commands and even your eye movements. Simply look at an app icon and it will light up, registering the view.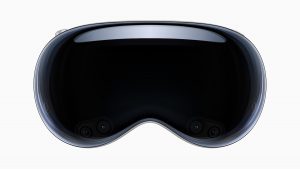 One of the coolest features with Apple Vision Pro is that because it's AR versus VR, you can still see and interact with the room you're in (and people in it) without having to remove the glasses. Not only can you see if someone is approaching you, view your computer or papers on a desk, but others can see you, too. When someone is detected in front of you, the lenses will display your eyes so they can see where you are looking and you can carry on a conversation before getting back to your immersive experience.
You can adjust where and how the apps and pages appear in your view, moving things around to appear in a grid or even tiled all around you. You can also expand to effectively watch a movie on what appears to be a projector-sized screen, include an image or app in a small corner of the screen.  If you prefer, remove the entire background and swap it for a scenic one to get the fully immersive experience.
What Can You Do with Apple Vision Pro?
The big question is: what can you actually do with Apple Vision Pro? Aside from lying back and enjoying a movie, TV shows, sporting event, or even personal videos in your own solo theatre, you can also use it for productivity. Add a Magic Keyboard and Magic Trackpad to the equation and it can become an immersive workspace. Pop open your MacBook, put on the Vision Pro, and it will work as a more private 4K display as well.
For gaming, there are tons of titles you'll be able to enjoy at launch, including more than 100 Apple Arcade games. It supports popular game controllers as well as immersive audio to accompany the experience thanks to Spatial Audio support.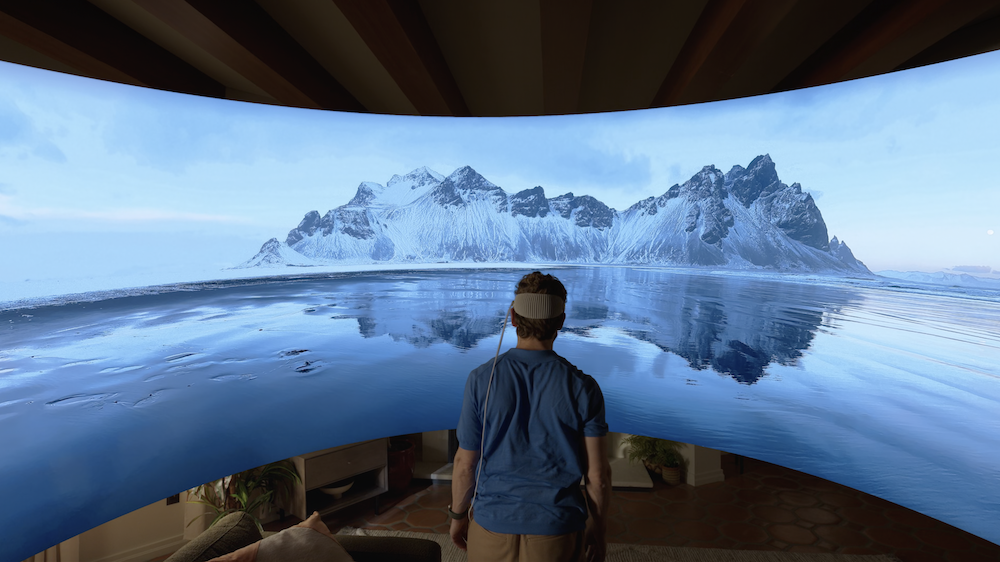 View your photos in an entirely new way, too. See panoramic photos as though they fully envelope you on all sides, and even snap interesting photos and videos right from the Vision Pro itself that you can later relive by calling them up and watching. Set up a FaceTime call and you'll show up as your Persona, a digital representation of you created using Apple's advanced machine learning. This even reflects your real time facial and hand movements.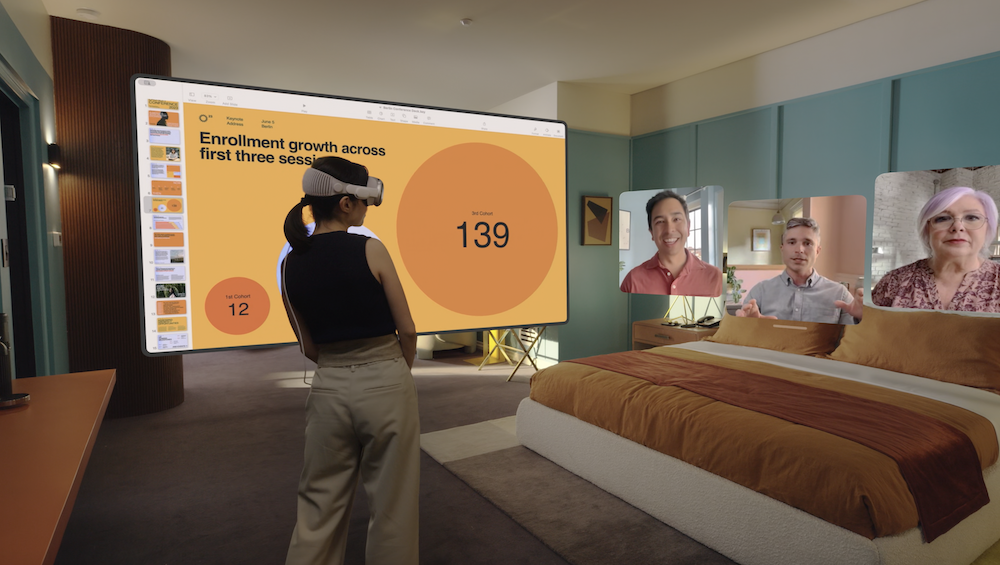 This is great for business calls from a hotel room, for example, but also for collaboration or even watching a movie together with friends.
Key Things to Note about the Apple Vision Pro
Before getting excited about the Apple Vision Pro, there are a few things to note. First, it won't be available until early next year and will be exclusive to the U.S. until eventually launching in other countries. Second, it comes with the high price tag of US$3,499, which will make it an exclusive device for early adopters, at least until pricing comes down. Consider that you can purchase a new MacBook for the same price.
It's also worth noting that the Apple Vision Pro is designed to fit perfectly to you, which means the set-up is customized to each individual user. The headband is adjustable but comes in three sizes and will be fitted to your face in the Apple Store upon purchase. This is a personal device: it won't be so easy to share with others.
The battery lasts for up to two hours per charge, which means if you want to watch a full-length movie, you'll need to keep it plugged in or break up playback to leave time to recharge. Finally, if you require reading glasses, you will need to purchase Zeiss Optical Inserts separately and add it to the equation. This allows you to still wear your glasses while enjoying the experience, but adds to the bottom line cost.
Bottom Line
Will Apple Vision Pro become the next big thing in spatial computing, or will it be "just a fad?" We'll have to wait and see. For now, the reception is mixed. Some Apple fans can't wait to get their hands on Vision Pro to try, believing it marks the next step in computing. But others, even die-hard Apple fans, believe the excitement will die down and the product won't perform as well as hoped once it officially hits stores.
Whatever the case, this next development for Apple marks an interesting step. The company has innovated in so many categories before, and Vision Pro, and other devices just like it, might very well represent the future.
-30-
More on Apple