---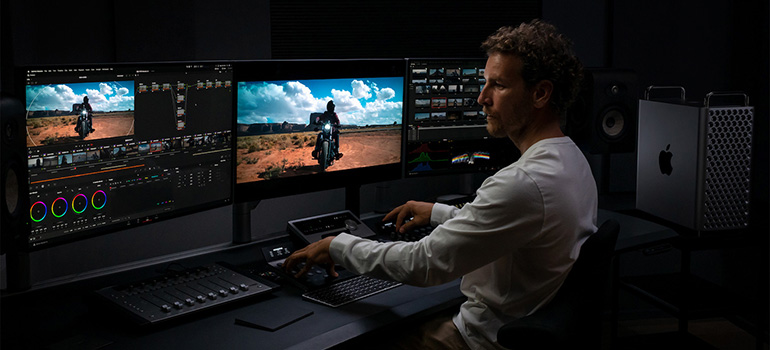 At WWDC 2023, Apple introduced several innovations in the computing space alongside many new features coming to iPhones, iPads, Apple Watch, and Apple TV 4K. For Mac users, the computing experience has gotten much sleeker, faster, and more intuitive as well.
15-inch MacBook Air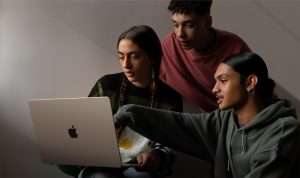 The highlight of the launch event was the new MacBook Air, which boasts a 15.3-inch Liquid Retina display, the new M2 chip, a six-speaker sound system with support for Spatial Audio, and up to an impressive 18 hours of battery life, all in a thin and fanless chassis. The ultra-bright screen is complemented by MagSafe charging, two Thunderbolt ports, and a 3.5mm headphone jack. The new MacBook Air comes complete with a 1,080p FaceTime HD camera, three-mic array, and, coming this fall, will be upgraded to macOS Sonoma. The starting price is $1,749 or $1,599 for education.
Available in four finishes (Midnight, Starlight, Space Grey, and Silver), the M2 processor will deliver ultra-fast operation and performance along with greater efficiency. M2 provides 100GB/s of memory combined with an 8-core CPU, 10-core GPU, and 16-core Neural Engine.
One thing worth noting is that the introduction of this new MacBook Air brings down the starting price of the existing 13-inch model to just $1,449, providing plenty of value for an affordable price for customers who still want to invest in this model.
Mac Studio
For more professional use, there's the Mac Studio, which features M2 Max and the new M2 Ultra system-on-a-chip (SoC) for a boost in performance. Apple says it's up to six times faster than the most powerful Intel-based 27-inch Mac and three times faster than the previous- generation Mac Studio that features the M1 Ultra SoC.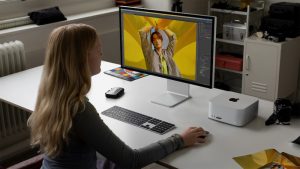 The compact desktop computer is an ideal solution for designers and developers. It features a 24-core CPU, up to 76-core GPU, and up to 192GB of memory with 800 GB/s of unified memory bandwidth. With higher bandwidth HDMI that enables up to 8K resolution and 240Hz frame rate, it's a creator's dream.
It supports up to six Pro Display XDRs and boasts Wi-Fi 6e and Bluetooth 5.3. On the back are four Thunderbolt 4 ports, a 10Gb Ethernet port, enhanced HDMI port, and two USB-A ports, while there are a pair of USB-C ports and an SD card slot on the front.
Mac Pro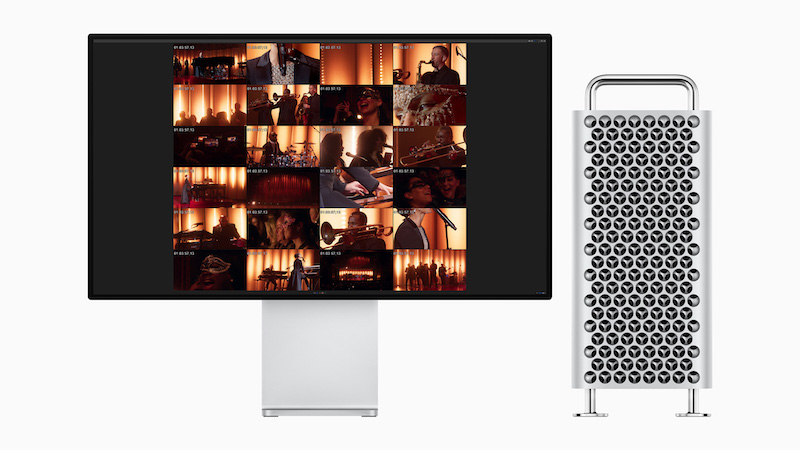 Also for pros is the Mac Pro that comes equipped with the M2 Ultra chip, marking Apple's official switch to exclusively using its own chipsets. It's up to three times faster than the previous-generation Intel-based Mac Pro. It has seven PCIe expansion slots and six open expansion slots that support gen 4 so you can fully customize the computer.
Ideal for audio and video professionals, it has an impressive eight built-in Thunderbolt 4 ports (six on the back and two on top), supports up to six Pro Display HDRs, and has Wi-Fi 6e and Bluetooth 5.3. There are also three USB-A ports, two higher bandwidth HDMI ports supporting up to 8K resolution and up to 240Hz frame rates, two 10Gb Ethernet ports, and a headphone jack that works with high-impedance headphones.
The Mac Pro starts at $2,699 or $2,429 for education and comes in a tower or rack mounted enclosure starting at $8,999 and $9,599, respectively.
M2 Ultra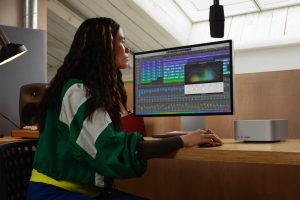 The new M2 Ultra SoC delivers major performances increases. Built using a second-generation 5-nanometer process and using Apple's UltraFusion technology, it connects the die of two M2 Max chips to effectively double the performance. Supporting up to 192GB memory capacity and 800GB/s of memory bandwidth, the CPU is 20 percent faster than the M1 Ultra, a larger GPU that's up to 30 percent faster, and a Neural Engine that's up to 40 percent faster. The 32-core Neural Engine delivers 31.6 trillion operations per second, 40 percent faster performance than the M1 Ultra.
With this new SoC, Apple is now fully moving away from the Intel chip and towards its own silicon, marking a major step forward for the company.
macOS Sonoma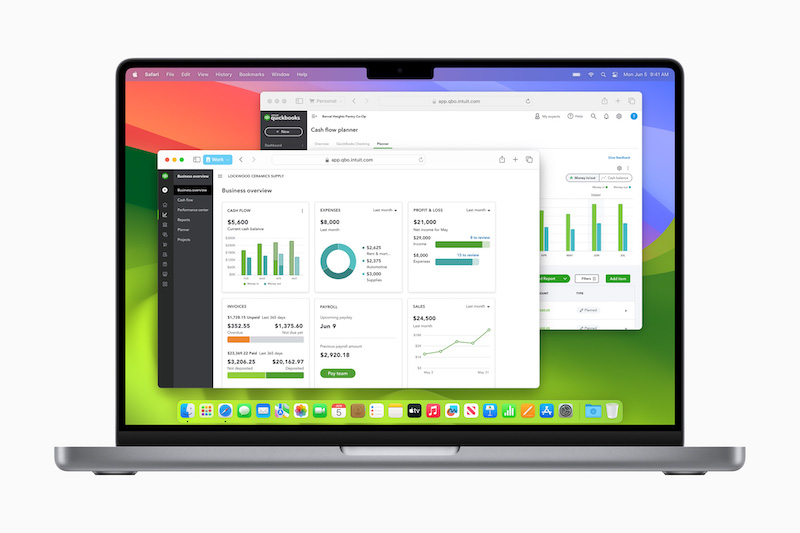 The new computers as well as compatible older models will run on the macOS Sonoma, which includes tons of useful updates. You can now, for example, place widgets anywhere on the desktop, interact with them via a click, and even access iPhone widgets on a Mac thanks to Continuity. When you open an app, the widgets fade into the background so they are still present but won't distract you from the task at hand.
There are also new features for video calls like Presenter Overlay, which will place you overtop the content being shared while Reactions let you use gestures to trigger cinematic video effects (think fireworks when you put two thumbs up).
The Safari browser, meanwhile, will include new profiles so you can separate your browser cookies, history, extensions, tab groups, and favourites between work and personal.
The Sonoma browser also includes new screen savers and a new Game Mode for gamers.
Privacy and Security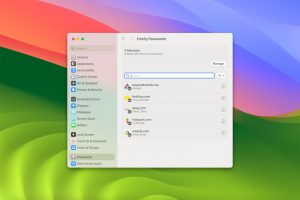 Alongside the new computing hardware announcements as well as software updates for its mobile products, Apple announced new privacy and security features relating to web browsing, communications, and lockdown.
Safari Private Browsing: An update to this feature helps prevent websites from using the latest techniques to track your device. Private Browsing will lock when it isn't in use so you can keep tabs open even if you step away to grab a coffee in the local shop or have a conversation with a co-worker.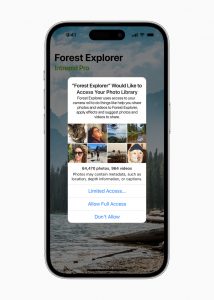 Photos Privacy: There will be a new Photos picker that can help you decide which specific photos to share with apps versus giving them access to all of them. The remainder of your Photos library, meanwhile, will be kept private. You'll also get reminders of what you're sharing whenever you agree to grant an app access to your photos so you can reconsider if you want to share everything or share a limited amount.
Link Tracking Protection: When you share web links in Messages and Mail, it typically includes not only the main URL but also additional tracking information at the end. This additional information will be removed when sharing but the links will continue to work.
Communication Safety: A useful update for parents, children will now receive warnings when they attempt to send not only photos but also videos in Messages that contain nudity. There are additional safety details for kids when using AirDrop as well as FaceTime video messages; or when receiving new Contact Posters. The warnings will turn on for any child's account in a Family Sharing plan and parents can disable it if preferred.
Sensitive Content Warnings: Also for kids, but useful for adults as well who don't want to see unwanted nude images or videos in Messages, AirDrop, FaceTime videos, or the new Contact Posters, the feature can be turned on in the Privacy & Security setting.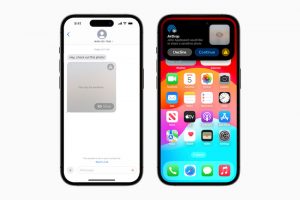 Passwords and Passkeys: You are now able to share passwords and passkeys among a group, great if your spouse always gets booted from Netflix and forgets the password, you need to share the password for your child's report card online with the grandparents, or it's your roommate's turn to order dinner and they can't remember the Uber Eats password. Sharing is done through iCloud Keychain and is end-to-end encrypted. You can easily log in thanks to automatic autofill of the one-time verification codes in Safari, everyone can add or edit passwords as needed.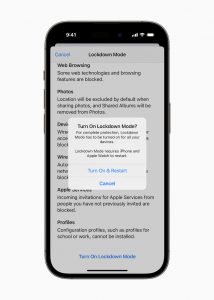 Lockdown Mode: If you work a sensitive job, you might be particularly susceptible to spyware. With these new protections, you can further harden the device's defenses and limit certain functions to reduce the likelihood of an attack. It's supported on watchOS as well.
All these new features will launch with the software update this Fall.
-30-
Related:
WWDC 2023 Apple Enters New Category with Vision Pro Spatial Computer
More Apple articles