The listening convenience of true wireless stereo earbuds are combined with the many functions of an app-driven smartwatch in the now available HUAWEI WATCH Buds, a clever new two-in-one wearable device packed with features.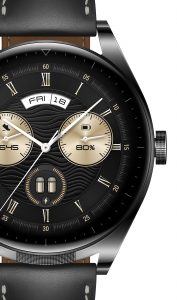 This smartwatch's magnetic face cover pops open like an old pocket watch, but two miniature earbuds are found underneath, nestled in protective electronic cocoon. Smartwatches and TWS earbuds are both very popular consumer devices, but they're usually sold as two separate items.
Now, they're together in one elegant package: enclosed in a corrosion-resistant stainless-steel case with a high-definition AMOLED colour screen, a diamond-facet side button and a full-grain leather strap made from top-layer calfskin. It's a 14.99 millimetre thick wrist wearable, weighing in at 66.5 grams.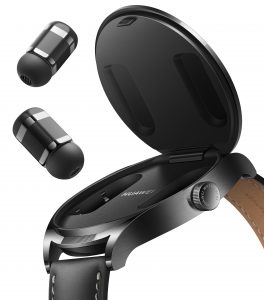 The premium audio quality earbuds found 'under the hood' can be used to control music and audio playback, answer calls and send text messages via Bluetooth, and manage microphone pick-up and sensitivity.  Lightweight and cylindrical, the buds are easy to wear and use – a simple tap on the buds or your ears will suffice.
Big sounds come from the tiny Watch Buds, driven by a full-range planar diaphragm for full-frequency response and high-resolution audio. Sounds are optimized through the device's ambient noise control, triple adaptive EQ, and user customizable settings.
Something call Ear Canal Adaptive technology means sounds are adapted to the shape of each user's ear; interestingly, these 'smart buds' can be used in either ear; they will auto-correct the left and right audio channels based on motion and angular velocity sensors.
The versatile smartwatch itself can help with health, fitness and exercise management, track sleep habits and much more. There are several sensors onboard, including an accelerometer and gyroscope to measure speed, acceleration, orientation and the like. There's a fully-featured Health App downloadable to the device, and a wide array of other apps available from Huawei and the Watch AppGallery. Of course, it has GPS tracking capabilities, so you can accurately map your walks, runs and other outdoor activities.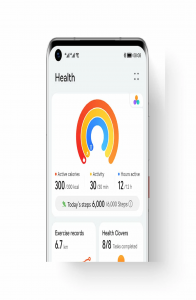 Huawei Watch Buds are compatible with Huawei devices as well as other Android and iOS devices.  The Huawei Health App is the interface for the Watch Buds; not on Google's Play store, it is downloadable from Huawei. Profile and permission set-up is needed for accessing all the device features, and then everything is done from a paired phone – at present, the earbuds only work with a smartphone, not laptops or other portable devices, for example.
The Health App supports professional health programs like yoga, fitness, and strength training.  Many more sports modes and activities can be added. Through its embedded sensor array that's strapped up against a wearer's wrist, the smartwatch monitors continuous heart rate, blood oxygen levels, and sleep; the latter keeps track of your sleep health and habits and can also record snoring.
When needed and appropriate, you can use the smartwatch features to enable one-click sharing of fitness records, set-up a sports mode voice assistant, make customized personal activity plans and more.
The app is about more than health, as mentioned: it's where you manage all the watch and earbud settings. You can configure audio EQ settings, select new watch faces and much more through the app's tabbed set-up menus.
You can also manage the Huawei Watch buds with what's known as Wide-Area Auricle Touch Controls, and the simple tapping of various areas of your ears. Double tap to answer or reject a call or to play and pause music, for example. It may take some time to master all the touch controls, but they can put call management and music control at, well, your fingertips.
With all its features, functions, and capabilities, powering the Huawei Watch Buds requires good battery life. On a full charge, the device lasts up to three days when using the watch and buds regularly. Without the buds in action, the watch can remain charged for up to seven days with power saving option engaged. The included Huawei Watch Wireless Super Charger, like a connected ceramic plate on which the smartwatch rests during charging, takes a couple of hours to recharge the device for use.
It's quite likely you'll be using your Huawei Watch Buds a lot; whether for listening, exercising or simply flipping the watch cover open just cuz it's cool to see the buds in there – but don't worry, Huawei says it has tested the cover's ultra-miniature precision mechanism extensively, through 100,000 cycles of opening and closing and a five-kilogram stress test.
Still, the most descriptive numbers for the Huawei Watch Buds are two and one, as in two devices in one package.
# # #  Huawei and WhatsYourTech.ca are giving away a Huawei Watch Buds Smartwatch, value $698.99!  Enter our contest for your chance to WIN!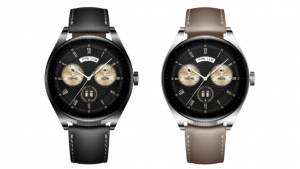 -30-