At the Samsung Galaxy Unpacked 2023 event that happened in August, the company introduced some of its most feature-rich and premium devices. Among these was the Galaxy Z Flip 5 and Galaxy Z Fold 5 foldable phones, the Galaxy 6 smartwatch (and its 6 Classic variant), and the Galaxy Tab S9 tablets. This month, Samsung held another event to introduce the latest in its line of Fan Edition devices.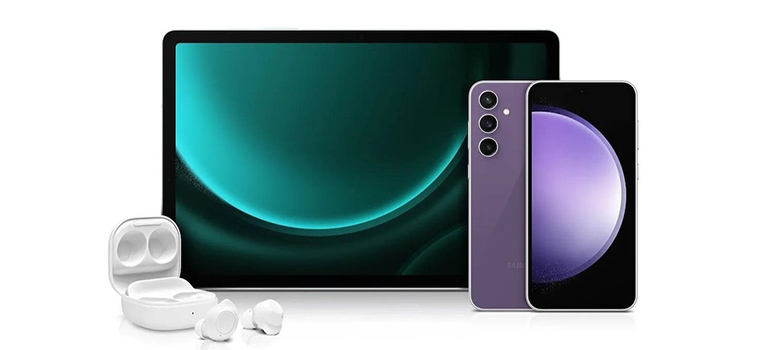 What are Fan Edition devices?
Samsung Fan Edition devices, denoted with an "FE" designation, are more affordable options created taking feedback from Galaxy fans into consideration. They focus on fan favourite features, often younger individuals who value content creation, taking photos, entertainment, gaming, and more. FE devices aren't just about features but also aesthetics and, above all else, offering value for money.
At this event, Samsung expanded the FE designation to introduce new FE tablets and true wireless earbuds along with the latest Galaxy FE phone. Here's a rundown of what's new in the FE line.
Samsung Galaxy S23 FE Smartphone
A Fan Edition version of the Samsung Galaxy S23 series phones, this one adopts popular features from the more expensive variants, including a premium aluminum finish, IP68 dust- and water-resistance, and the signature floating camera. It has 8GB RAM and 120Hz refresh rate so it can keep up with demanding tasks. The camera is upgraded, too, with a 50MP sensor and 3x optical zoom so you can capture moments from further away (combined with 8MP telephoto, 12MP ultra-wide, and 10MP front cameras). There's also Nightography for getting great low light images and videos as well. You can use the Pro Mode for manual control of photos for things like shutter speed, aperture, and ISO.
It has a long-lasting battery with quick charge features and a sizeable 6.4-inch Dynamic AMOLED 2x display with Vision Booster that will automatically adapt screen brightness to the ambient lighting conditions.
Available in fun colours like Mint, Cream, Graphite, and Purple, the phone starts at just $870 and will be available starting October 27, 2023. With at least four generations of OS upgrades and five years of security updates, the Galaxy S23 FE is designed to last and will have great resale value once you're ready to upgrade.
What's Different Compared to the Galaxy S21 FE?
The previous generation Fan Edition phone is the Galaxy S21 FE, and this model is a step up in several ways. Along with new colours, it has a more powerful Snapdragon 8 Gen 1 process (compared to Snapdragon 888), comes with 8GB RAM for all versions (lower capacity options of the S21 FE come with 6GB RAM), and have vastly improved cameras.
It also boasts Bluetooth 5.3 versus 5.0 and it's slightly bigger and heavier in size thanks to upgraded materials that include a glass back panel, along with nicer, flatter circular camera cutouts. It's overall a sleeker design.
Galaxy Tab S9 FE and S9 FE+ Tablets
Samsung has also made FE editions of its popular Galaxy Tab S9 tablet, the Galaxy Tab S9 FE and Tab S9 FE+, both of which come with an S Pen and offer IP68 water resistance so you can confidently use them anywhere. The Galaxy Tab S9 FE has a 10.9-inch display and the Galaxy Tab S9 FE+ a 12.4-inch display, both with adaptive refresh rate up to 90Hz as well as Vision Booster technology.
You'll get up to 20 hours of battery life per charge (with the FE+ model) and 256GB built-in storage, expandable up to 1TB with an optional microSD card. The starting price is $600 and they will be available as of October 11, 2023. Both include four generations of OS upgrades and five years of security updates as well.
Galaxy Buds FE True Wireless Earbuds
Finally, Samsung has taken its popular Galaxy Buds true wireless earbuds and turned them into an FE model as well. These offer improved audio, active noise cancellation (ANC) with ambient sound, and boast a new, ergonomic design. Using AI technology, they better separate your voice from background noise so you can more easily be heard on calls. They are designed to be comfortable to wear all day thanks to the inclusion of not only three ear tip sizes but also two wingtip sizes to ensure the perfect fit.
Because battery life is so crucial with wireless buds, this pair features the longest to date for a pair of Galaxy Buds at 8.5 hours per charge and a total of 30 hours using the included charging case (six hours and 21 hours with ANC on). Pricing is $140 and they come in graphite or white starting October 11, 2023.
Samsung Account My Page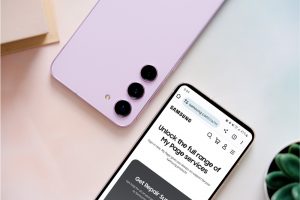 Earlier this year, Samsung Canada launched the Samsung Account My Page shop online to assist customers in their purchases and after-sales support. Through this page, customers can register newly purchased products, look at their previous and current purchases, request support, book repairs, and more.
All you need to register a product to a new or existing account is the serial number, a QR code, TV registration, or by using the Samsung Members app. Registering will afford better repair support where you can also see a detailed history of repairs, manage check-ins, access manuals, receive product tips, and view details of your warranty. You can also book a walk-in or door-to-door repair for your registered Galaxy product.
-30-