Toronto-based 16 Bit, a start-up founded by two radiologists are on a mission to discover unseen opportunities to improve health using disruptive, cloud-based solutions. With the launch of Rho™, an AI 'radiology assistant' that uses routine x-ray images to accurately screen and identify patients at risk of osteoporosis, they are doing just that.
"The problem we're trying to solve is the under-diagnosis of this prevalent disease," said 16 Bit Co-CEO Dr. Mark Cicero, who founded the company with Co-CEO Dr. Alex Bilbily in 2016 to originally develop a smart tool for using x-rays to estimate bone age in children. "We know we can treat osteoporosis if we find it, but typically that only happens after people suffer a fracture, because the screening rates are so low," he said.
With their innovation, Drs. Cicero and Bilbily are making it possible to screen anyone over the age of 50 who goes for a routine x-ray for another medical reason.
Technical Innovation at 16 Bit
"16 Bit is a software company that develops novel AI-enabled medical devices that help doctors treat their patients and patients better understand their health," began Dr. Cicero.
"We founded 16 Bit … while still in our diagnostic radiology residency at the University of Toronto. We enjoyed breakout success at the inaugural RSNA machine learning challenge for pediatric bone age in 2017 after achieving 1st place. We commercialized that algorithm as PhysisTM and then set our sights on trying to better address the silent epidemic of osteoporosis-related morbidity and mortality."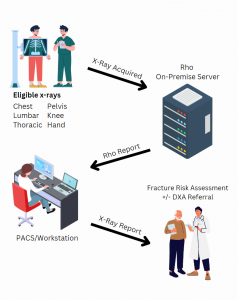 "Inspired by PhysisTM," added Dr. Cicero, "we thought about what other useful quantitative analysis we could perform on x-rays and how they could be used in a clinically meaningful way. Knowing that osteoporosis is underdiagnosed and underscreened, as well as how it is formally diagnosed with a special kind of x-ray test (DXA), we hypothesized that training a machine learning model using various x-rays as input and DXA T-Scores as output could be an effective way to predict who would be at highest risk for the disease."
"Fast forward 4 years later and our second product, RhoTM, can opportunistically screen patients 50 years and older for their risk of having low bone density when they undergo x-rays for other reasons," explained Dr. Cicero. "While RhoTM has only been in use for 1 year, we have already screened 60,000 patients and are in use at 28 locations – and growing – in Ontario and Alberta."
Mitacs Delivered the Right Internship Talent
Working with a computing team from Mitacs, a not-for-profit organization that fosters growth and innovation in Canada, 16 Bit achieved the design and implementation of its unique, software-as-a-medical device (SaMD) solution.
"Mitacs is a tremendously valuable program to young and growing companies like us," shared Dr. Bilbily. "It has helped us to cost-effectively de-risk new product development as well as prepare our existing products to perform well at scale as we expand our reach."
Dr. Bilbily then explained the team and the process to secure Mitacs talent.
"Entering the Master of Applied Computing program offered at UofT in the fall of 2022, Sarthak Narayan and Abdur Rahman reached out to us to work part-time during their studies. Thoroughly impressed by their resumes and technical abilities, we hired them.
After working together for 6 months, we knew they would make great additions to the team and devised a research project that would see them research state-of-the-art methods to deploy RhoTM in a scalable manner for institutions of any size. We then worked with the Master's program and Mitacs to finalize the project details. It was a straightforward and streamlined application process."
Dr. Bilbily also added, "Throughout the internship they have worked tirelessly testing new approaches and re-architecting our deployment strategy using cutting-edge technologies developed and used by leading tech companies."
Canadian Agencies and Resources Aid in Success
As October is Small Business Month, and I know that many other small business owners are looking for tech and government support to learn and grow, I asked 16 Bit co-founders to comment on any other resources helping 16 Bit in the evolution of its solution.
"16 Bit has been a huge benefactor of the thriving ecosystem of technology startups in Ontario and Canada," replied Dr. Bilbily. "As a bootstrapped company, we have received large grants from agencies such as the Digital Supercluster and INOVAIT. These grants have helped "tilt" the playing field in our favor by reimbursing our costs on project related eligible expenses."
"Recently, we have collaborated with Sunnybrook Health Sciences Center with funding from the CanHealth Initiative to pilot RhoTM and study its commercial and patient impact," added Dr. Bilbily.
"Another tremendous support has been the BioTalent program which enables us to tap into college and university students. OBIO has also supported us in getting access to experts in the reimbursement and investment fields while offering skills training to our team," shared Dr. Bilbily.
"Over the years, we've been lucky to win a number of pitch competitions including RBC's Entrepreneurship Award, Desjardins Startup-in-Residence, Health2Innovation (H2I), KITE, FACIT and we graduated from the Creative Destruction Lab in 2019," stated Dr. Bilbily
Artificial Intelligence Fueling Healthcare in Canada
"Artificial Intelligence, or machine learning on large data, has tremendous potential to aid our healthcare system, which is in desperate need," Dr. Cicero replied to my AI question.
"When we started 16 Bit after the first "Big Bang" moment in 2012, it was apparent that this would be the case, however, it was not exactly clear how this would unfold. Being radiologists in training at the time, we knew that healthcare was a complex adaptive system and predicting downstream effects is often impossible. While many prominent figures claimed that AI would be the end of radiologists, we weren't so convinced and believed that the role AI would have was much more nuanced."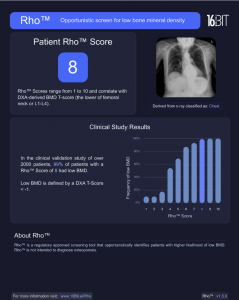 Dr. Cicero went on to state, "Within medical imaging, we envisioned systems which could detect life-threatening conditions like stroke, intracranial bleeds, pneumothorax, pneumonia, misplaced lines, and tubes and so on. Many of these applications have come to fruition and are in use today. For most of these applications, time to diagnosis or notification is the main value proposition and they can help improve care coordination and ultimately improve patient outcomes. Obviously, they are far short of replacing radiologists, but that has never been our vision. Generally, radiologists will tell you that AI has so far under-delivered on its promise and most radiologists will say they are not using AI in their practice today."
"We hope to change this with RhoTM, which is the first of its kind opportunistic screening tool, which leverages AI and is applicable to about 80% of all x-rays performed in patients 50 years and older," claimed Dr. Cicero. "We believe RhoTM is the first "killer app" for AI in medical imaging as it has the potential to change the paradigm of population health screening and serves as the paragon for what is possible when AI is leveraged effectively."
Dr. Cicero also commented, "Fast forward to today's Generative AI boom and we think there is a whole new set of low-hanging fruit now made possible. Some of these include assistance with generating radiology reports and the creation of synthetic images, which will be useful for treatment planning and decision making. The net benefit will be a more efficient, informed, and proactive healthcare system."
"Outside of medical imaging," posited Dr. Cicero, "AI is poised to serve as intelligent chatbots to provide patient counseling about medical ailments, take preliminary histories to save doctors time and assist healthcare providers with generating differential diagnoses."
"There will be a significant amount of automation in our societies in the near future and healthcare will be no different. We'll need to make sure it is done in a safe manner, and we think existing and evolving regulations will help ensure that," said Dr. Cicero.
-30-
More articles on Health Tech