There are reasons portable Bluetooth speakers are so popular. They are compact, convenient, and can be used both indoors and out. They come in a wealth of designs, colours, styles, and form factors. And they are often affordable and accessible to the masses. But how do you choose among the many options? There are a few key features to consider when selecting a portable Bluetooth speaker.
Sound quality
The first and most important thing to consider with a portable Bluetooth speaker is sound quality. While it might be tempting to opt for the cheapest one you can find, if the sound is unfavourable or becomes distorted when you crank the volume, it isn't worth it. The best way to do this is to not only review the specs of the speaker but also choose a reputable brand known for its great sound quality. This could include models like the new Sonos Move 2 ($559) or the many options from brands like JBL and Ultimate Ears. Ideally, visit a bricks-and-mortar store to listen for yourself, or refer to reviews from trusted news outlets for helpful advice in this department.
Rugged Build
Portable Bluetooth speakers come in all shapes and sizes and also come with different levels of durability. You will want one that is built ruggedly to withstand the outdoor elements if you plan to use it while out and about. Some are water-resistant so you can safely use them by the pool or at the beach, often with covered ports to protect the innards and electrical components. You can even find models that are fully waterproof and some that float so you can bring them in the pool to enjoy tunes while you play water volleyball or Marco Polo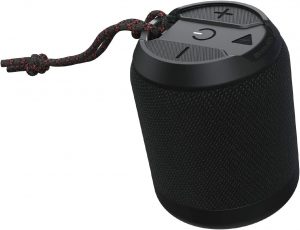 The Braven BRV-Mini is an older model and it's just $40, but it fits the bill and offers big 5W sound in a small package. It is fully waterproof with an IPX7 rating and can float. It offers up to 12 hours of playtime per charge and you can wirelessly pair two of them together for stereo sound. If you don't want to put it in the water, use the lanyard to hang it from a tree, across a patio chair, or even on your backpack and enjoy. Other models that boast an IPX5 rating can be safely used nearby sources of water, even withstanding some splashes. But they can't be totally submerged like this one.
Battery Life and Simple Charging
Battery life is another important consideration, especially if you're taking this portable Bluetooth speaker with you on a hiking or camping trip, using it at the beach or park where you'll be spending the whole day, or entertaining friends in the backyard where a power outlet isn't easily accessible. See the rated battery life of the portable Bluetooth speaker and make sure it's at least 10-12 hours so it will last through an entire activity. The second-gen Bang & Olufsen BeoSound A1 ($359) has some pretty high-end features in its small package, one of which is an impressive up to 18 hours of play time per charge. The aforementioned new Sonos Move 2, meanwhile, boasts an incredible up to 24 hours of battery life per charge.
Simple and fast recharging is also important. USB-C is best since you know you'll get a fast and reliable recharge. Some portable Bluetooth speakers even have solar panels so they can continuously gain a charge from the sun, which is great for back-up power in a pinch. Goal Zero is one of the best-known brands for solar audio products, and the Goal Zero Rock Out 2 ($155) is a good option in this category. It comes housed in a weatherproof shell with a built-in solar panel. You'll get about 10 hours of playback per charge and up to eight hours with power from the sun.
Daisy Chaining Ability
Daisy chaining is the process of wirelessly connecting multiple speakers together to enjoy a more immersive sound experience. Systems like Sonos make this simple through the inclusion of Wi-Fi as well with portable speakers like the Sonos Move 2 and Sonos Roam ($229). With this, you can not only sync up multiple portable Bluetooth speakers, but also sync them with non-portable Sonos speakers you have in the home as well.
JBL is one brand known for its big sound and rugged portable Bluetooth speakers. Models like the JBL Charge 5 ($240) are ultra-portable, come in a variety of colors, and have a PartyBoost feature for linking two or more speakers together to crank up the sound. If you have a large backyard, you could even get more
than two. Place on in every corner, wirelessly connect them all, then enjoy seamless audio played in sync.
Multi-point Connectivity and Memory
Multi-point connectivity means that the portable Bluetooth speaker can connect to more than one device at a time. This is useful if you want to connect to your phone and laptop or tablet, for example, and seamlessly switch between the two, or if you're listening with someone else and you both want to be able to play DJ. With portable speakers like the Ultimate Ears Hyperboom ($550) you can take this a step further by connecting one device wirelessly, one via wired auxiliary connection, and a third via optical input. You can then use the source selector button to switch among these three. (Note, however, that this speaker is not quite as compact and portable as some others). You can also look for other connectivity options, like Apple AirPlay 2, which you'll find in speakers like the Sonos Move 2.
Memory, meanwhile, relates to how the speaker stores multiple Bluetooth connections, so that any time you come in contact with the speaker when it's turned on and that device is with you (with Bluetooth on), the two will automatically pair. If you share one portable Bluetooth speaker with the whole family or a group of roommates, you'll want one that can keep all previously connected devices in memory. The Ultimate Ears Megaboom 3 ($250) lets you not only connect up to two source devices at once, you can also pair up to eight Bluetooth devices in total, all of which will be stored in memory.
Add-on Features
Many portable Bluetooth speakers do much more than just pair with a device to wirelessly play back tunes. Some have built-in charging ports so you can simultaneously charge your phone (or any other second device) while playing tunes. Some have a built-in flashlight so they serve that dual purpose. Others have things like a built-in bottle opener or with particularly small speakers, a built-in carabiner clip. The Bose SoundLink Micro ($149) for example, has a built-in tear-resistant strap. If you're going to be using the portable Bluetooth speaker for outdoor adventures, you might find some, or all, of these features useful.
Other features worth considering are touch controls for controlling playback from the speaker itself versus only an app (some of the bigger ones even have one-touch buttons for popular music streaming services), voice control with compatible assistants like Amazon Alexa, Google Assistant, and Apple Siri, and line in for connecting a microphone for karaoke night, or even a turntable for indoor listening.
Find the Right Bluetooth Speaker For You
The great thing about portable Bluetooth speakers is that there is so much choice. But this can also make choosing the right one challenging. Run through all these features and create your checklist for which features are most important. Next, visit your favourite retailers in person and/or online and look for deals. In many cases, you'll find these and other portable speakers on sale around specific time periods, like back-to-school, the holiday season, Mother's and Father's Day, and more.
Since so many portable Bluetooth speakers are relatively affordable, you can start small and see if a cheaper model meets you needs. If and when you find you need something more, upgrade to something more feature rich. Want the best of the best to begin with? Do your research, save up, and invest in the best portable Bluetooth speaker money can buy for the ultimate listening experience, no matter where you are.
-30-
More on gadgets
Enter our contest  for your chance to
WIN a JBL Go 3 Portable Wireless Bluetooth® Waterproof Speaker