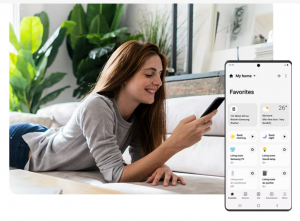 Samsung Canada is collaborating with ADHD experts from Possibilities Clinic to launch a new resource hub highlighting ways in which SmartThings and connected technology can support Canadians with ADHD.
The hub outlines key moments throughout the day where SmartThings, Samsung apps, and other connected technology can play a supportive role for Canadians with ADHD, helping to improve routines, reduce distractions, enhance creativity and more – from creating an automated routine in the SmartThings app, to activating Focus Mode to limit distractions, to setting up a sleep routine for optimal sleep, to setting reminders for keeping track of important items.
Said Tafari Jilany, Head of Corporate Marketing, Samsung Canada, "To showcase how SmartThings and connected technology can support the experiences of Canadians living with ADHD, the hub is structured around a "day in the life" format, which shows multiple scenarios where SmartThings and connected technology provide support for those living with ADHD."
"On the hub, the user follows Yasmin, a 34 year-old mother of two who has ADHD, as she navigates her day," explained Jilany. "Through SmartThings, Yasmin automates her morning routine, sets reminders to help her remember misplaced items and keep track of time, sets ideal conditions for focus and creativity, and creates optimal conditions for sleep."
Possibilities Clinic
"Possibilities Clinic is pleased to have aligned with Samsung's SmartThings platform for ADHD Awareness Month in October to help highlight how integrated technology can assist and inspire individuals with ADHD, from completing daily tasks to capturing creative ideas and increasing quality time with family," said Dr. Doron Almagor, Child, Adolescent and Adult Psychiatrist and the Director of Possibilities Clinic.
I asked Jilany how the partnership came about to which he replied, "We are always actively looking for opportunities to share even more ways connected experiences can help Canadians."
"October was ADHD Awareness Month, a time when Canadians came together to share experiences with ADHD and build awareness. Through social media, more and more Canadians are openly sharing their experiences with ADHD, leading to a better understanding of common ADHD symptoms, more diagnoses, and more Canadians receiving support. We saw an opportunity to amplify the conversation around ADHD support for Canadians, and bring to life easy, accessible ways SmartThings and connectivity can support those living with ADHD."
Jilany further explained, "To do this, we partnered with leading ADHD medical professionals and experts from the Possibilities Clinic, a clinic specializing in ADHD diagnosis and support, to develop the hub. Together with Possibilities, we had several ideation sessions to identify the strongest connections between where SmartThings could support Canadians living with ADHD, and thoroughly vetted all content to ensure accuracy and authenticity. Additionally, Possibilities also counselled on UX best practices, which led to providing different options for the site, such as the visual mode and text mode."
Jilany added, "We've received positive feedback from users from the hub and are excited to continue to evolve the campaign in 2024."
-30-
more on health tech