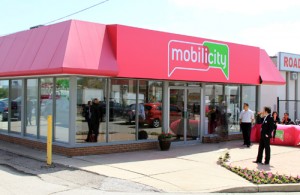 Mobilicity is Canada's newest player in the mobile carrier space and outlined its plans and coverage during its launch yesterday.The company also revealed that it will have hundreds of points of distribution across the Greater Toronto Area.
"We want to ensure that everyone in Toronto is able to take advantage of the Mobilicity unlimited 3.5G network, so it was important to us to have Mobilicity dealers in every neighbourhood in this city," said Dobbin.
Mobilicity also unveiled the company's six, pay-in-advance, unlimited plans:
–          Unlimited North American text plan at $15/month
–          Unlimited local talk plan at $25/month;
–          Unlimited local talk & text plan at $35/month; and
–          Unlimited global text, talk, North American long-distance and data plan (with voicemail, call forwarding, three-way calling and call waiting) at $65/month.
All Mobilicity plans are unlimited, include free caller ID, Mobilicity to Mobilicity calling and do not require a contract or credit check. The company also mentioned the launch of a data stick that will enable notebook computers to access high speed data with plans for $40 a month unlimited.
Canadian-industry first: $20 unlimited long-distance to China or India
 Mobilicity, whose name stems from the words 'mobile' and 'simplicity', also introduced a wireless long-distance first with $20 unlimited monthly add-on bundles to East Asia (China, Taiwan, Hong Kong, Japan, South Korea, Singapore and Vietnam) and South Asia (India, Pakistan and Bangladesh).
Customers will benefit from direct dialing and excellent call quality. "We're bringing down the cost of mobile overseas calling in a big way and making it easy to call faraway friends and family from anywhere in the city," added Dobbin. "No one can put a price on talking to loved ones halfway around the world, but Mobilicity's $20 East Asia and South Asia long-distance bundles sure make the process a lot more convenient and affordable."
Unbeatable value: $169.99 Nokia 5230 with free Bluetooth headset
The company showcased its lineup of six brand-name handsets, including the HTC Snap and BlackBerry Bold 9700 smartphones. Mobilicity's feature phone, the Nokia 5230 (featuring a brilliant 3.2" touch widescreen) is priced at an industry-leading $169.99 and comes with a free Nokia Bluetooth Headset, valued at $30. A $99.99 data stick was also featured for consumers looking for unlimited mobile internet access. With Mobilicity, consumers don't have to compromise quality service, features or coverage in order to save money. The company is working with best-in-class wireless partners; Ericsson built and is maintaining Mobilicity's 3.5G state-of-the-art unlimited wireless network, while Amdocs, the leading customer experience systems provider, designed its billing, ordering, customer care and operational support systems. "Mobilicity is the new wireless entrant with the unlimited 3.5G network that Canadians have been waiting for," added Bitove.
No more hidden charges
Mobilicity's pay-in-advance, unlimited service model ensures customers can use their phones as much as they want within their city coverage area without the worry of incurring extra charges. For customers travelling outside the Mobilicity unlimited network coverage area in Canada and the U.S., low per-minute-rate roaming will be available on a pay-per-use basis, as will other extra features, such as international calling, downloads and 411 directory assistance.  Customers must first add funds into a dedicated, personal pay-per-use depository called My Wallet. In describing the company's unique service delivery platform, Dobbin said, "Forget everything you know about wireless companies.
We've created a fair and uncomplicated model where all customers pay the same rates – regardless of whether they're able to pass a credit check." Mobilicity's Corporate Stores, Exclusive and Authorized Dealers, and online store will be open for business tomorrow. The company will roll-out its service in Vancouver, Edmonton, Calgary and Ottawa later this year.
More Mobilicity coverage