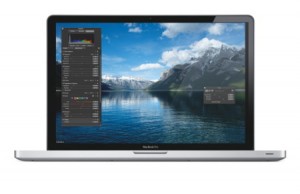 Review by Gadjo Cardenas Sevilla
Apple's flagship notebook, the 17-inch MacBook Pro was recently revised alongside the 15-inch model to include long awaited and spanking new Intel i5 processors, NVIDIA GeForce GT 330M with 512MB video cards, new 8-9 hour battery and smart, on-demand graphics switching.
This is easily one of the most powerful and quickest notebooks in the market today. Within its slim profile and slender unibody enclosure the 17-inch MacBook Pro has enough processing power to scorch similarly configured desktops.
The new 17' offers substantial performance gains over the previous 17-inch behemoth even if clock speeds are lower. Our test unit from Apple Canada came in the usual slim MacBook Pro packaging, in the box are the new-style MagSafe adapter, a screen cleaning cloth, the requisite DVDs as well as minimal manuals.
This $2,349.00 desktop replacement isn't for everyone but graphic designers and more importantly mobile video editors will like what they see. We use our MacBook Pro for video, photography, Photoshop, blogging and design as well as for web surfing and watching videos and found that the 17-inch form factor was ideal for office-based work. For traveling around or even working in location, however, we think that the 15-inch is as big and heavy a computer as we would like to lug around.
Still, the 17-inch MacBook Pro's new features are subtle yet effective. For one thing, switching to and from the built-in (power saving) graphics to the discrete NVIDIA GeForce GT 330M card no longer requires logging off and on again to trigger the dedicated video. Something that's  annoyed users of earlier models.
Graphics switching is now done automatically, on-demand, when the situation presents itself and in a way that doesn't disturb the flow of using the computer.
We're coming from an older 15-inch MacBook Pro and were delighted to notice that despite looking a lot bigger, the 17-inch MacBook Pro isn't all that much heavier. The 15' incher is 5.6 pounds while the 17' incher is 6.6 pounds. Using it reclined on a bed or a sofa is possible and even preferable to having it on a desk.
The 1920 by 1200 resolution of the screen makes everything seem a bit smaller, more compact and a bit harder to read compared to the 15.4' inch's native 1440 by 900 resolution. This may be an issue with some nearsighted people who may not want to keep manually enlarging browser and document screens. This is one instance where a larger screen and more pixels doesn't really translate to better reading experience but just more screen real estate.
Still, users who like multiple windows, palettes and widgets open all at the same time will have, theoretically, more room to squeeze everything in. We liked how the new 17-inch MacBook Pro remains quiet and cool and doesn't even seem to break a sweat when pushed. Earlier models would have hard drive and fan noise approximating that of a mini jet turbine but the updated architecture and the new processor and graphics chipset combo seem to keep everything stable.
Given that the 17-inch MacBook Pro is bigger than the 15-inch model, you wonder why there isn't more I/O all around. Save for a third USB 2.0 slot, all the ports are the same in type and number. Pro photographers would have appreciated a CF Card slot or maybe an extra FireWire slot or even a more common HDMI slot. The 17-inch MacBook Pro is such a vast canvas that you can't help but feel they could have included more to make it a bit more versatile.
While the exterior unibody design is identical to the 2009 MacBook Pro- there's not question that what's inside is completely cutting edge. Pros with a need for a portable workstation need not look any further although serious travelers and Starbucks surfers might be better off opting for Apple's smaller, lighter MacBook Pros specially if they don't need a huge screen.
In terms of power and efficiency, the Intel Core i5 processor coupled with the new NVIDIA 330M card with 512MB will crunch pretty much anything you throw at it and not even flinch. This is simply one of the best, most powerful computers money can buy if you have three-grand burning a hole in your pocket or if you can get your work to pay for it.
Rating 4.5 out of 5