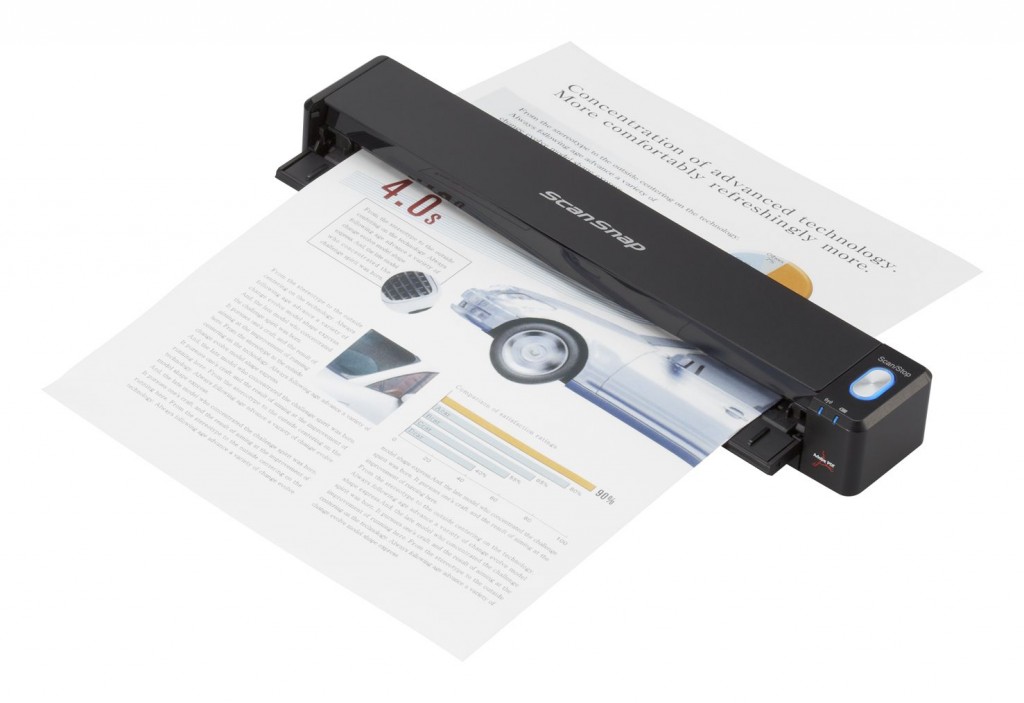 Going paperless in an office environment or home-based business can be critical to reducing clutter and staying organized. Fujitsu's ScanSnap iX100 is a document scanner that aims to do that with a form factor portable enough to take almost anywhere.
Fujitsu has turned the ScanSnap line into one of the go-to options for scanning documents in batches or on the fly. The size of the iX100 negates the element of expediting quantity because of the way documents are fed into it, but its lightweight and portable design means you can take it with you.
It can only scan one-sided documents, receipts or business cards one at a time, and doesn't need to be plugged into a power outlet all the time, thanks to its internal battery. It also has built-in Wi-Fi to work wirelessly without being tethered to a computer, though that is always an option to connect. Not that it's a new feature, but the scanner's portability fits in nicely with the ability to scan directly to an iOS, Android or Kindle Fire device.
Setting it all up does require a computer, however, which is unfortunate because it really doesn't have to work with a computer at all. Once the process is completed on a Windows PC or Mac, the iX100 can be connected to your home Wi-Fi network, opening the door to scan to mobile devices or computers that are on the same network. An ad hoc wireless connection is also theoretically possible, except it's not overly seamless. Had the iX100 supported Wi-Fi Direct out of the box, it could just scan to a specific device directly without using the router as an access point.
It's a minor gripe when all is said and done because the iX100 isn't necessarily something you're likely to take with you on every business trip, though it does help that you can charge it with a standard microUSB cable. Once you get home with all the paperwork and brochures that tend to come with attending a trade show or convention, the ScanSnap app goes to work. If you took it with you, you could just scan them all in the hotel room and travel a little lighter.
Double-sided sheets can be kept together under the same PDF document by scanning both sides back-to-back. Brochures folded in half can be scanned by just folding the paper backward to straighten it out, and upon finishing the scan, it merges the image together, avoiding the visual of a crease. Business cards can also be fed into it faster than regular documents. If you feed a business card on the left side, you can then add another one on the right before the first one has even finished. It will even automatically orient them properly, so you don't have to edit them later.
With free extra software add-ons that include Microsoft Office integration and ScanSnap Receipt for extracting information from scanned receipts, the iX100 is a very capable unit that covers more than you might expect. At $270, it's also a reasonable cost for a small business or home business owner that craves being organized and going as paperless as possible, in the process.