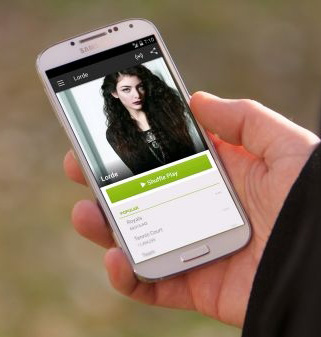 Music streaming services have been credited with reducing piracy, except the way in which they distribute royalties seems to be far from equitable. The technology around music distribution has changed forever, but numbers show record labels benefitting more than artists are.
Pop star Taylor Swift made headlines when she pointed the finger at Spotify, one of the world's most popular streaming services with about 10 million paid subscribers, and removed her music from the service, accusing it of unfairly compensating artists. The "grand experiment", as she put it, was a failure and that despite trying the service she "didn't like the way it felt". She went on to say that streaming was "for the most part, what has been shrinking sales".
Though Swift originally wrote an op-ed for the Wall Street Journal in July 2014, her stance only became widely known when she pulled her music months later. Her rebuke of Spotify may be somewhat anecdotal, but it does raise questions over how viable these services may be in the long run.
For its part, Spotify says it paid out $2 million (U.S.) from global streams in a one-year period to Universal Music, which owns the rights to Swift's music. According to a report from Ernst & Young with SNEP, a French record label trade group, record labels earn 73% of Spotify's Premium subscription revenue ($10/month for users) after taxes. In the case of Swift, her label, Big Machine, would get a cut, as would songwriters and producers on her albums. Under this division, she would only get about 10.9% of the profits after tax.
This highlights a paradox that continues to dog the music industry. In the digital age, where musicians can more directly interact and sell their art to the public, why do record labels continue to rake in most of the money? And why, if today's distribution is overwhelmingly digital, and not made up of physical products, like CDs, DVDs and vinyl, are the labels still doing business as usual?
These are the same reactionary companies that tried to litigate rather than innovate, chasing after single mothers and teenagers in ridiculous lawsuits. Certain artists, like Dr. Dre and Metallica, weren't far behind with their rhetoric at the time. Now that there is evidence the music piracy of that era is dissipating greatly in favour of buffet-style streaming services, the monetary side of things appears to be the next caveat to deal with.
The sea change is already apparent. Apple indicated a 13% drop in music sales on iTunes in 2014, whereas streaming services were already up 28% halfway through the year. In that light, it's unlikely that Apple's acquisition of Beats (including its streaming service) last year was merely a coincidence.
In Canada, this has been no less controversial. In May 2014, the Copyright Board of Canada ruled (known as Tariff 8) on royalty fees to be paid in the period of 2009-12, which would amount to 10.9 cents per 1,000 plays. Music services hailed the decision, whereas Re:Sound, the agency that collects royalties in Canada on the artists' behalf, was seeking a much higher rate of $1 to $2.30 per 1,000 plays. Dozens of music groups in the country issued a joint statement supporting Re:Sound's move for judicial oversight into the ruling.
Noted Internet and media critic, Michael Geist, wrote an op-ed supporting the clarity the board's decision levied on the industry, which was met with a detailed rebuttal from a lawyer familiar with the matter.
What everyone seems to agree on is that the people who create the music — the artists, songwriters, producers — should get what is owed to them. How much that should be of what is not a very big pie is where the controversy lies. Consumers are downloading less — both legally and illegally — showing they're happy to pay one price for all the music they can manage. Mobile Internet access is pervasive, but also limited by restrictive data buckets. It's fair to assume that once several gigabytes of data becomes a common part of the average monthly smartphone plan, the floodgates to music streaming may truly open.
Naturally, the more users, and especially paid subscribers, streaming services can attract, the more money that can flow to the content creators. Artists like Swift are balking at the idea that people can listen to their music just as much on Spotify, which pays a pittance compared to a digital download purchase on iTunes. And while she focused her attention on Spotify, and the streaming music business at large, she and other artists may also have to ask record labels some questions, too.