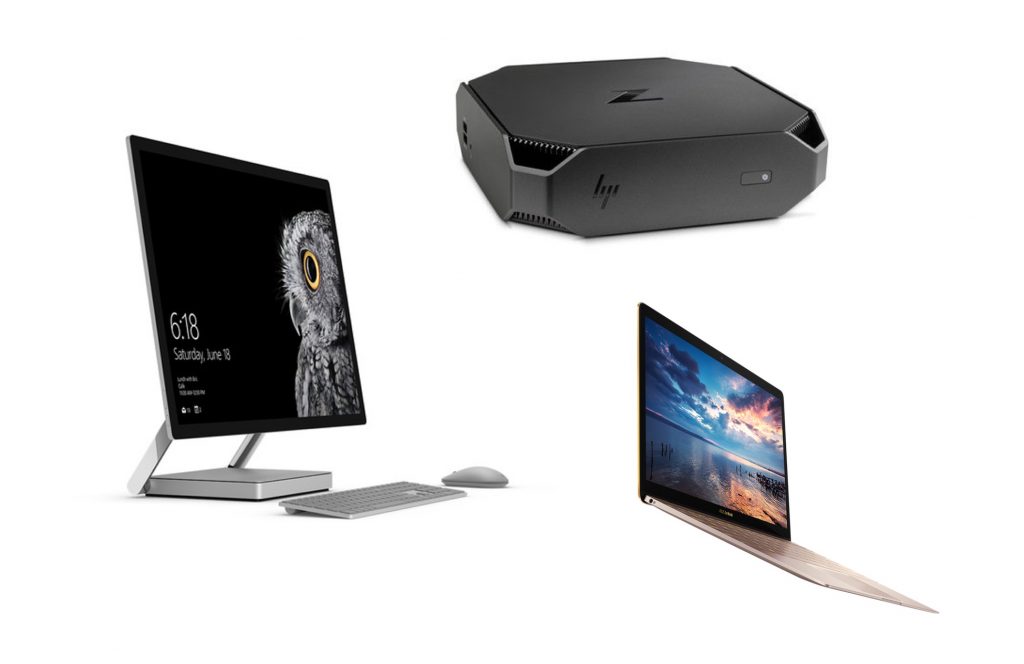 By Gadjo Cardenas Sevilla
Apple has led PC hardware and industrial design during the past decade. Their sleek metal enclosures have been shamelessly emulated, their design has been copied en masse. But the company that's spearheaded interesting new designs and materials is now facing some serious competition,
Desktops and notebooks have sure come a long way. Years ago, they where thick and generally unattractive slabs of plastic or boring beige boxes that had no personality. A lot has changed, companies like Apple made premium hardware that looked impressive and performed at the highest level.
By introducing unibody aluminum enclosures, new manufacturing processes and continuously distilling the essence of notebooks and desktops, Apple gave the world the MacBook Air as well as the Mac mini, which were devices that looked sleek and sophisticated while maintaining all the useful features and functionality expected from a workhorse computer.
We're now seeing a lot of interesting innovation but outside of Apple.
HP, who recently laid down 3A strategy (Aggressively Attack Apple), now has thinner and lighter notebooks that are similarly swathed in premium materials, with gilded hinges and copper accents but that also provide top shelf performance.
HP's latest Z2 mini workstation brings server-class performance in a tiny form factor that's two generations more powerful than the Mac mini.
Designed specifically for Computer Aided Design (CAD) HP's Z2 mini workstations bring the power and graphics performance of much larger desktops into a tiny yet capable form factor which can easily power two large monitors thanks to pro-level specifications.
Microsoft, who stumbled with their early attempts at creating their Surface tablet/slash/notebooks are now the toast of creatives and illustrators thanks to their daring Surface Studio, a 28-inch floating touchscreen PC that's designed for content creation and looks like serious competition for Apple's iMac and even their Mac Pro line.
Microsoft has also found success and validation with its premium Surface Book 2-in-1 notebook, which is considered to be the best notebook in the market for Windows 10 as well as an all around tool for businesses as well as the elusive creative class who want to create, draw and edit on a touchscreen device.
What's intriguing is how these companies are finding new ways to challenge themselves and create truly compelling hardware and products. There's a desire to truly explore new forms and take a risk with categories that have been seen a niche markets.
"The HP Spectre is the thinnest notebook in the world, and unlike the majority of other super thin PCs on the market, this laptop doesn't compromise power or features," said Kevin Frost, vice president and general manager, consumer personal systems, HP Inc.
"A beautiful Full HD edge-to-edge display, Intel Core i processors coupled with Bang & Olufsen sound and a sexy and thin design, HP's  engineers set a new standard with the all new Spectre."
"The entire ecosystem benefits when we create new categories and experiences that bring together the best of hardware and software," says Microsoft's VP of Surface Panos Panay . He calls the Surface Studio "a new way for people to experience Windows 10, Office, Skype and more."
Apple continues to push forward in terms of notebook design. Their latest MacBook Pros are thinner and lighter than their predecessors and introduce a new TouchBar that replaces the top row of function keys with a touch-enabled OLED display that changes depending on the application at hand. This and a larger  touch pad, is how Apple is breaching the gap to a full-touch display, which they apparently have no intention of adding to their Mac products.
Apple is still very much the leading hardware designer for notebooks and PC's but it is no longer alone.
The same high level of build as well as premium materials are also being showcased by PC manufacturers who are attracting users with their new products.
This is great for consumers who are looking for quality hardware, there's now a range of choice.
Of course, the big differentiator for users is software or which operating systems or apps they prefer to use, this inevitably determines what devices they will be investing in.