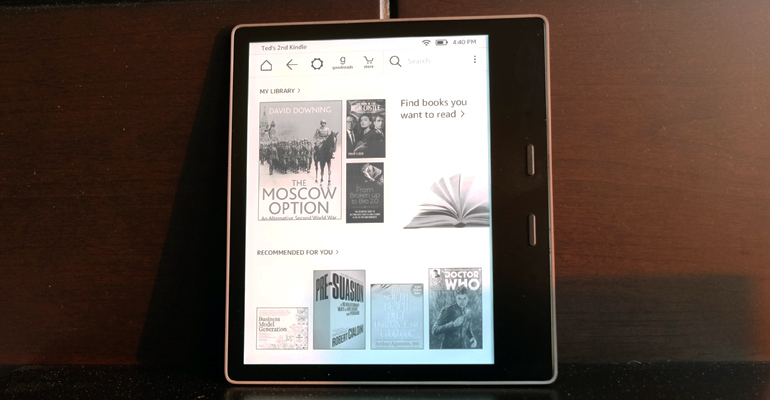 The Kindle Oasis is Amazon's most advanced e-reader and made for people who power through titles with regularity.
There's really no other way to summarize what this e-reader is all about. It's the most expensive Kindle in Amazon's lineup, and the most expensive e-reader you can buy.
At the current price of $390 for the Wi-Fi version, and $490 for the Wi-Fi + LTE version, it is only possible to recommend the Oasis for avid readers who want the best money can buy.
Design
The device is sleek by any measure. A 7-inch E Ink Carta display with 300ppi and enough built-in lighting to make reading comfortable in any lighting situation. It weighs 194 grams, and comes with 8GB (Wi-Fi version) or 32GB (Wi-Fi + LTE version) of internal storage. Either option can fit thousands of titles, so it wouldn't be an exaggeration to say you could have a library in your pocket.
Except fitting it in a pocket won't be so easy this time. Amazon designed the Oasis with a noticeably squared form factor to accommodate the larger display. Kindles have long used 6-inch displays, making this one something of an outlier. Its need for more space, plus the 12 LED lights and crisp screen, means better components under the hood.
That explains why the aluminum back has a protruding ridge. Amazon has marketed it as a great way to hold the e-reader one-handed. Two physical buttons on the wide bezel next to the display control page turns, making it possible to hold the Oasis and turn pages without having to lift a finger on the other hand. And since the accelerometer can vertically flip the display, left-handed users aren't left out.
Battery life is rated at six weeks (based on 30 minutes reading per day), so not much has changed there. However, this is the first waterproof Kindle to date. With the IPX8 rating, the Oasis is fine in up to two metres of water for up to one hour. Just avoid saltwater, which could damage it. Hot tubs are fine, so long as the device isn't submerged.
Despite no headphone jack, there is Bluetooth to pair headphones. Amazon added audiobook capabilities to the Oasis under what it calls "VoiceView," allowing you to listen to a book instead of reading it. It is only available in English currently, so French readers in Canada will have to wait until they can do the same.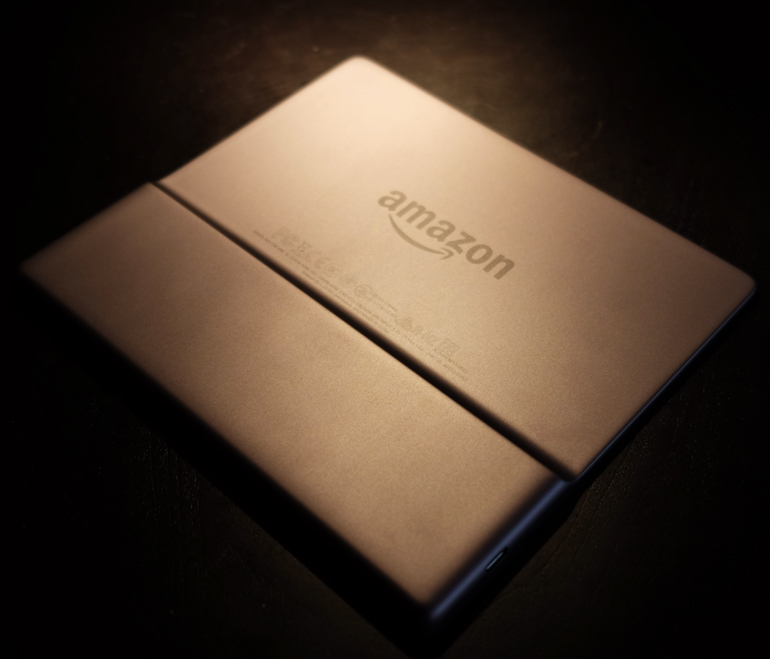 Reading on the Oasis
For the most part, Amazon didn't tinker much with the reading experience. The adaptive light sensor automatically adjusts the brightness for the 12 LEDs, maintaining a decent level in darker settings, or turning off almost entirely in bright sunlight. Besides having a brighter display to look at, the added benefit is text and images look a little crisper.
There are plenty of tools to expand the whole process of getting through an eBook. Highlighting passages or getting definitions is old hat, whereas clipping notes and sending them as PDFs to your email is great for research.
Page Flip is neat in how it can display multiple pages at once — the sort of feature that makes more sense on a larger display. Tutorials on the device itself highlight the features included when reading something.
The display is reasonably responsive — at least as good as an E Ink Carta display can be. It doesn't work when submerged in water, in case you wanted to do that.
The GoodReads integration is nice as a discovery tool, suggesting titles based on the genres that interest you most. If browsing the Kindle store feels exhausting, GoodReads is considerably easier.
Listening to books
VoiceView was an interesting way to read — well, listen — to a book. I couldn't fully accept the monotone delivery of the artificial voice, but it was a neat way to keep a book going when I couldn't devote my eyes to it fully.
Books from Audible were supposed to be the better alternative, except that integration doesn't work in Canada yet. It's a glaring omission, exacerbated further by the lack of context as to why it's unavailable. You can already subscribe to Audible.ca (after a 90-day trial) in Canada, in English or French.
Why it can't just work with the Oasis is hard to understand. Having an actual human narrator delivering the text-to-speech with prose and dramatic effect is what makes an audiobook so unique. VoiceView is an accessibility tool, not a true reading tool.
This is even more vexing when considering that Amazon just launched its Alexa voice assistant platform, along with its Echo line of devices that have it built-in. Audible books work through those speakers on demand.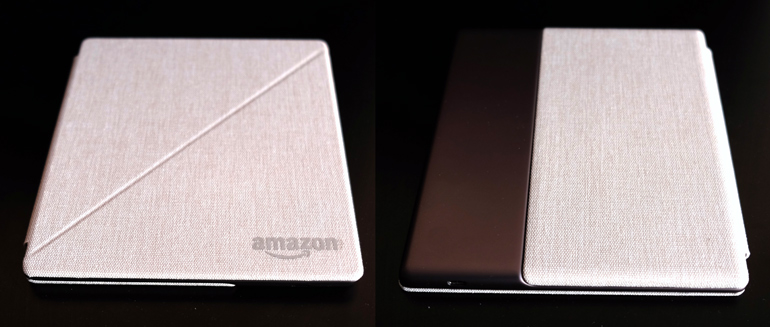 Paying the price
After days of reading with it, the wider form factor left me feeling mixed. While one-handed reading was generally fine, I inevitably had to use my other hand to access menus, highlight passages or bookmark pages. Moreover, I never had a pocket big enough to fit the Oasis. I either had to carry it in hand or stuff it in a bag.
I can't complain about that too much, personally, because I usually hold my e-readers anyway, but I know others who always look for a pocket. Women might have some flexibility cramming it into their handbags or purses.
What you have here is the best Kindle Amazon has built to date. It's also the most expensive. The missing Audible integration may not matter if you only read books by eyeing the text, but it's an unfortunate circumstance, in any case. The only alternative is to use a U.S.-based Kindle and Audible account on the Oasis to veer around the restrictions.
For voracious readers, the Oasis does have it all, otherwise. The screen is great, the extra lighting helpful, the waterproof body useful. Having LTE connectivity always means a new book is a tap away, no matter where you are. And 32GB of storage is simply monstrous by e-reader standards, not that 8GB is anything to sneeze at.
If you can manage without the waterproof body, fewer LEDs and get by with 4GB of storage, you can get an effective Kindle in the Paperwhite at only $140. The Kindle Voyage has more LEDs with an adaptive light sensor and physical page press buttons, but is also pricey at $300. If you're going to go all out, go with the Oasis over the Voyage.