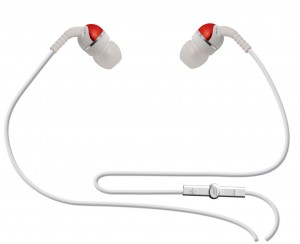 It's always pleasant to find a product that performs and works better than similar products that cost twice as much.
Scosche's IDR350m earphones are such a product. Offering great overall sound and dynamic range, as well as a microphone and the ability to control all recent iPhones and iPods using the tapLINE system, the IDR350m sounded better and was more comfortable to use than headphones costing double its US$55.00 price tag.
There are two hurdles that face consumers when it comes to headphones, the first is the fit and the second is the sound quality. Scosche has addressed the first issue by offering S/M/L single and dual flanged silicone inserts that provide unparalleled noise isolation and that should fit all ear types comfortably. Style conscious users will get a kick out of the 6 sets of interchangeable color caps that allow you to customize the appearance of the earphones.  Colours Include chrome, clear, red, pink, green and blue.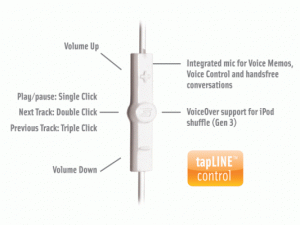 As for the sound quality, we found it to be consistently crisp and full without being to too heavy on the bass. The difference between the IDR350m and the stock iPhone headphones is like night and day specially when listening to classical music or jazz where there are a lot of things going on. The stock iPhone buds can sound muddy and flat. The IDR350m managed to separate the myriad sounds and instruments and as a result it felt like we were listening to the songs for the first time.
The 52" length of the IDR350m's cable is also longer than standard, which helps when using it for sports or winding it through layers of winter clothes. The tapLINE control, which offers a microphone and integrated play/pause, next and previous track and volume controls is what sets these headphones apart from the rest. For twice the money, you may get similar sound quality and maybe a microphone but it's unlikely you will find all these controls that work so well with the idevices.
The IDR350m even works with the iPod Shuffle (Gen3) and its VoiceOver feature that "reads" you the name of the songs and playlists over the headphones. The microphone is clear and can also be used for Skype and other voice over Internet applications.
Scosche's IDR350m headphones are ideal for iPhone/iPod users who want to get the most out of their audio devices' functionality while enjoying consistently good sound.
Rating: 4.5 out of 5