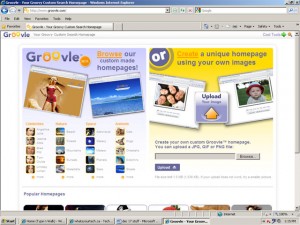 First, it was Microsoft. Now Google.
Another big Internet and technology firm has run afoul of those pesky little Canadians.
In a major ruling released this week, Internet giant Google has lost an arbitration case over the domain name, Groovle.com, and the eponymous website operated by an entrepreneurial company based in Oakville, ON
Google's complaint (Claim Number: FA0911001293500) that it was entitled to the domain name, Groovle.com, has been dismissed by The National Arbitration Forum, accredited by Internet registrar ICANN.
Google's position was that the name Groovle was "confusingly similar" to its trademark for "Google".
But, in a unanimous decision, a three person panel found instead that Groovle.com "is not confusingly similar" to Google's trademark.
In its ruling, the panel wrote: "There is no misspelling of GOOGLE involved.  The Disputed Domain Name contains an important 'R' and important 'V' that serve to distinguish the sound, appearance, meaning, and connotation of GROOVLE from GOOGLE.  The addition of the 'R' and the 'V' clearly make the predominant word and meaning "GROOVE" or "GROOVY" rather than GOOGLE."
"We were stunned when Google launched the domain name dispute as we have great respect for Google and have always had a good relationship with them," said site co-founder Ryan Fitzgibbon. Partner Jacob Fuller added that, "Google never had anything to fear from our website. The arbitrators' decision that the two domain names are sufficiently different should put Google at ease and we look forward to a renewed positive relationship with Google."
They might need it.
Fuller explained that the Groovle site's sole revenue source was the Ad feed provided by Google. Searches on the site, like many others, lead to results that are ranked with paid and non-paid placement. Groolve makes its money on those ad placements and resulting click-throughs.
How the arbiter's decision may affect that business relationship going forward has yet to be determined.
"The ruling is final for the domain name," Fuller noted, "but we have to anticipate other legal avenues. We don't expect it, but we have to wait and see how our relationship with Google will continue. We may have to find other ways to monetize the site," he told whatsyourtech.ca.
"We always moved forward with our plans, as we were confident we were not doing anything wrong," he added. "We are working on new features for Groovle, making it a more social site, and we'll be rolling those out over the next few months."
Fuller, Fitzgibbon and a third partner, Nico Angka, have been friends since high school and all three went to the University of Guelph; Fitzgibbon and Angka were into computer programming, Fuller studied economics.
They have been working together for several years now, operating not just the Groovle site but other companies dedicated to lead generation for local businesses and online dating services.
Groovle.com, launched in the summer of 2007, lets users upload images in order to create customize Internet start pages. We thought it would be a cool feature to have a nice photo of friends, family etc., every time you launch your web browser, instead of the very plain Google.com and Yahoo.com page."
Google first contacted the small start-up in July 09, via e-mail, demanding that the domain name be transferred to them.
Communications went back and forth for some time, Fuller described, before he received a formal complaint via courier last October.
Groovle was successfully defended by Toronto-based domain name lawyer and Internet law expert, Zak Muscovitch, who said, "Google clearly miscalculated here however my clients are prepared to put this behind them."
Fuller added that when he got the news, he told his lawyer it was 'a great Christmas present.'
Groovle's victory over Google, he acknowledged, was drawing some extra attention due to another recent and somewhat similar case, in which Toronto-based IP firm i4i's court victory over Microsoft, concerning patents and the Word program, was upheld on appeal by a U.S. court.
i4i was awarded US$290-million in damages and Microsoft was slapped with a permanent injunction, barring Microsoft from selling Word in the U.S., upholding an earlier jury verdict in the case.
Microsoft says it is considering its options, but that it will remove the technology from the word processing software and abide with the court's decision.