By Gadjo Cardenas Sevilla
Seems like Google decided to steal some thunder from the upcoming CES (Consumer Electronics Show) by unveiling its Nexus One smartphone which it hopes to sell directly to the public for US$529 as an unlocked phone or US$179.00  through T-Mobile with corresponding voice and data plans. the Nexus One is not currently available outside the US, although unlocked  phone bought stateside should work with any 3G SIM card.
There are quite a number of Android enabled handsets and smartphones in the market today being sold under different global carriers. What makes the Nexus One different is that it provides the most "perfect" implementation of what a Google Android Smartphone should be. Google controls the software and updates it directly without limitations from mobile carriers. Introducing the Nexus One is a bold move by Google, it proves that the company is serious about challenging the iPhone in the smartphone market but may also alienate partner carriers by offering an unlocked device. Handset manufacturers who aren't HTC , may  also not appreciate competing with Google on their very own turf.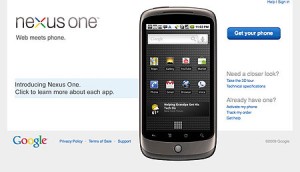 Nexus One owners will get the most updated version of the Android OS (2.1), the mot powerful hardware (1GHz Snapdragon processor, compass, light and proximity sensors, GPS and accelerometers). There's also a 5 Megapixel camera with an LED flash, a stunning and incredibly clear 3.7 AMOLED display, dual microphones for better noise cancellation and audio. The Nexus One comes with 4GB memory but can take microSD cards for a total storage capacity of 32GB. While there is still no multi-touch in the Nexus One, Google has hinted that they have enabled innovative voice control feature in this version of the OS.
Built by HTC for Google, the Nexus One has already started stirring up interest. In terms of performance and features, it isn't too different from the Motorola Droid.   Google is clearly aiming at Apple's iPhone in both the form-factor and as well as feature-for-feature comparison. It will be interesting to see how well the Nexus One is adopted  by users and what role it will play in the development of the Android Mobile market.