By Gadjo Cardenas Sevilla
Bell Canada's exclusive Android smartphone, Samsung's Galaxy, is also currently the most powerful and feature packed device in Canada running Google's mobile OS.Out of the box, the Samsung Galaxy is surprisingly thin and light at 11.9mm thick and 116g. One might even wonder whether the battery is installed due to its light weight and slim size.
This smartphone is so light that it is easy to carry but also easy to lose. It may fit in your shirt pocket but there's always the danger of it slipping away each time you bend to tie your shoes.
Featuring an extremely crisp and bright OLED 3.2 inch screen that doesn't only look great but seems resistant to smudges, Samsung's screen expertise was clearly and effectively applied here. As a result, the Android OS has never looked or felt so good. The rest of the case is shiny black plastic, which is smudge prone and slippery.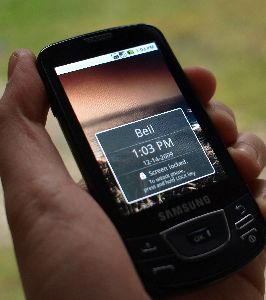 If you've already signed your life over to Google by using Gmail and their assorted services then Android is the perfect mobile OS to take this on the road. The Samsung Galaxy can manage the mobile aspect of your Google user experience with the Android Market app store which offers an increasing number of applications.
Performance on the Samsung Galaxy  is impressive and snappy specially compared with the HTC Dream/G1 which  is strange since they are all powered by very similar processors. We benchmarked the Bell Galaxy against an unlocked HTC Dream/T-Mobile G1 which was running a newer version of the OS and the Galaxy was clearly faster to navigate and launch applications.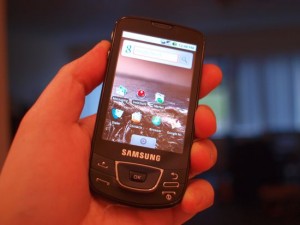 The one thing that really struck us about the Samsung Galaxy is how excellent its built in 5.0 Megapixel camera is. Samsung makes standalone  digital cameras and it sure hasn't been stingy sharing this know-how with its mobile phone division. Photos are well exposed and look like they were taken by a standalone point-and-shoot camera. It also helps that there is an LED flash built into the case that is extremely handy in low-light conditions. If this were our phone we'd leave our point-and-shoot Canon camera at home, it really is that good.
During our tests, the Samsung Galaxy managed calls and data well. The buttons and the directional pad at the bottom do take some getting used to since they are placed differently from other Android phones.
Bell's HSPA network is generally strong throughout downtown Toronto save for a few fringe areas where the signal is spotty. The software keyboard on the Samsung Galaxy offers a similar experience to Apple's iPhone keyboard except that the predictive text and error correction isn't as advanced. I would suggest anyone who is interested in Android OS smartphones to try typing on the software keyboard
Battery life is very good although if you expect to make calls, Twitter, Facebook, surf the web, play media and send a lot of emails you will need to charge it daily.
We're a bit worried about the shiny plastic exterior of the Samsung Galaxy, aesthetically its nice to look at until you actually have to touch it and it gets all smudgy. It also is prone to slipping out of your hands if you aren't careful. A protective case is a must which is a shame since that will add bulk to the Samsung Galaxy's slim profile.
The Samsung Galaxy ships with an older version on the Android OS, version 1.5. This is surprising for a relatively new product especially if you consider that some of the recent Android phones like the Nexus One from Google and the Motorola Milestone from Telus are shipping with OS 2.1.
Some frustrated owners have even set up an online petition to be granted the OS upgrade they deserve, details can be found here.
Overall the Samsung Galaxy is a big win for Bell and for its customers. It is the slickest and most attractive Android Smartphone currently available in Canada and while this may change in the coming months, it would be a great smartphone provided the Android software can be upgraded to keep with the times. Otherwise we would wait for the Motorola Milestone from Telus or for a keyboard free Android experience that sweet Nexus One from Google.
The Samsung Galaxy from Bell Mobility  costs $449.95 without contract and $49.99 on a three-year contract.