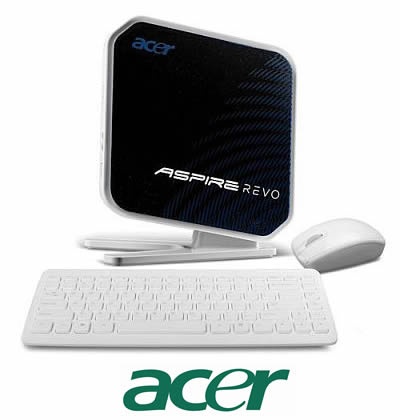 Ever wonder how a computer can improve your home theater experience? Do you have an old computer kicking around, or are you perhaps looking to purchase a dedicated Home Theater PC? Then check out this article to find out how easily you could be kicking back in style and experiencing your favourite shows, music and movies from your computer, on your TV.

For my home theater, I bought an Acer Aspire Revo AR3610-E9012. This awesome little box comes with an Intel Atom 330 dual-core processor  (1M Cache, 1.60 GHz, 533 MHz FSB), 4GB DDR2 SDRAM at 800 MHz, a 500GB SATA HD at 5400 RPM and Nvidia ION Graphics. It's small, quiet and uses relatively little power.
A note to people who still want cable or satellite: If you want your HTPC to act like a PVR or a TiVo, the setup I'm describing here isn't going to work for you. Your local computer shop should be able to hook you up with a little home theater computer that has a cable tuner. For home theater software, check out Mythbuntu, which is amazing and will make you very happy. But that setup is beyond the scope of the current article.
Revo E9012 Features
With HDMI out, HD Audio, an eSATA port, Wireless 802.11b/g/n, Gigabyte LAN, SD card reader, six USB 2.0 ports, Windows 7 Home Premium 64-bit and a compact USB Keyboard & Mouse, the Revo is full featured. For me, this is what beat out similarly priced offerings which may have had higher build quality, but lacked features. A close contender for me was the ASRock 330, which would have won if I had a need for an optical drive. But it couldn't match the specs and features of the Revo. However, for anyone wanting Blu-ray, check out the ASRock ION 330-BD.
As a side note, one irritating feature of the Revo is the S/PDIF optical out—which is in the front of the device! Who on earth uses optical out in the front?
Why Dual Core?
It's important to note that the average home theater user probably doesn't need the specs of the Revo that I chose. You see, I also want to run a home server on the Revo using Amahi. I don't want someone accessing the server and causing hiccups while I'm trying to watch my shows, so I want two cores. Servers can also be RAM thirsty making the 4 Gb of RAM quite handy.
Home Theater Software
For my system, I only installed Boxee and VLC media player. Both of these softwares are free and open-source. They are also cross-platform, so Linux, Windows and Mac users alike can enjoy these feature rich programs. VLC is the ultimate desktop media player, and has an incredible set of codecs. Boxee on the other hand, is true home theater software, based on Xbox media center (XBMC). It scans your digital collections, downloads show descriptions, cover art, ratings and alike from IMDb, and organizes them for you to scroll through and find what you want to watch. Not enough for you? You can choose from the hundreds of free Boxee apps which will interface with sites like YouTube, Digg, Rev3 and more to deliver streaming content to your TV. It can be a little frustrating though because a lot of content is only available in the US, but I'm still satisfied. Check out the screenshots in the gallery below:
I tried Boxee on Windows 7, Ubuntu 9.10 and Ubuntu 10.04. I generally found it to run better on Linux. But if you're in the US, consider that the Netflix app doesn't work under Linux.
Anyway, that's it! Take the thing out of the box, get on your network, download Boxee and VLC, install and ENJOY! These things are too easy these days. Why are you still reading this? Go set up an HTPC!
A note to Windows users: Be sure that if you're using the S/PDIF out, you need to change the default sound device in the sound setting under the control panel. Even if you tell Boxee to use the optical out, the streaming content controls sound independently, and will default to the HDMI sound output.
A note to Linux users: Boxee comes precompiled for Ubuntu only, but you can compile the source on whatever you run. If you want to use the Ubuntu debs, keep in mind that they have unsatisfiable dependencies on the 10.04 beta (Lucid), but work fine on 9.10 (Karmic).