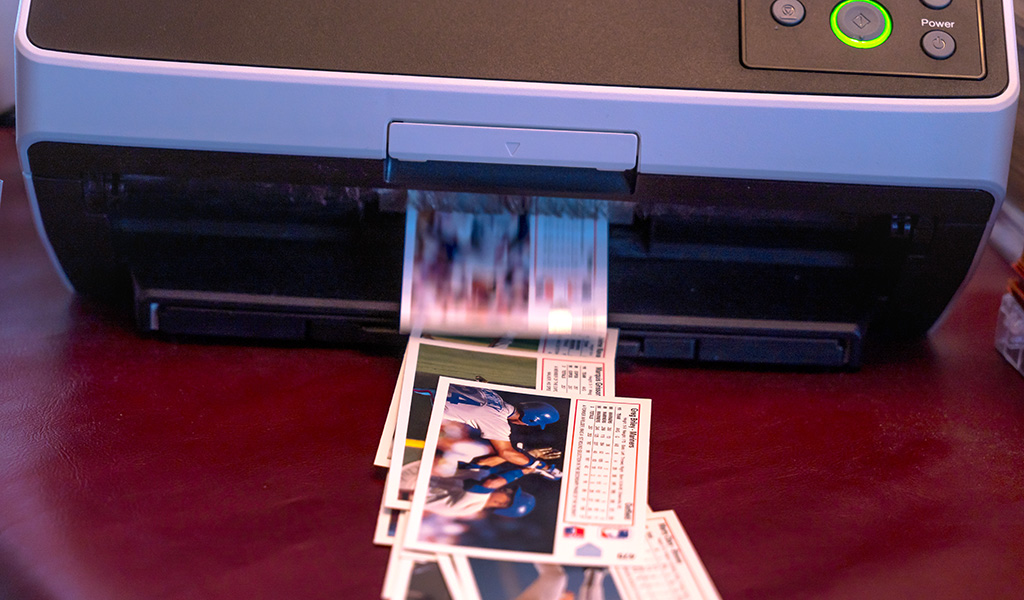 Do you have hundreds or thousands of cards that are sitting doing nothing? There is a way to scan, index and sell them if you're so inclined.
The COVID-19 pandemic renewed interest in sports cards for both collectors and investors looking to it as an asset class. It's a hobby that's never seen the frenzy of the late 80s and early 90s ever since — a time the industry refers to as the "junk era." At the time, demand was so high that various brands printed their own cards in higher quantities, leading to a collapse in the market.
Many in Canada and the United States still have cards from bygone eras, and isolation from the pandemic allowed people to unearth them all over again. The increased interest and demand spurred further interest in selling the supply.
That's where Kronocard comes in. Montreal-based Kronozio developed its Kronocard software in 2014 to catalog and index cards for the express purpose of selling them online. Kronocard essentially doubles as a sales platform, also offering integration with eBay to reach a wider customer base.
To get there, however, takes patience and some prerequisites to make it worth your while. For one, you need thousands of cards. For another, you need a way to scan the cards, especially in a way that can handle volume. On top of that, you will need a Windows PC because there is no Mac version for Kronocard. Other nuances pop up along the way, as I discovered when I went through the process to get a sense of how it all works.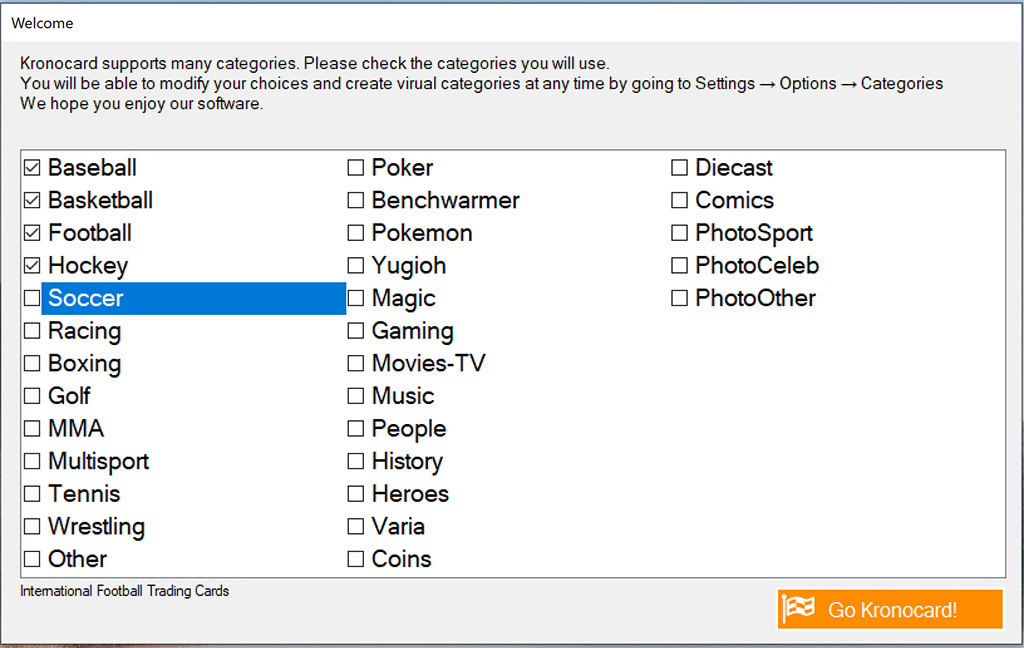 Getting the cards ready
Kronozio says cards don't have to be in order, but I would argue that's only true if you plan on paying for the Lite or Pro version of the software. Even then, I recommend putting cards in order, be it by the numerical set they came in, by team, player, or some other organized structure that works for you.
This way, when you scan the cards, they're in order and easier for you to deal with in the software. Kronocard does have AI (artificial intelligence) that can identify cards and fill in the necessary metadata (player, team, year, set), and help you batch proper cards together, but to me, it makes more sense to assemble the cards in order to start with so you know where everything is.
It's best to scan the cards by sport, which is why the software separates them into categories. You can also scan non-sports cards as well, in case you have anything from Magic, anime, comics, movies and TV, or whatever else.
The software is free to use up to 2,500 cards, though features beyond that are very limited. The Pro Lite version costs $149 USD for 12 months and covers up to 10,000 cards with extra perks. The Pro Premium version is $199 USD and goes all the way up to 250,000 cards, with pretty much unfettered access to all the ancillary features.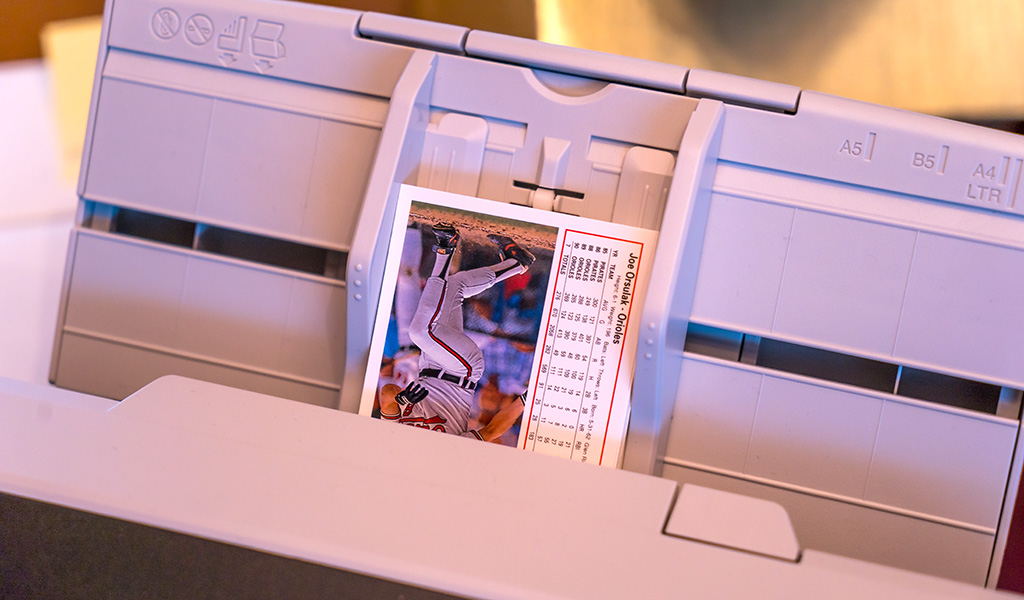 The scanning process
This part is critical and can make a massive difference in how you process the cards. Kronocard will let you upload photos you take with a camera, so you can go that route, except it's not all that practical. You could also scan cards you have in binder sleeves, where the software can parse and separate them. Another option is to use a document scanner to go through cards in batches.
I tested two Fujitsu document scanners to run through the cards in quick succession. The first was the fi-7160, which was okay, but I had better success with the newer fi-8170. Kronozio actually offers these scanners (among others) directly from its own site as an authorized reseller.
The key was in how smoothly the fi-8170 handled cards in batches. Depending on how thick the cards were, I could put in 20-card stacks and see the scanner rifle through them like a drug dealer using a cash counting machine. There was the odd paper jam, but it never led to a card getting damaged. Simply lifting the scanner's top portion and removing the card was all I needed to do to get things started again.
Kronocard interfaces with these scanners through the standard TWAIN protocol. Plug the scanner into the PC, install the drivers, and the computer, scanner and software should all speak the same language. Technically, Fujitsu's own software isn't necessary to make Kronocard work, meaning you don't have to install Paperstream or Capture to make it work.
While overly tedious when dealing with thousands of cards, these scanners can significantly slash the workflow. Thing is, though, there's no graceful way of stacking the cards as they roll out of the scanner. It's all happening so fast that it's hard to catch them without potentially getting in the way or accidentally stumping an upcoming card. I did crease one because I was trying to move some of the finished cards out of the way, only for the next card to run right into my hand and bend a little from the force in which the scanner spat it out.
This is something to keep in mind, especially for valuable cards. I tended to treat those cards differently by scanning them on their own or in tiny batches of three at a time. I also set down a soft cloth or vinyl sheet in front of the scanner to reduce friction. The fi-7160 didn't like cards in top loaders, leading to its inability to even run it through. The fi-8170 could, but I wasn't always thrilled with the results. Neither scanner likes thin plastic sleeves. I tried it a couple of times, and they scrunched up the sleeves — thankfully the cards were fine.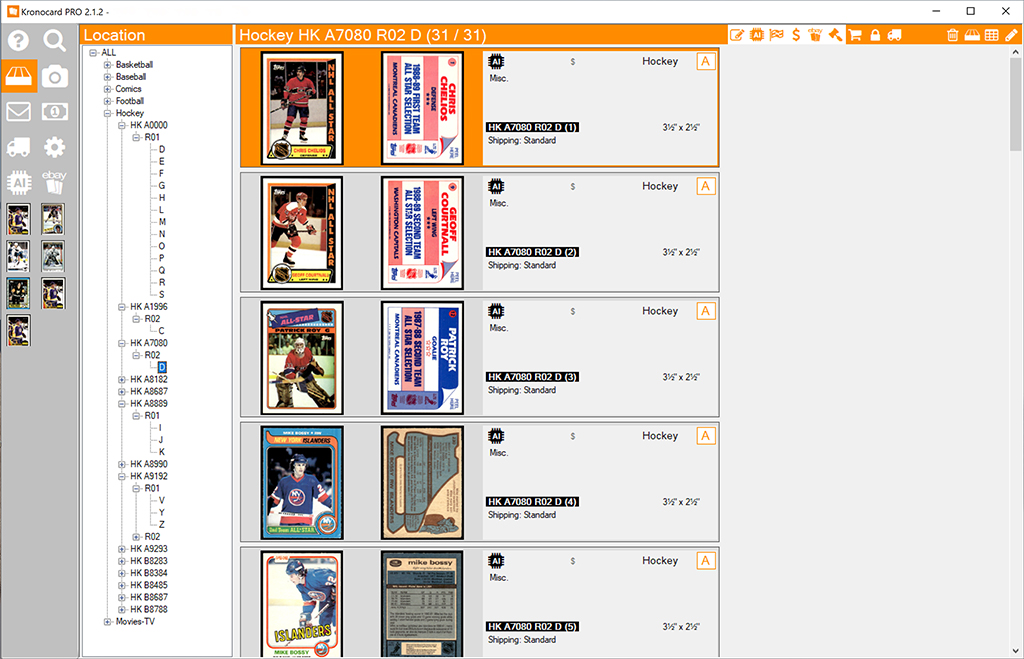 Virtual boxes
Kronocard stores scanned cards in virtual boxes to help you figure out where everything is, much like how you would store cards in physical boxes. For the most part, the software maxes out at 150 cards per row in a box. As Kronozio's co-founder David Lafond explained to me, the purpose behind the limit is to accommodate both small and larger collections. It assigns rows from letters A to Z, so a row can have, say, 800 cards divided by letters. Between each letter, you could have one to 150 cards. Lafond told me this was the sweet spot for helping users find the cards they need when it's time to pull them out due to a sale. But what surprised me was that he also had a practical reason for doing it. It's easier to hold 50-100 cards in a stack in hand, whereas anything more than that is unwieldy.
Despite that, I personally found that number too low. Moreover, it gave me the sense that it was a way to upsell the Lite or Premium versions with the AI access to index the cards and help organize them virtually. If I had over 200 doubles of a particular set, say the 1984-85 O-Pee-Chee hockey set, it didn't make sense to me to split them into two letters, even if they were in the same box. I understand what Kronocard is trying to do, but I imagine collectors have their own ways to manage inventory, and could add more flexibility to allow for it.
Finding the cards isn't necessarily hard. Scan them by year, for instance, and then file them away when you're done. Then start a new box to keep things separate. A major point here is that actual scanned files save to your computer. Back those up on an external drive or to the cloud if you have enough space because you really don't want to have to re-scan hundreds, or thousands, of cards due to some Windows glitch. You can also use the scanned images to sell on other platforms, if you wish.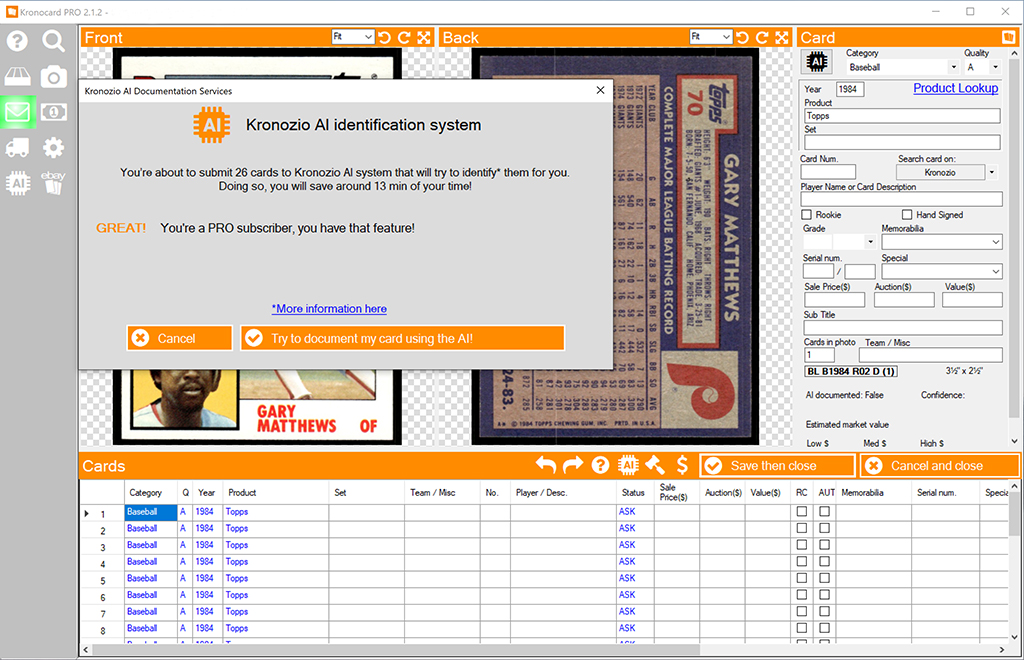 Managing the scanned cards
Fujitsu scanners, like the fi-7160 and fi-8170, capture high-resolution images, so the cards will come out looking good, front and back. Kronocard automatically crops them, leaving you little to do to the actual images themselves. You can always rotate or flip a card, if need be, but otherwise, how the cards look shouldn't be a problem. Certain cards with holographic effects, see-through elements, and other flashy designs might not look great. Try them out, but you may be better off taking photos for those.
I already covered the virtual boxes, so now comes the AI. It is a proprietary system that, as far as I can tell, recognizes cards and cross-references with Kronocard's own database to fill in the pertinent info. Lafond says the system can identify 4.2 million unique cards. To get yours covered this way, you will need a Lite or Premium subscription, and within the software, you have to "request" for the AI to tag the cards you've submitted.
To do that, you first select a box of cards, then pick the grid view in the top right. In the middle of the screen, select the AI icon, confirm that you want the system to fill in the card info, and then "Save then close" to confirm everything.
The software is really good, but can make errors with mistaken identity. At times, it got the wrong player, or the right player with the wrong team. Others were the wrong year or set, simply because the card number on the back matched a totally different set. Thankfully, these were easy fixes, and didn't happen all that much.
There is a "credit" system that applies to using the AI feature, but what it boils down to is you get one credit for each card up to the limit you purchased. This only applies to Lite and Premium, giving you 10,000 or 250,000 credits, respectively, to apply the AI to your cards. The amount of time it takes to fill them in upon submission varies wildly. It could be as short as under an hour or as much as several hours, depending on server load. The system's capacity is around 30,000-40,000 cards total per day, so if there's a crunch of users requesting the AI service, delays are all but assured.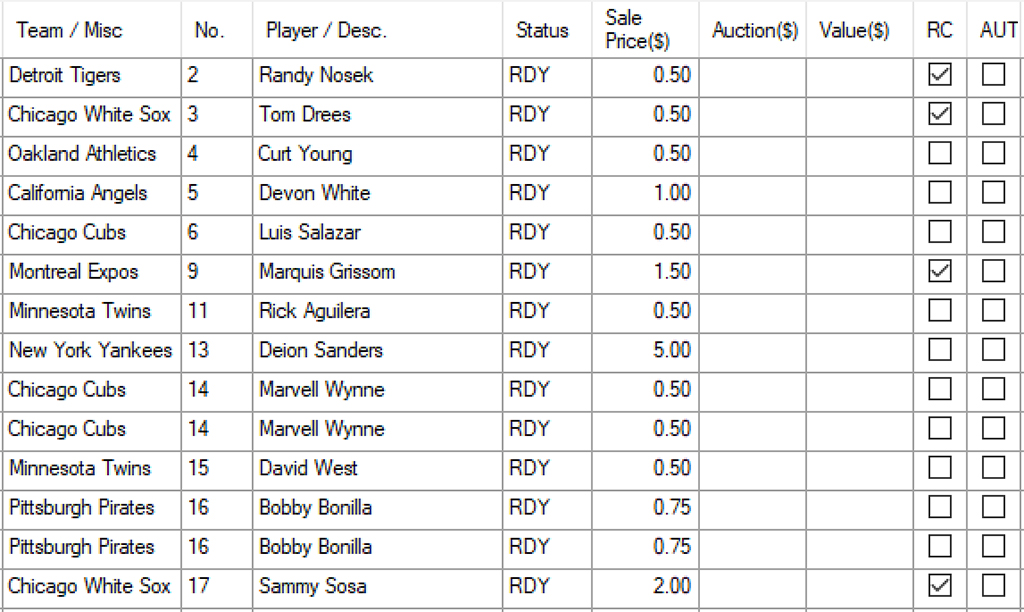 What the AI doesn't do is fill in pricing information. It won't give you an idea of what each card sells for in the market. It also can't determine grade, so if your card isn't near-mint, then you will have to input that information on your own. That's important when it comes time to officially put your cards up for sale, though you can look at virtual stores on Kronocard and eBay for insight on what a card could sell for.
This part is also pretty tedious, unless you try a few shortcuts. One is to apply the same sale price to every card by copying and pasting the amount into the fields for the other cards in the grid. Sadly, I didn't find an overly efficient way to do this, and it added yet another tedious aspect to the proceedings — unless I missed something and there's another way to do it better. What I would've liked is an option to apply a price to every card in the grid. That way, it would be easier to pick out the cards that would cost more and amend those prices individually instead.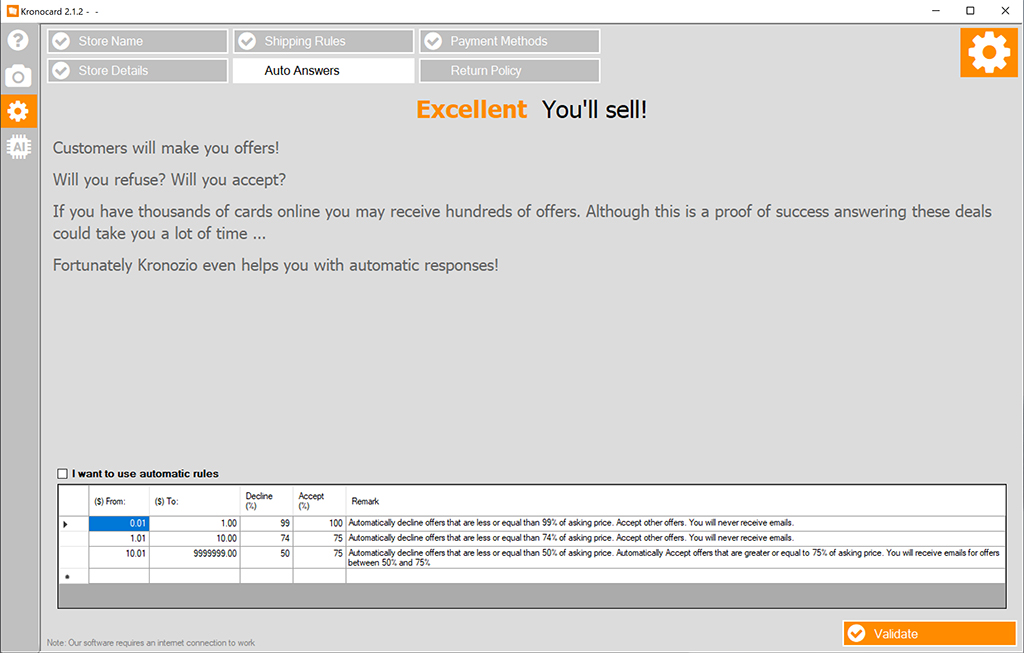 When it's time to sell
Kronozio does offer a guide on what to do to post cards for sale on its own marketplace after you've scanned them. The company plays this up a lot, including the eBay Connector, which incurs its own cost. It ranges from a free "tester" that lets you try up to 50 cards at no charge, on to a "Starter" at $10 USD/month, and several other package options reaching into the hundreds every month. It all depends on how much inventory you're selling regularly.
Even with the Kronozio marketplace, I imagine it's the eBay Connector that drives most sales for sellers or merchants. The key is that whatever eBay charges to run a store, including fees associated with sales, are entirely separate from those Kronozio charges for mere access to merging the company offers with eBay. Kronozio won't take a cut of what you sell on eBay, but it does effectively charge that monthly toll to let you sell in the first place.
The reason you might do this is for the integration. It's a seamless transition, whereby the prices you've already set, including shipping information, apply the same way. You can always adjust them as you see fit, but the premise is to give you less to do when using the Connector.
Try not to look too deep into the sales figures Kronozio markets on its website because there are variables that go into what you can or can't make selling cards. The average price of the cards you have is one, and the other is how much demand there is for what you're selling. If a lot of your volume is in the 70s or earlier, you will likely see more action than if you're selling a lot of the late-80s/early-90s stuff that's much easier to find online.
Lafond says most buyers are in the U.S., and hockey is not as sought after as other sports, like baseball, basketball and football. Other sports, like soccer and MMA, are growing in popularity too. Then there are non-sports cards that could garner interest, especially on eBay.
A reasonable solution
Truth be told, I don't think I would've undertaken something like this without the Fujitsu scanners and Kronocard software. The very thought of scanning thousands of cards using a flatbed scanner and a program like Photoshop would have taken an untold amount of time. I wouldn't advise trying this with any document scanner because it does matter how gently the rollers handle the cards. For example, Fujitsu's ScanSnap models are cheaper by comparison, yet won't go as lightly on cards as the fi models would.
It's also worth trying Kronocard under the free version, just to see what the scanning process amounts to on a computer screen. High-res scans of cards (front and back) are a good way to show how a card is almost perfect — or imperfect — to give buyers some peace of mind before they click to buy it.
There's no telling how long this renewed interest in trading cards will last, but if you have a huge collection collecting dust, this might be the best way to post them right now.