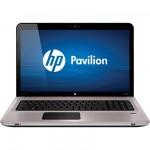 One of the great paradoxes of modern day computing is that desktop computers continue to get smaller and more energy efficient while notebook computers have increased in screen-size, features and capabilities. At the top of the "desktop-replacement" category of 17-inch notebooks is HP's Dv7-4090ca, its a Blu-Ray slinging, 7-pound weighing, do-it-all notebook that rings in at $1,400 and banishes the thought that you should ever want a desktop PC.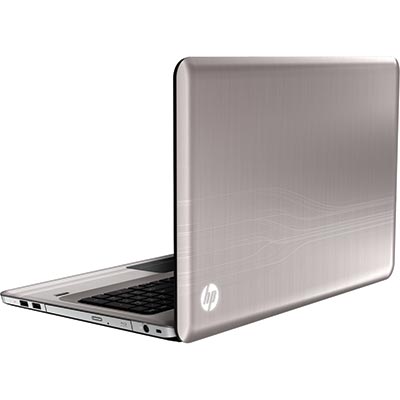 Perfect as a semi-mobile desktop replacement and all-in-one work and entertainment hub, the Dv7 has all the goods for a computer that you would need to move around an office or home . It comes with a fairly bright  1600×900 pixel 17'3 inch LED HP Brightview display, it rocks a built-in Blu-Ray player (which will play DVDs) and packs enough processing power to handle the most demanding applications and some of the recent games.
We were delighted to find out that  Beats by Dre sound system was standard equipment on Dv7-4090ca. The audio experience is simply the best we've heard on any notebook computer and can compare with many standalone computer speakers.If music and cinematic-sound are a priority, this is definitely a notebook to check out.
HP has long been about style and feel. With the Dv7-4090ca, this is seen with the etched, treaded aluminum casing that adds substantial grip and texture to the notebook. Style points for this and for the ultra bright backlit HP Logo on the back (which can light up a room).
The Intel Core i7-720 QM processor is powerful and efficient with no less than four cores running at 1.6GHz which is ideal for running programs and applications that can seamlessly run multi-threaded instructions and speed things along.
You also get 6GB of RAM, ATI Mobility's Radeon HD 5650 graphics with 1024MB DDR3, up to 3738MB total graphics memory and you have a decent modern system that will run anything you throw at it without having to spend extra to upgrade it.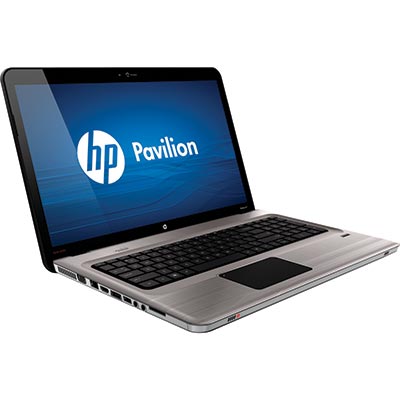 We struggled with the 101-key full sized keyboard but this is just because we are so used to our own notebook's keyboard, as a result we found our typing slowed down a bit. Not a problem once you get used to it and the new "chiclet" style keys are an improvement although we found them to be on the soft side.
We were also disappointed that this notebook did not have a backlit keyboard, its a fairly easy and inexpensive add-on that one would hope to see in premium notebooks like this one.
Who could use a notebook like the Dv7-4090ca? Single computer, multiple-user homes or apartments that need a general solution for  a variety of non-specialized uses (i.e. email, video, music, surfing, gaming) might want to consider this over a desktop computer.It saves on space and can be moved around a lot easier.
Programmers, developers, designers and users who need a big screen and powerful specs but who won't be moving around much will find their needs will be met by this notebook. Students who need to tote their notebooks to and from classrooms will be better served with a smaller and lighter notebook in the 13-15 inch range, hopefully something that weighs under five pounds with the power supply.
In terms of portability, 17-inch notebook owners who actually bring their notebooks everywhere are a rare breed. While they are definitely still within the realm of the portable, the large size and weight as well as the sizeable and heavy power brick needed to power this beast will tip the scales in the 10 pound range.
Still, we can see serious photographers lugging the Dv7-4090ca to locations to use tethered to their DSLRs, video producers as well.
With a no-nonsense list of specs, power and high quality features including a stellar sound system and Intel's latest processors, the Dv7-4090ca defines the high-end Windows 7 portable market and does a fine job of replacing desktops, serving as a workhorse and entertaining its users.
Rating: 4 out of 5