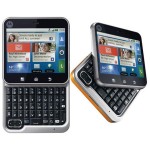 Though aptly dubbed the FlipOut, Motorola's latest smartphone available on Rogers can function just as a touch-screen device with the best of them. Perhaps that's not saying much, but its on-screen keyboard and multi-touch, swipe and scroll interface is totally usable despite being small/compact – the Motorola Flipout is one of the smallest multi-touch Android smartphones in the market, in fact, with a 2.8 inch screen (made of scratch resistant Gorilla Glass).
Uncommonly square-ish by design, the Motorola Flipout is so cool, portable and lightweight unflipped that you almost forget is that has a QWERTY keyboard built-in, too. It opens by way of a one-hand pivot and rise motion, not unlike a snap of the thumb or a one-hand deal of cards.
The Motorola Flipout's keyboard is decent, but it's a little on the small side and can take a while to master. Dialing numbers on the keyboard is tricky, and you're better off using the on-screen dialpad if you don't want to concentrate too hard on such a basic task. The 5-row-squish of keys also includes a straight forward, 4-way directional pad in the lower left for easier navigation, which helps. Either way, it is nice to have specially in comparison to the Sony Ericsson Experia X10 Mini which is tinier but eschews a tactile keyboard for a modified multi-tap style on-screen affair.
All said and done, you'll have a far more engaging and accurate typing experience with the FlipOut's keyboard deployed – better than what the way-small touch screen keyboard offers, anyway. Said touch screen continues to respond to touch as well, making the whole kit and caboodle a really good, multifaceted interface. It also makes the thing look and feel more like a smartphone, a square gone rectangular. Considering the thing is designed with social media in mind, messaging and posting and what not, the FlipOut certainly delivers the tools for it.
The device comes preloaded with MotoBLUR, Motorola's custom GUI that brings together all your social media connections into a constant stream, refreshing the lot on screen in quasi-real time.
It's powered by a serviceable 600MHz TI OMAP processor and sports an impressive 512 of RAM, accelerometer, ambient light sensor and 3 Megapixel fixed-focus camera with video recording.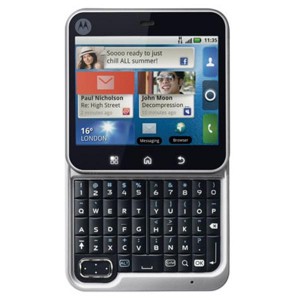 The Motorola FlipOut employs the latest Android OS, too, which allows for Flash video to work within the browser, which is quite remarkable for something so small.
That the Flipout also features animated wallpaper that puts cool dynamic scenes in the background is a nice touch, but at the expense of battery life.
Ultimately, what makes the FlipOut so appealing is its ability to be tiny and useful at the same time. With the keyboard hidden (the "FlipIn"?), you have a neat little multimedia player, a useful GPS device (made even more compelling by Google's Navigation app) and a cool little photo and video camera that fits in all but the smallest pockets. With the FlipOut's keyboard flipped out, it's got serious social media mojo going for it, too.
With its innovative, funky styling, strong feature set and impressive specs, the Motorola FlipOut should be seriously considered by anyone looking to get into an Android phone for social reasons .
Interestingly, though Motorola FlipOut has just made its North America debut, it did so in Canada only. It's available exclusively through Rogers Wireless for a scant C$30 on a three-year plan (all of which have limited talk time but unlimited social networking, conveniently) or for a noncommittal cash price of C$375.00. No word on when it will make it State-side.