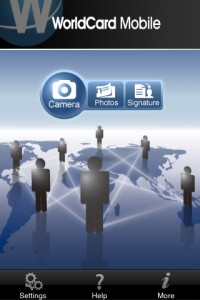 While a signature and a handshake may be the one-two punch that seals a deal, it's usually the business card that takes the primary role in setting the stage for such deals to take place. But the sheer number of business cards one can amass, even over a short period of time, can be managed much easier when the information can be digitized using the iPhone.
Naturally, we wouldn't be talking about something as mundane as typing in contact information one at a time into your iPhone's contact list. WorldCard Mobile for iPhone (currently $5.99 in the App Store) from Penpower Inc. aims to simplify the task by reading the information on each card using the iPhone's camera. Part of the rationale behind the app is that it comes in handy in cases where a new contact only has one business card. Since that card can't be given up, snapping a photo of it should be enough to get all the pertinent contact info.
The added bonus is the chance to rid yourself of all the clutter hundreds, or thousands, of business cards could create. Streamlining a long list of contacts can be crucial to ensuring that connections are neat and tidy.
We found WorldCard to be simple to use in that you only need to line up a card within the blue box and snap a photo of the card. To add a little extra stability, we tapped the stabilizer button at the bottom, which brought up a green box. All we had to do was hold it steady for a few seconds and it snapped the photo on its own.
Once it captures the card, tapping "Recognize" prompts WorldCard to scan the various pieces of info on the card and lay them out in a contact card on the iPhone. This includes everything from the person's name, company name, phone number(s), address, email, and even a website URL.
Generally, we found that most of the information was retained on the average card, though there were several instances where letters were missing or names were misspelled for some reason. A few edits here and there rectified the mistakes, and we were then able to easily export the contact info in the iPhone's contact list. WorldCard also performed well in scanning cards that were heavy on different colours and designs. Of course, simple dark text on white cardstock was the easiest to scan, but it still managed to do a consistently good job on other challenging cards that either had smaller print, or had creases on it.
Good lighting also makes a big difference, and shadows of any kind can create problems during the scanning process. The included LED light in the iPhone 4 helps in that regard, but good lighting in a room or outside in daylight should be good enough to do the job.
You aren't required to use the app every time, as it can also scan for information from photos that you've snapped with the iPhone's camera app, or photos of cards you synced to the phone from another camera. This only comes in handy if you're using an app or camera attachment that enhances the iPhone's shooting capabilities. Otherwise, using WorldCard on its own is more than good enough.
Currently, the other languages supported, aside from English, are French, Italian, Spanish, German, Dutch and Portuguese. Unfortunately, Asian languages like Japanese and Chinese aren't supported yet.
We liked that we could stack up all our contacts and sync them over to Outlook on a PC or Mac (including Entourage), which was a far more automated process than inputting them one at a time manually.
Despite being a bit pricey, the current $5.99 cost for the app is actually a reduction from the original $9.99 price tag. There is a free Lite version that you can use to try out WorldCard Mobile, but it limits you to three scans, and only one per week thereafter.