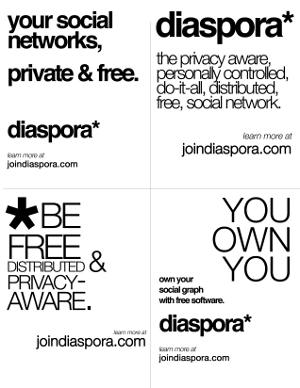 I shake my head as I watch the constant roll of articles detailing some new height of insecurity or lack of privacy in Facebook. But there's hardly been a promising alternative: until now. Dispora is different: it's developed with privacy in mind. Refreshing to Canadian privacy advocates, who have been particularly critical of Facebook.
Diaspora is the self described privacy aware, personally controlled, do-it-all, open source social network. It is an open source project designed to put control of personal data back into the hands of the users.
The New York based project was started by a group of students from NYU's Courant Institute of Mathematical Science, who as of this writing have raised over USD $200 000 in venture capital using the micro-fundraising site Kickstarter.
Diaspora is now available in a very early developer release. As an open-source project, it will be community developed which means that users privacy is ensured by transparency.
Open source social networks such as Diaspora or identi.ca do and will continue to play an important role in the evolution of social media. Closed-source and proprietary networks such as Facebook and Twitter lead to an effect called data siloing. This means that if you subscribe to one of these services, then in order for your friends to interact with you, they must also subscribe to the same service. Open projects encourage the propagation of open standards, which will eventually lead to universal social networking. Eventually, you will be able to interact with anyone, regardless of their social network service.
---
Click here to check out my article Identi.ca, Canadian Twitter Competitor