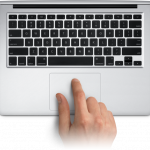 Out of the box, the 11-inch MacBook Air ($1,049 for the base model with 64GB storage, $1,249 for the 128GB version at Canadian Apple stores) is Apple's first bona fide subnotebook in a long time. Introducing a new 'less is more'  design and manufacturing philosophy, it points the way to how Mac notebooks will be built in the near future.
The new unibody enclosure starts out  at a stunning 1.7 cm thick and tapers to a razor's edge 0.3 cm which somehow doesn't feel as dangerously sharp as the original MacBook Air did.  This bit of kit weighs no more than 2.3 pounds, just a touch heavier than the iPad yet it sports a bigger scree and a full sized keyboard. This new version feels more solid and more robust overall even if it is thinner and as a result lighter. Apple has elevated the unibody construction process and it now stretches the boundaries of toughness and rigidity in incredibly thin  Aluminum enclosures.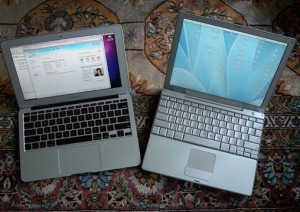 We feel that Apple is seriously looking at the MacBook Air and seeing the future of  their notebooks  and tablets business. Unibody construction,  SSD (Solid State Drive) memory on a chip, soldered RAM chips, sealed batteries in a completely integrated system. Much of the MacBook Air's design was dictated by the iPad, a non-user serviceable device.
Not a netbook
The MBA is a MacBook with way fewer ports and no optical drive in a much slimmer and lighter body. You simply can't compare the performance of a netbook's Atom processor  or  AMD Neo processor with a Core 2 Duo, specially with a dedicated NVIDIA GeForce 320M graphics processor with 256MB of DDR3 SDRAM flexing video muscle. Most netbooks have integrated graphics which limit their capabilities.
Much of the challenge with netbooks is that they are small and not ideal for prolonged periods of use. We can get through a day's worth of work with the MBA's keyboard and screen, no problem. Once you're typing on the MBA, you forget that it is a shrunken and slimmed down version of a notebook and can therefore focus on the act of computing rather than the device itself. Netbooks have forced us to adjust our typing, learn odd key placements and compromise performance around their small size.
The MacBook Air is closer to the premium thin and light business notebooks that Sony, Dell  and Toshiba like to sell for upwards of $1600. These notebooks aren't in the power class but they allow you to get work done and they travel exceptionally well, for a price.
Minimalism to the max
The MBA comes with two USB ports and a mini DisplayPort connector plus a headphone jack, micrphone and the MagSafe adaptor port. The PowerBook had 2 USB, FireWire, Audio in/Out, Ethernet and Modem ports. The larger 13-inch MBA ($1349 for the 128GB base model) also comes with an SD Card slot.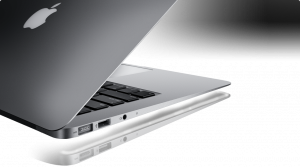 The downside is if you are migrating from an older Mac, you will need to make the transfer via a $30 add-on Ethernet dongle or attempt to transfer everything via Wi-Fi. Seriously…good luck with that.
The MBA's are also the first MacBooks that seem to be non-user upgradable. RAM and SSD memory is soldered and special TORX headed screws are needed to disassemble it.
As a former Mac technician, I am pretty gung ho about cracking open enclosures to add RAM or switch hard drives, with both the iPad and the new MacBook air, this is no longer an option. Apple has even redesigned the TORX screw needed to tear-down with the MacBook Air.
Your best bet is to configure your computer in the online Apple Store to your desired specifications. You can get up to 4GB of RAM and have the option of adding a (slightly) more sprightly 1.6 GHz Core 2 Duo processor things start to get really expensive at this point. If you need more than 128GB storage, you're out of luck unless you are willing to go for the 13-inch model which tops oout at 256GB but at a hefty price.
Apple's innovation is all over the MBA's. The SSD memory lays on the motherboard just like RAM and every component has been shrunken to a minimal size. The good thing about this is there are fewer moving part, less heat is generated. This also means the MacBook Air is wicked fast in all areas of operation.
Speed and performance
Booting the MacBook Air takes around 6-10 seconds, which is simply stunning. Of course as more applications and files are added, this is expected to take longer but the use of SSD memory really speeds up the processes.
The bad news is that Apple has maintained the use of somewhat older Core 2 Duo processors which are actually sporting slower clock speeds than the previous MacBook Air. We think they did this to keep costs manageable and to lower temperatures in the sliver-thin MacBook Air.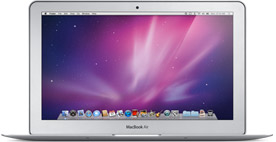 For general purpose computing, iLife use and work on Adobe Lightroom and Photoshop this is just fine. Just don't delude yourself into thinking that the MBA's are candidates for pro level video of photo work. Their miserly storage space and the meager processor speeds will be the bottleneck, for the same price or even less, a MacBook or MacBook Pro will be a smarter option for processor hungry media creators and creatives.
Battery life while using Wi-Fi is close to the 5-hours that Apple claims, not bad for something so incredibly thin and light. The stereo speakers are also surprisingly loud and way better than the tinny mono one from the previous version. Oh, and if you are looking for the built-in Mic, it is near the headphone jack, so tiny it is almost invisible.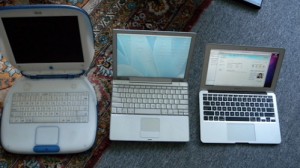 We've spent all of 24-hours with the MacBook Air and are really impressed by its size, speed, build quality and level of performance.
Yes, it isn't cheap, specially if you want the tricked out version with larger hard drive capacity; but this is cutting edge stuff. Super fast SSD's, unibody Aluminum and a gorgeous LED cinema screen in 2.3 pound enclosure and low power consumption. This is clearly the next step in portable computing.
Rating: 4.5 out of 5