Face recognition is fast becoming a staple of photo editing software because of the simple fact that it helps organize growing libraries of digital photos. The latest version of Fotobounce fills in some crucial gaps in organizing and sharing full resolution photos, but some extra tweaks would've made this update even better.
We've reviewed Fotobounce before here at WhatsYourTech.ca in a video segment, but this 3.1 release intrigued us enough to take a second look and see if the folks at Applied Recognition were able to take this Canadian-made app to another level. Though not mentioned in the video, we would've liked to have seen better results on the face tagging feature, as well as more controls over sharing privacy.
One area of improvement in 3.1 is that tagging is now tabbed, so once you've tagged one person in a photo, you're immediately prompted to tag the next unidentified face in the photo. The tagging element itself hasn't been changed in any meaningful way, though we hope that the next version improves on the accuracy of how it groups together faces under Suggestions. By reading the eyes mainly, Fotobounce sometimes groups together faces that are dramatically different. Of course, you make the final call on whether the image is a match or not, but a bit more polish here would be ideal.
Sharing images has been expanded in a number of ways that improves privacy, while also providing more options to share them. Previously, Fotobounce allowed you to add trusted contacts, called "Bouncers", in order to share photos (high or low-resolution) in a peer-to-peer format, but there were no real privacy controls in place. A Bouncer would have been able to see any photos you uploaded to Fotobounce, whereas now, you can determine which Bouncers can access whatever photos you post.
This also applies to Bouncer groups. Another new feature in 3.1 is that you can now group together certain Bouncers, and apply the same permissions to all of the members. This could be useful if you've grouped together family members, while keeping friends separate. With the new controls, each group can have access to entirely different images, thereby saving you the embarrassment of having the wrong eyes see the wrong pictures.
The downside remains that anyone you contact to share photos with has to download the Fotobounce software in order to see them. For those who aren't particularly tech savvy, they might find that to be a deal-breaker.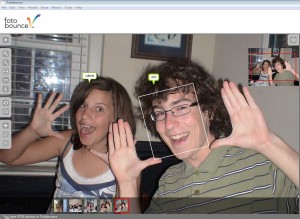 But Fotobounce users will no doubt appreciate that Google and Yahoo! contacts can be used to invite people to share photos. Moreover, another new feature is Fotomail, a unique email address that you can send photos to from anywhere so they can land into your Fotobounce library. For example, if you've shot some photos on a digital camera, or even on a smartphone, you can email them directly to your Fotomail account, and they'll be there waiting for you in your Fotobounce library.
We liked the new Fotomail feature because it can come in real handy when you've snapped some pics and want to back them up immediately. What we would really like to see is better integration with Fotomobile, the mobile version of Fotobounce. Rather than be standalone app, Fotomobile uses a mobile Web browser on a smartphone to display the images you have. The problem is that the computer running Fotobounce has to be on and connected to the Internet in order for you to gain access. If there was an actual app that had a cloud-based element to it, there would be a slicker interface with some great functionality, much like we've come to know with Flickr, Facebook and other mobile photo apps.
And lastly, Fotobounce has added printing to its repertoire. Using LifePics, you can send an album or individual shots to be printed, or placed on things like photo books, calendars, greeting cards, mugs, shirts and a bevy of other gift ideas. You place the order and then pick it up from a local retailer or have it shipped to you. The integration is seamless, and it proves to be a nice feature that will come in handy during the holiday season. This also means that Bouncers can take photos you've shared with them and make use of the LifePics service as well, and vice versa.
Given that it's free to download and use, Fotobounce is worth trying, especially since it makes sharing high-resolution images easy. Tagging and organizing photos based on face, place, event and keyword also ensures that you know where everything should be. A little more work in a few areas and Applied Recognitions will definitely turn another corner in Fotobounce's development.