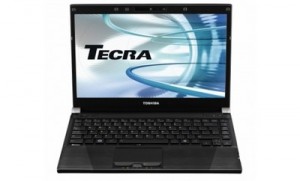 Toshiba's Portege R700-S1331, sold as the Tecra R700-007 in Canada, is an uncompromising thin and light notebook, a true power-focused ultraportable for the executive class.
Typically, thin & light notebooks are designed with long battery life and portability in mind. As a result, many manufacturers discard the optical drive to slim down the chassis, go for 11″ or 12″ inch screens and often use cramped keyboards that are 80 percent the size of "full" keyboards. Notebooks in this segment will usually have slower processors that conserve battery life but at the expense of speed and performance.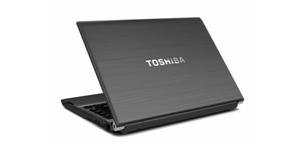 Bucking the trend is Toshiba's Portege R700-S1331, sold in Canada as the Tecra R700-007. It uses a powerful 2.6GHz Intel Core i7 processor, which is a top-tier chip comparable to a desktop computer solution. The R700 also has a vibrant, 13-inch TruBright display (1366×768, LED backlit) as well as a lavish, well-spaced keyboard.
Toshiba's R700 comes with two USB ports, dock connector and HDMI output, the latter is handy for the traveling businessperson who wants to watch DVDs on their hotel room TV.
The R700 also comes with an ExpressCard slot but no SIM card slot, oddly enough. High-end notebooks usually accommodate power-users who might want instant data access on a 3G network through a SIM card from their carrier of choice; it's a glaring omission on the R700.
The Portege R700-S1331 / Tecra R700-007 has a 128GB Solid State Drive (SSD), the hard drive technology with no moving parts and thus better efficiency. Lower priced models in the Portege and Tecra line don't sport such high end hard drive mojo. With Windows 7 and Toshiba's software installed the user is left with 80GB of storage on that 120GB SSD, usually more than enough for the typical users.
The SSD's proficiency coupled with the unit's Core i7 processor deliver tremendous speed and performance for most tasks. Its 4GB of RAM definitely helps speed things along, but imply waking the computer from sleep, for example, is a true "instant on" experience.
Also, the R700 may be thin and very light (at 3.2lbs), but it isn't quiet. The fans on this notebook are constantly on – a tradeoff for a super speedy processor in perpetual need of cooling. The R700's battery is a 6-cell Li-ion battery (66Wh) and provides up to 8 hours of battery life, as advertised.
On-the-go executives who don't want to compromise between portability and functionality will surely love the feature set of the Toshiba's Portege R700-S1331 and Tecra R700-007; it's really impressive in terms of performance and design.
Most users may be put off by the premium price, but for frequent fliers, road warriors and jet-setting techies, the R700 is what you're looking for. It really is one of the most powerful notebooks on the market today. As a bonus, it happens to be one of the most lightweight and most portable laptops, too.
Rating 4 out of 5