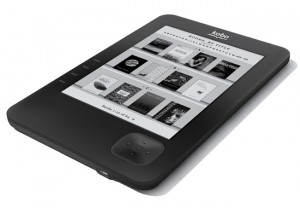 The age of the eReader has  clearly arrived. Ushered in by the Sony Reader and defined by Amazon's Kindle, ebook readers aren't just a hip fad but a vital industry that's reshaping the business of books to the tune of  US$1Billion. Canadian company Kobo's new wireless eReader improves on an already good idea with some new features and a large library of books.
With headquarters in Toronto, Canada, Kobo exemplifies an innovative and forward thinking company. Not only was it one of the first to come out with a modern eBook reader  software solution, its presence in local Canadian bookshops enabled early adopters to get in on the eBook trend while Amazon.com's Kindle was still figuring out its Canadian launch and Sony's lineup of titles was painfully limited.
Kobo was also proactive enough to offer Kobo apps for numerous mobile devices (last time we checked, Kobo was available for the iPad, iPhone, BlackBerry, Android, PC, MAC and the Samsung Galaxy Tab).
We've spoken to Kobo reader owners who like the device's simplicity and ease of use. The Wi-Fi capability only makes seeking and buying new eBooks easier and more convenient. Some would like to see this technology applied in schools and universities since eBooks can be quickly updated at a fraction of the price, five times the speed and far less harmful ecological impact than traditional 'dead tree' textbooks.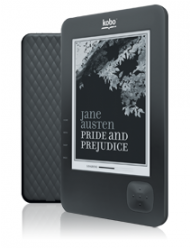 Following up the original reader, the Kobo Wireless Reader ($149) improves the devices' overall design while updating a number of features. Expansion via SD card has grown and Kobo claims it can now handle 32GB (translating to 10,000 books, a veritable library!)
Improved battery life and a built-in dictionary are also new with this version which touts wireless (Wi-Fi) connectivity as the major feature. This allows the perusing and buying of new book titles anywhere a usable Wi-Fi Internet connections is available. Kobo also gives users the added convenience of allowing them to use Bell's Hotspot network, free of charge which is great for users who frequent coffee shops and the like that are covered by Bell.
You don't really need a constant wireless connection for an eBook reader. Searching for and downloading books doesn't take too long, we've downloaded around five books in less than 10 minutes. Shutting off the Wi-Fi also ensures that the battery lasts a bit longer.
Kobo has more than 1.5 Million titles right now, Amazon has 650,000 for Kindle while Barnes & Noble's Nook, which recently released a colour version of its reader, an industry first, is said to have over 2 Million books available. Of course, this is meaningless if the books you like can't be found in your specific eReader's store. Advise to any would-be buyer of any of these devices is to carefully peruse the existing libraries of these services to see if the titles you like are readily available.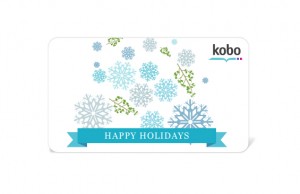 For the holidays, Kobo is also offering a host of eGift cards in various values that enable users to send eBooks as gifts which make them ideal virtual stocking stuffers.
The Kobo Wireless eReader and its accompanying library and ecosystem offers avid readers good value, great convenience and a no frills way to get into reading eBooks and saving trees.
Rating: 4.5 out of 5