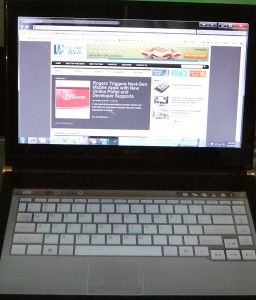 Being the number two PC manufacturer in Canada, Acer unveiled its plans to release tablet devices and a new laptop that will sport dual 14" touchscreen displays at an event earlier this week in New York. The tablets will certainly make news when they finally launch, but perhaps the more intriguing innovation was that of the Iconia, a new laptop that will sport dual 14" touchscreens.
The absence of a physical keyboard is the most glaring and obvious element to the Iconia because, without it, you wonder whether it truly is a laptop. It's certainly not in the conventional sense that we're used to, but it's still an unusually sexy device when you have it front of you like I did at the event.
The two screens are both 14" (1366×768) LED-backlit touch displays that can recognize up to 10 simultaneous touch points, meaning that gestures aren't limited to just finger swipes. For example, placing all five fingers down on the bottom screen, as if you're grabbing at something, will bring up a rotary-style menu called the "Acer Ring" that provides access to almost anything you have stored on the notebook. Acer says there will be a Gesture Editor that will allow for customized gestures to do what you want them to do.
The two screens can also be used together to drag windows and items from one to the other — a lot like a dual monitor setup on a desktop. This means you can just as easily watch a video on the top screen, while doing web research on the bottom one. It also means you can view a web page over the entirety of both screens, so the whole page flows down to the bottom display. The MyJournal feature also collects clippings from your favourite sites as well. Snip a piece of a site that gets updated regularly, and you can then access that anytime as it gets updated in real-time.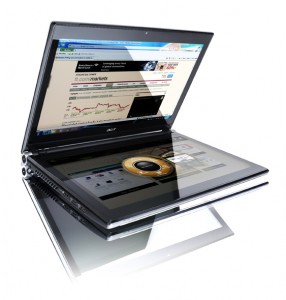 Scrapbook might be useful as a research tool to aggregate images, text, notes, web clips and other elements, except there are already some pretty robust third-party apps that can do the job.
And then there's Clear.fi, another Acer announcement from the event, which is proprietary home networking software to bridge Acer devices together in sharing media content. The idea is that Acer-branded devices can share media stored on each device, or from a home server like the company's easyStore H340. For example, if you were to have a video on an Acer Liquid smartphone, but you wanted to watch it on an Acer laptop or a TV with an AspireRevo connected to it, it would be as simple as a touch on Clear.fi to "push" that content over.
Naturally, the very things that Apple has been criticized for apply here too. The Clear.fi setup will only work with Acer-branded devices, so anything else can't participate using the same interface or simplicity.
As for the Iconia's screens, the touch keyboard will be an interesting scenario. After playing with it a bit, I'm lukewarm to how accustomed one might be with it, especially since it doesn't provide any haptic feedback. If there isn't a lot of productivity to be expected, then this might work, but if there is, there will be a learning curve here. There is a virtual trackpad underneath to navigate a mouse but even that feels a bit odd because it's being done on an actual screen. Still, the bottom screen could make for an interesting element to a digital media editing program for photos, video and illustrations. Imagine having all that screen real estate at the top and all the menus and tools at the bottom. It's not a bad workflow to go through.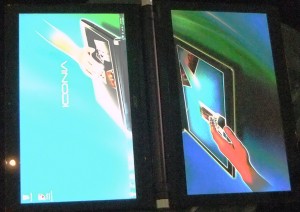 It was also interesting to see the Iconia tilted all the way to a 180-degree angle. Both screens are practically flush with each other, though it would be interesting to see exactly what situations this would be ideal for. Is it for sharing content with a group hovering around? Is it just a way to get a different view of something? Without testing it fully, I'm really not sure.
What is for sure are some of the specs. Running on an Intel Core i5 processor with 4GB of RAM (upgradeable to 8GB) and Windows 7 (Home Premium or Ultimate, Acer doesn't say), the Iconia is also said to be equipped with 3G connectivity. There's no word at all on who might run with that, and if Canadian carriers are even willing to, but we'll find out soon enough whenever the Iconia actually launches.
There is talk that a Google Chrome version of the Iconia might be in the cards when Google finally raises the curtain on that operating system, but nothing has been confirmed on that yet.
And last but not least, we got nothing on pricing or availability. We have no idea how much the Iconia will cost, when it might be available, when it might come to Canada, who will actually be selling it and what the final specs will be.
Stay tuned at WhatsYourTech.ca, as we'll be among the first in Canada to review the Iconia when it launches.